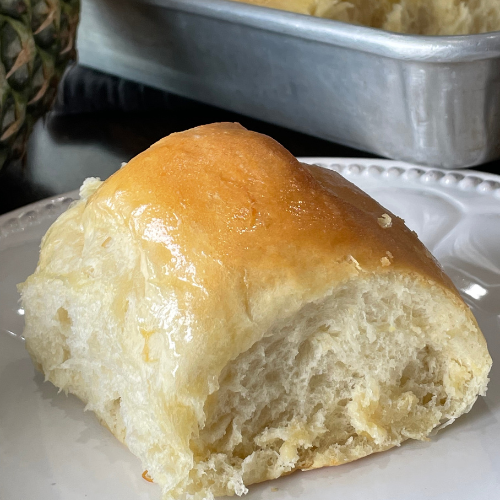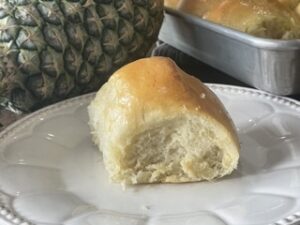 Today in our cooking class we celebrated spring with some delicious and fun recipes. One of those recipes was for this copycat recipe for King's Hawaiian Rolls. You've had these rolls I'm sure that come in those cute little red packages? The rolls have a hint of sweetness and plenty of moist, flaky layers. The secret ingredient to these rolls is a can of crushed pineapple and pineapple juice. You can hardly even taste the pineapple and wouldn't really even know it's in there unless you made them. However, the hint of sweetness makes these rolls extra special. Bake up a sliced ham and serve the juicy meat slices in between these soft pillows of goodness. No matter what you put in between these rolls you are going to love them!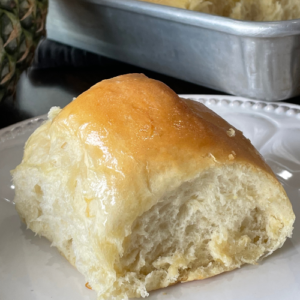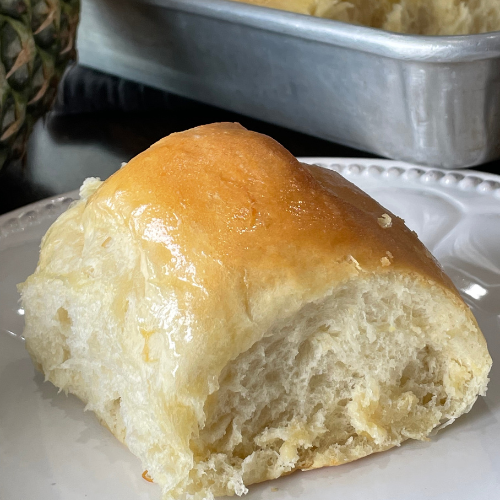 Speaking of spring–have you heard about Thrive Life's ONCE A YEAR Spring Sale? The deals are out of this world and the BEST time to stock up! Check them out HERE and save before Monday when they go off sale (April 24th at Midnight MST).

Give these recipes a try and see how fun it can be learning to usethe items you are storing in your food storage. You could even used freeze dried pineapple in this recipe with water (instead of the juice) if you don't have canned pineapple. Let me know if you give these rolls a try and what you think. Thanks for stopping by!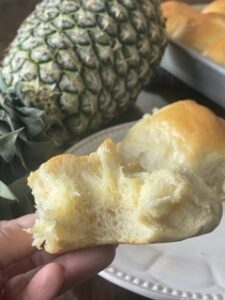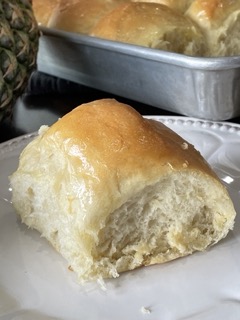 Ingredients
1

cup

flour

4

Tbs.

yeast

1

cup

hot water

1

20 oz. can crushed pineapple

¾

cup

oil

½

cup

water

4

eggs

½

cup

sugar

3

tsp.

Vanilla extract

1

Tbs.

salt

8-9

cups

flour
Instructions
In a large mixing bowl and with a dough hook, add the first cup of flour, yeast and one cup of hot water into the mixer and mix for one minute. Let this mixture rest for 10 minutes.

To the yeast mixture, add the can of crushed pineapple, oil, water, eggs, sugar, vanilla and salt and mix until smooth. Once the mixture is combined, add the flour one cup at a time until the dough is a soft dough that pulls away from the edges of the bowl. When you touch the dough you shouldn't get much dough on your finger. If you do and the dough is too sticky, continue to add a little flour at a time until the dough is combined and slightly firm but still soft.

Let the dough rise in the bowl for 20-30 minutes. When the dough has begun to rise, pour the dough out onto the counter that has a thin layer of flour sprinkled onto it. Cut the dough into 4 equal pieces.

Spray two 11x17 pans or one cookie sheet and one 9x13 pan with cooking spray.

Take each portion of the dough and roll and stretch it into a 12 inch long piece of dough that's about 2 to 2 ½ inches wide. Cut the long piece of dough into 8 equal parts. Place those parts into the pan just as they are. No need to form the dough into balls.

Once all of the dough pieces have been stretched to long 'logs', cut and placed into the pan, cover the dough with plastic wrap. Let rise until doubled in size.

Bake at 350 for 20-25 minutes or until golden brown. Serve warm.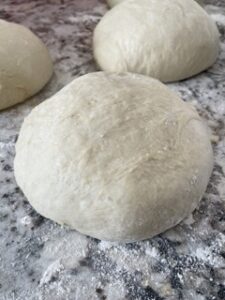 Form the dough into four equal pieces and put on the counter with a little flour.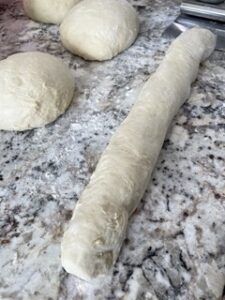 Shape the dough into 12 inch long 'logs'. Cut the piece into 8 equal parts.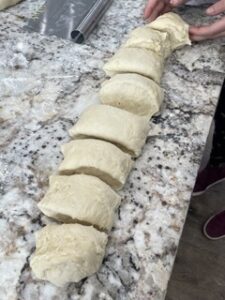 Place the cut pieces onto the greased pan.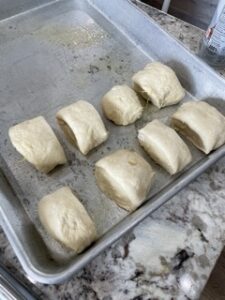 Let rise and then bake at 350 for 25 minutes. Brush tops with melted butter.