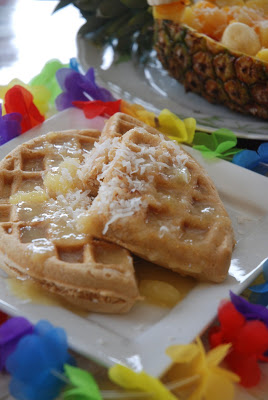 Aloha! I have been dying to share this delicious new breakfast recipe with you along with one of our new favorite traditions! My sister Diana heard of a really fun tradition that she and my Mom decided to start this year. It was BY FAR my children's highlight of their year (they can't stop talking about it) and so I thought I would pass this fun idea along if you need a new Christmas, birthday or family tradition. The idea of the tradition is that each year you choose a new country (or state) to visit for Christmas. You then decorate, eat and pretend you are celebrating Christmas in that country. My parents and Diana just returned back from a trip to Hawaii so they decided to invite the grandkids to 'Christmas in Hawaii'. Because the weeks before Christmas are so busy, they decided to have their party a few days after Christmas (this worked great because it gave the kids something to look forward to once Christmas was over). Here are a few of the highlights of their Hawaiian Christmas party: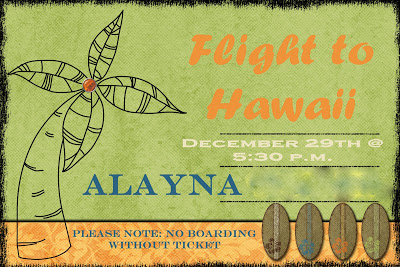 The kids were so excited to get their 'official' tickets in the mail for their vacation (sleepover) in Hawaii.
Here the kids are waiting in the 'airport' (entry way) before entering onto the plane (
Diana
had the perfect tropical shower curtain that they hung in the entry–so cute!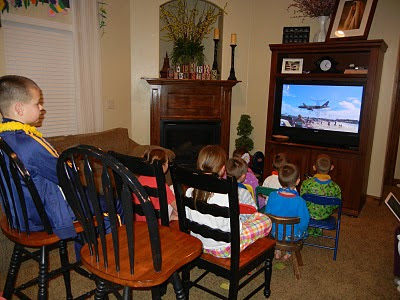 They set up chairs to look like they were on an airplane. It was hilarious that the kids really thought they were flying.
Diana
had put together a short movie of an airplane taking off and scenes of landing in Hawaii with Hawaiian music and pictures. So creative!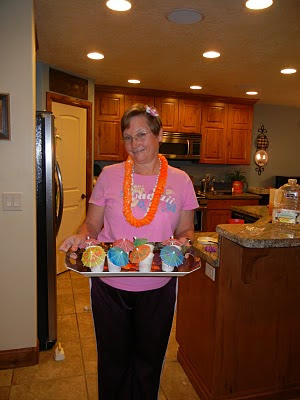 My Mom was the cute stewardest who gave the children macadamia nuts, POG (a famous Hawaiian drink) and fresh pineapple as their flight snacks.
Once they arrived in 'Hawaii' they had a luau filled with games, limbo, Hawaiian Haystacks for dinner, a movie night–Lilo & Stitch, learned Hawaiian Christmas songs, and made homemade pineapple ice cream. The kids had a riot! (And so did the parents..we weren't invited to the party so we all went out on a date. Aren't grandmas the best!?!)
Okay..now to the most delicious breakfast I have had in my entire life! The parents picked the kids up from the 'airport' in the morning and we were treated to a delicious Hawaiian feast for breakfast. If you love tropical flavors like pineapple and coconut, you will LOVE this breakfast!! I had to hold myself back from drinking the entire pot of syrup. Oh man…it was heavenly! The combination of the warm coconut waffles, the smoothness of the cream cheese, the sweet pineapple syrup and the crunchy macadamia nuts on top was INCREDIBLE!! They also served us fresh fruit, pineapple spears, and POG (Passion fruit, orange & guava).
I hope you enjoy this recipe and even if you can't go to Hawaii, you can make this breakfast and pretend you are on a warm beach somewhere, enjoying the sunset, sipping POG, and eating these delicious waffles.
[buymeapie-recipe id='829′]
[buymeapie-recipe id='830′]