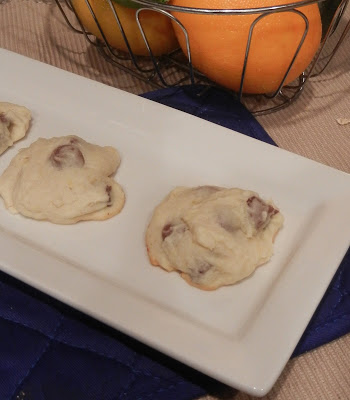 I feel honored today to be the spotlight on one of my favorite food blogs, Taste & Tell. I had a great time answering questions and getting to share my love for food storage and cooking with all of Deborah's readers. If you want to read the spotlight on me and Deals to Meals head on over to her site. It is probably more information than you ever wanted to know about me..but, hey at least it got me to clean my kitchen 🙂 In honor of Deborah's blog, I wanted to share with you one of her recipes that have quickly become one of my new favorite cookie recipes. In fact, my sister's have also made these a couple of times too in the past few weeks. I made a batch of these cookies three times in three days (don't worry, I gave most of them away) and then yesterday when I stopped by my sister's house she had just made them again too. That says a lot because I am not a huge fan of cookies (I would rather eat something a little more gooey!). Here is the amazing recipe for Orange Chocolate Chip Cookies (I changed the recipe a little from Deborah's–I like a little softer cookie). Delicious!
[buymeapie-recipe id='776′]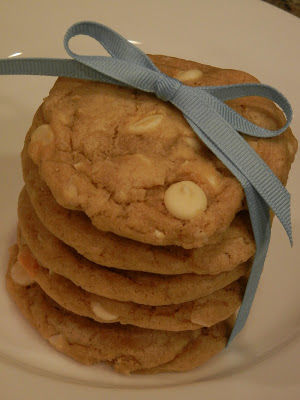 White Chocolate Macadamia Nut Cookies
Probably my all-time favorite cookie would have to be the White Chocolate Macadamia Nut cookie. When Diana (my sister) returned from
Hawaii
a few months ago she brought with her several containers of macadamia nuts. We made these cookies the other day and they were a slice of heaven right here in our cold, Utah kitchens. These would be a great dessert idea after you eat your
Hawaiian Waffles
from an earlier post 🙂
The recipe is simple, just use our
favorite chocolate chip cookie
recipe and instead of adding milk chips, just add a pkg. of white chocolate chips as well as 1 c. of crushed macadamia nuts (these are not cheap, but are worth the splurge!)
Here is another fun cookie recipe I have made this week. I am a HUGE fan of marshmallows. I eat smores over my kitchen stove I love them so much. For me, chocolate and marshmallows are just meant to be together. That is why I knew I had to try a recipe I found for
Hot Chocolate
Cookies. They turned out just how I had hoped. In fact, the chocolate cookie portion was so good I don't even know if you 'need' the marshmallow. However, it made it the complete package with the chocolate and mallow together. I have to admit I even dreamed of dipping them in hot chocolate–I know, a little over the top, that's why I didn't give in!
[buymeapie-recipe id='777′]