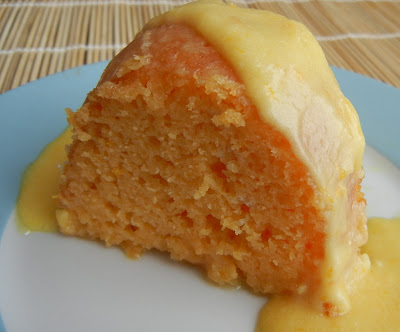 This month as you all know we are talking about ways to use the oil in our food storage. It is no surprise that oil is used in many of our favorite dessert recipes. Oil is one of the main ingredients in homemade or boxed cake mixes, such as this one for Glazed Orange Bundt Cake. Oil is what makes cakes and breads so soft and spongy.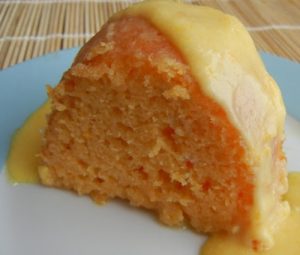 The other night I had a couple oranges that were going to go bad if I didn't use them up and I was craving a moist cake with some type of drizzly glaze. Oranges are in season and so I thought I would come up with a cake with a lot of orange flavor and a little zing. I love anything sour and sweet, so I played around with this recipe until I got it just right. If you need a refreshing dessert idea that can be thrown together in just a few minutes, this recipe is the one for you! Have fun experimenting this month with new recipes and ways to use oil in your cooking.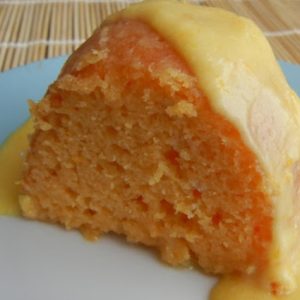 Ingredients
CAKE:

1

white or yellow cake mix

1

small package instant vanilla pudding

1

c.

orange juice

fresh or made from concentrate

2

T.

orange juice concentrate

1

T.

orange zest

4

eggs

1/2

c.

oil

2

T.

dry orange gelatin powder

GLAZE

2

T.

butter

softened

2

T.

orange juice concentrate

1

t.

lemon juice

fresh or bottled

3

c.

powdered sugar

Dash of salt

Zest & juice from one orange
Instructions
In a mixing bowl, whisk together the cake mix,

pudding, orange juice, concentrate, zest, eggs, oil, and gelatin powder

together until smooth. Grease a bundt

pan with cooking spray and a thin dusting of flour. Pour the batter into the bundt

pan and bake at 350 for 25-30 minutes, or until cake is cooked through. Remove the

cake from oven and let sit for 15 minutes to cool. With a knife, carefully go

around the edge of the bundt pan until it starts to come out of the pan. Turn the

cake upside down onto a large plate.

For the glaze: combine all of the glaze ingredients together and whisk until

completely smooth (you can do this with an electric beater). Drizzle glaze all

over bundt cake once it has been turned out onto a plate and allowed to cool

for 5-10 minutes.