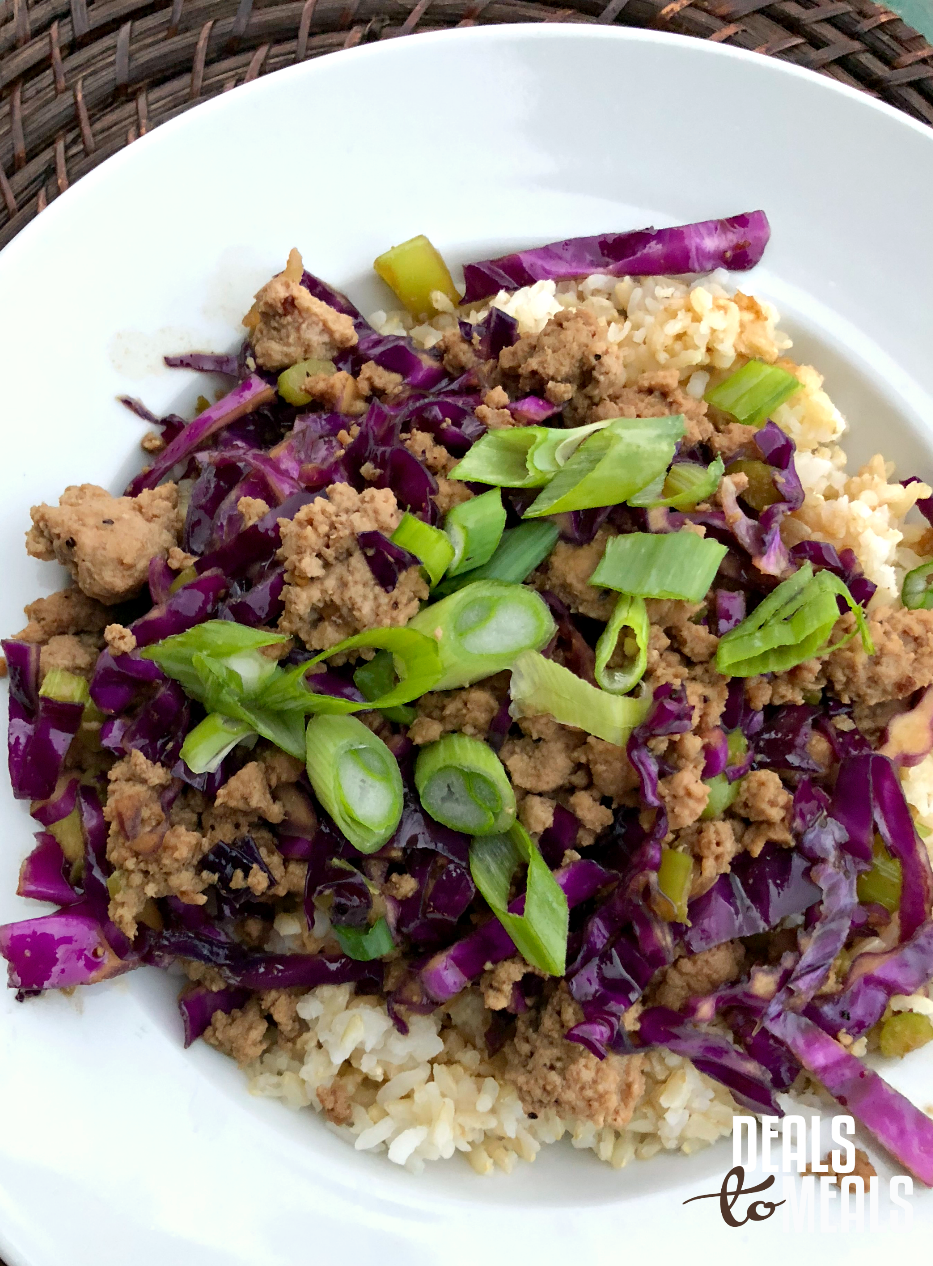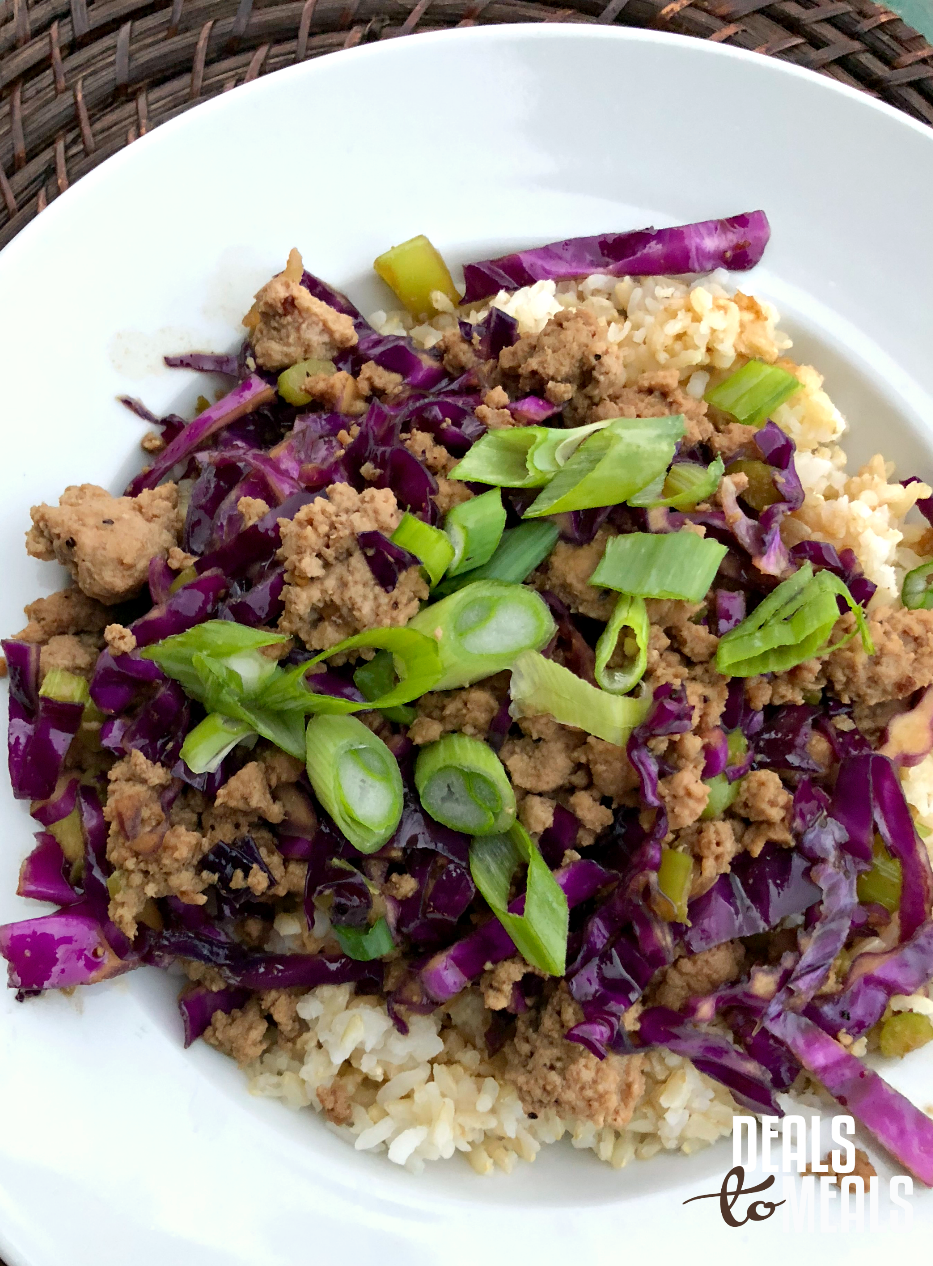 It's a new year and I am excited to share some healthy recipes your family will love, and so will your diets! This Asian Turkey Stirfry is a recipe to help you keep up your healthy eating goals. I am not great at sticking to strange fad diets, but I do know when I eat lean meats, plenty of fruits and veggies, whole grains, I feel a lot better. Sadly, sugar will forever and always be the death of my diets. I have such a home-baked sweet tooth. If I could stay out of the kitchen and stop baking, I would make things a little easier for my waistline. That being said, I still love coming up with fresh, whole food recipes and have an amazing one for you today!
My family has grown to love ground turkey over the years. Several years ago they used to whine and complain if I used ground turkey instead of beef. However, I know a 93% lean ground turkey is a healthier option than red meat. So, I tend to cook mostly with turkey lately and we love it. I wanted to switch things up a little tonight, so I came up with this Asian Turkey and Cabbage Stirfry that was amazing. Not to mention, it was so, extremely simple. It took less time than the rice did to cook. Twenty minutes tops and dinner is on the table.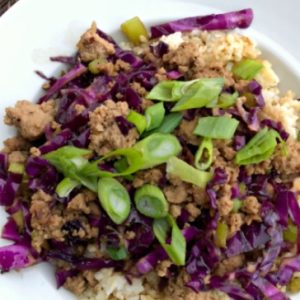 Ingredients
1 1/2

lb.

lean ground turkey

1

onion

diced

1

cup

celery

diced

1/2

purple

or green cabbage, sliced super thin

1/4

cup

green onions

sliced

2

Tbs.

sesame oil

2/3

cup

soy sauce

1/4

cup

brown sugar

1

Tbs.

Montreal Steak Seasoning

1

tsp.

ginger powder

1-2

dashes of Sriracha

4

cups

cooked rice
Instructions
In a rice cooker, add the rice and water and let cook until rice is tender while you make the turkey mixture.

Dice the onion into small pieces. Dice the celery into small pieces as well. Slice the purple cabbage into small, thin strips and set aside. Heat a large saute pan to medium-high heat. Drizzle with a little olive oil. Add the onion and celery to the pan. Saute for 2-3 minutes and then add the ground turkey. Continue to saute while breaking up the turkey into small pieces. Once the turkey is cooked and the onions and celery are soft, add the purple cabbage to the pan and saute until it softens. While the cabbage is cooking, add the sesame oil, soy sauce, brown sugar, Montreal Steak Seasoning, ground ginger and Sriracha. Let hte mixture simmer for a few minutes and then serve over the hot rice. Garnish with green onion slices if you desire.