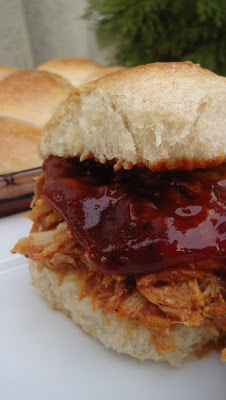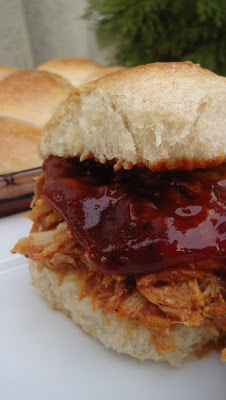 Are you looking for a quick meal or appetizer idea for this holiday weekend? Since this month we are focusing on 'sugar' and ways to use it in our food storage, I wanted to share two wonderful recipes with you! Not only are these recipes delicious, but they make for a quick and easy dinner idea (or appetizer) when you are in a hurry. You may feel you don't have time to make your own BBQ sauce or rolls, but I promise, these recipes are well worth your time! Make up a large batch and store in the fridge for weeks. The few minutes it takes to make, are well worth the homemade, fresh taste.
If you are like me, you probably have a boneless pork loin roast in your freezer that you bought when it was on sale. Throw this thawed roast in a crock pot, sprinkle with Montreal Steak Seasoning, add a little water to the bottom of the pot and cook low & slow for 4-6 hours, or until pork is tender. Once the pork is tender, drain the pork juice from the crock pot and then shred into small chunks. While pork is cooking, make the homemade BBQ sauce and rolls.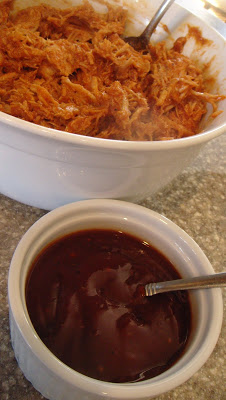 Homemade BBQ Sauce
2 c. ketchup
3/4 c. brown sugar
1/4 + 2 T. apple cider vinegar
3 T. molasses
1 T. Worcestershire sauce
2 T. dry dehydrated onions (or fresh)
1 T. paprika
2 t. salt
1 t. coarse ground black pepper
2 t. dry mustard
1 t. onion powder
1 t. garlic powder
1 t. crushed red pepper or cayenne (or more if you like it spicy)
Add of the above ingredients in a medium saucepan. Bring sauce to a boil and then reduce to a low simmer. Simmer for 25 minutes, on low heat, stirring occasionally. Store extra sauce in an air tight container in the fridge for up to 2 weeks.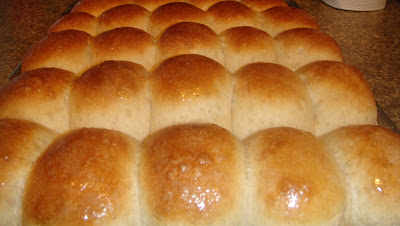 This roll recipe is one of my favorite quick and easy dough recipes. These rolls can literally be made in minutes and taste amazing as a roll or even as a homemade deli bun, hamburger or hot dog bun. I have even used this recipe to make a French bread loaf. It is very versatile and can be made quickly before dinner needs to be served. These rolls are the perfect accompaniment for the shredded pork sandwiches. Make small rolls and place the bbq pork on them for mini pork sandwiches as an appetizer.
Easy 30 Minute Rolls
3 c. hot water
2/3 c. oil
3 1/2 T. yeast
1/2 c. sugar
1 1/2 T. salt
2 eggs (I used 1 T. egg powder and no additional water)
7-8 c. flour (I like to use half white flour and half wheat flour)–you may need a little more (or less) flour to make the dough the perfect texture. You want the dough a little soft, but firm enough to handle and roll into balls. Don't add too much flour though or the rolls will be dry 😉
Mix first four ingredients and let rest for 15 minutes. Add the salt and eggs. Gradually add the flour. Shape dough into dinner rolls and place on a greased cookie sheet. After shaped, let rest for 10 minutes. For rolls, bake 10 minutes at 400 degrees until golden brown. Take out of the oven and brush tops with butter.