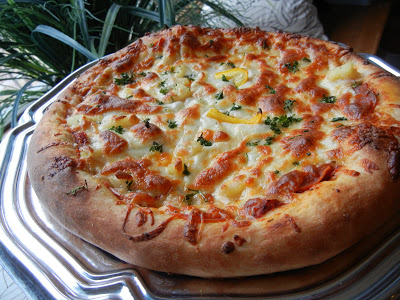 I think that traditions during the holidays are the things that make us all smile. Each year my husband and I get together with our roommates and friends from college. Many of us live all over the state and country and so we have found that the week after Christmas we are all available or in town to get together. Several years ago we started the tradition to make pizza. Each person brings their desired toppings and I provide the sauce and dough. My desire to find the BEST of something has continued. So with this fun party planned I was wanting to branch out from my traditional pizza dough recipe and see if I could somehow find something better. Let's just say that YES I did! Now, this pizza dough did take a few more hours of preparation but don't let that scare you away. You simply make the dough the night before and keep it in the fridge until 30 minutes before you are going to use it. Seriously, so easy.
Tip #1 – Make the dough in advance and keep in fridge from 18-48 hours (optional but helps with a chewy crust).
Tip #2 – Put your dough out on parchment paper. Now you might think you need to get a rolling pin out, but you don't! This dough is a little different. You just begin pushing it out from the center to the edge. Each time you do this it will create the perfect crust and a beautifully round pizza.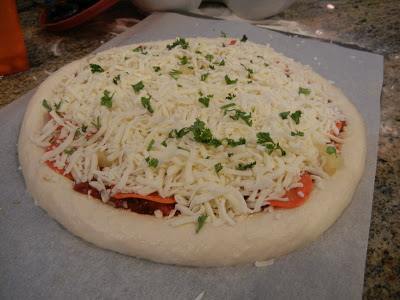 Tip #3 – Place the rolled out dough onto the back of a cookie sheet. I used parchment paper to roll the dough out on. It made for an easy transfer onto the pizza stone in the oven.
Tip#4 – Bake your pizza at 500 degrees, on the very bottom rack and on a pizza stone. I keep my pizza on the parchmant paper and bake the pizza on the stone with the parchment paper. The paper comes out dark brown–so far I haven't started any fires 😉
Just delightful. Enjoy. Let me know if you have any questions. Here is the recipe…When I go looking for the BEST recipes, I have to admit I generally find them being tested and true from Alton Brown from the food network. That is exactly who helped me out here.