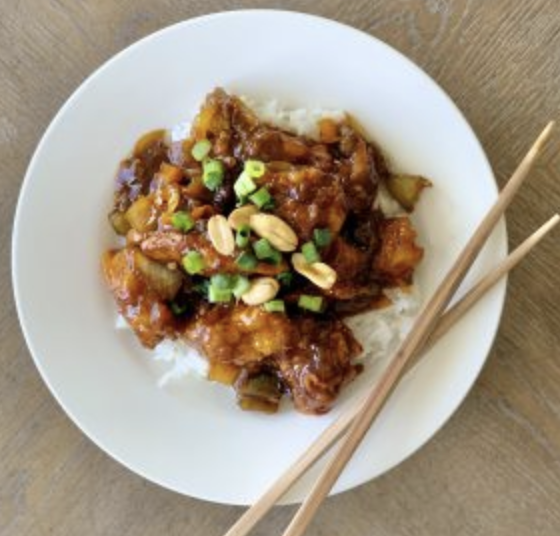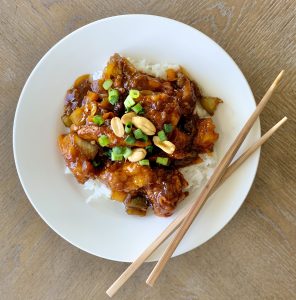 Kung Pao Chicken is one of my favorite dishes to order at a Chinese restaurant. It's flavors are so simple and yet have just the perfect amount of spice, texture and sweetness. The other night I needed a quick and easy dish to get on the table. I had some celery, onions and a bell pepper in my fridge that needed to be used up. The great thing about Kung Pao is you can use pretty much any vegetables you have in your fridge. It's one of those meals that's nice to make with chicken from your freezer to keep you from going to the grocery store.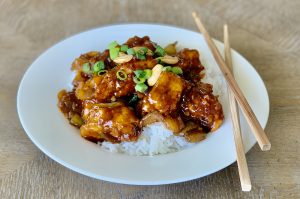 Check out our FREE deals as many grocery stores have chicken on sale this week. It's the perfect time to make this dish under $10. Thanks for stopping by and remember to check out Thrive Life's March Deals if you need to stock your food storage!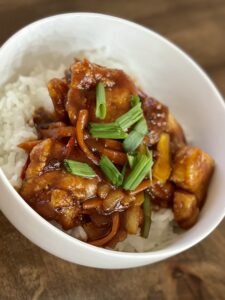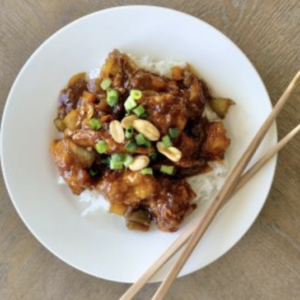 Ingredients
2

lbs

chicken breasts or tender

cut into 1-in pieces

1

stalk green onions

sliced

1

red bell pepper, diced

1/2

cup

celery, diced

Cooked

white rice

1/3

cup

peanuts or cashews

optional

FOR THE SAUCE

2

Tbs.

rice vinegar

1/4

cup

soy sauce

2

Tbs.

hoisin sauce

2

tablespoon

sesame oil

3

Tbs.

sugar

2

tablespoon

corn starch

1

teaspoon

crushed red pepper flakes

use half the amount for a milder sauce

1/2

teaspoon

ground ginger

2/3

cup

water

FOR THE STIR-FRY

2½

tablespoons

vegetable oil
Instructions
Cook the rice in a rice cooker and let cook while you prepare the meal.

For the chicken, you can cook the chicken any method you would like. You can bread it in some cornstarch and deep fat fry it until cooked through in the center. You could also just saute the chicken in a hot saute pan with a little olive oil until golden brown and tender. You could also simplify this dish and use a good quality, breaded chicken tender if you wish. The traditional way to serve Kung Pao is more of a sauted chicken with a very light, golden edge. Set the cooked chicken aside while you cook the vegetables.

You can also use any vegetable variety you would like in the stir-fry. You could use celery, onions, bell peppers and even zucchini if you wish. Simple dice the vegetables into small pieces and saute in a little oil and then add to the cooked chicken.

For the sauce, whisk all of the ingredients together and cook in a saute pan until the mixture begins to thicken. Once the mixture begins to thicken add the cooked chicken and vegetables to the saute. Let simmer for a few minutes and then serve over hot rice. Garnish with the green onions and serve.