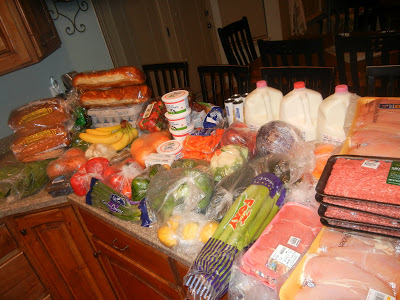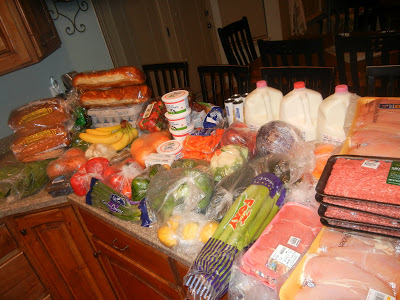 $115 Shopping Trip–GREAT deals this week!
After a fun and relaxing vacation it was back in the saddle again this weekend in the kitchen. I love coming home to an empty fridge and being able to fill it up with all of the great deals of the week. This week there are SEVERAL amazing deals on fresh produce and meat. I was able to fill up my entire fridge with every type of produce you could want (tomatoes, celery, cilantro, peppers, onions, bananas, berries, lemons, limes, lettuce, green onions, avocados, carrots, cucumbers, potatoes, cauliflower, apples, oranges, and MUCH more). I also stocked up on meat that is on sale this week for an awesome price! I purchased 4 lbs. of ground beef, 8 family packages of chicken, and 3 lbs. of boneless pork. Great deals also on eggs, sour cream, bread, milk and everything else you need for your 2 week meal plan. Such a great week to go shopping!
Login to our website to see how you can get these same amazing deals on your week's groceries!
So…once I returned home, packed the fridge, I had to decide what to make for dinner. We had gone to my favorite restaurant The Cheesecake Factory while on vacation and ever since I have been craving their Chicken Costoletta. I decided to put together my own version with a little flare and it was AMAZING! I would have to say this was one of the most delicious dinners I have ever made (that's saying somethin'!). I loved the combination of the mushrooms & onions, the crunch from the golden brown chicken, and the creamy, cheesy lemon sauce. This sauce was heavenly poured over the chicken and mashed potatoes. If you need a dinner that will WOW your family or friends, this is the one. It is not only beautiful but scrumptious as well!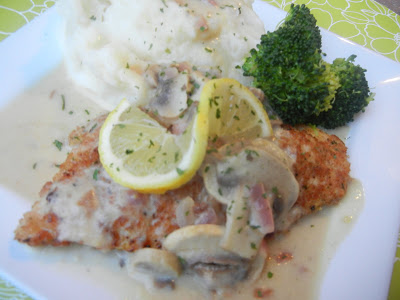 [buymeapie-recipe id='622′]