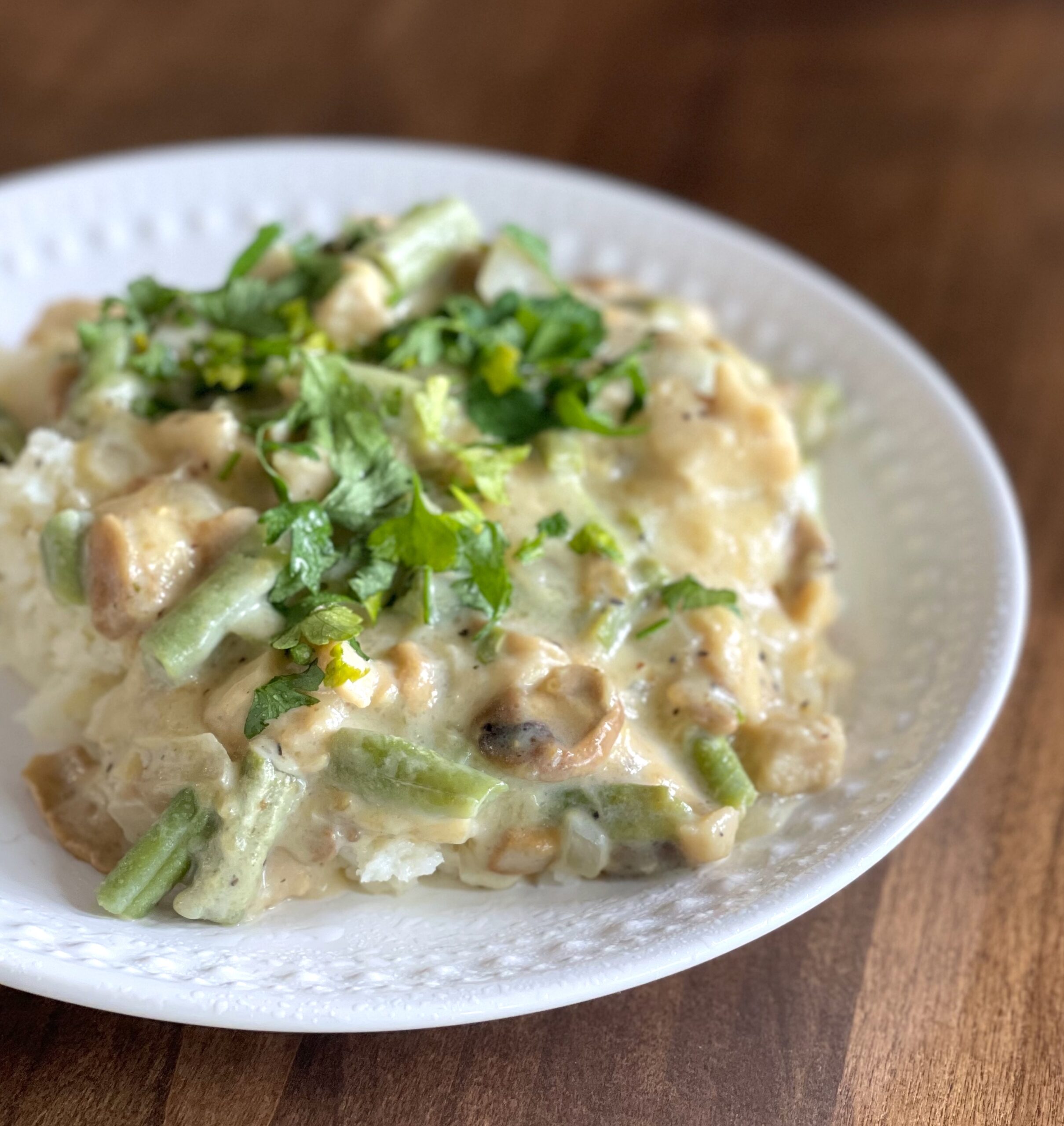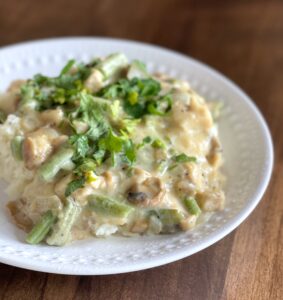 Check out our video on Instagram for this delicious Lemon Chicken Dijon Gravy over Potatoes. When you need dinner in 15 minutes, this is the dinner for you! You could of course use fresh ingredients but on a busy night it is so much easier to use Freeze Dried food from Thrive Life. Their products are unmatched and so fresh, healthy and delicious you will never know they were dried.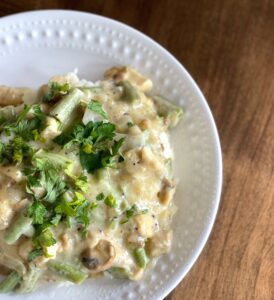 This recipe for Lemon Chicken Dijon Gravy is super flavorful and filled with fresh/dried vegetables and tender pieces of large chicken. Thrive Life has their chicken and mushrooms on sale for 45-50% off starting Wednesday the 23rd. This makes the chicken just over $3 for a pound! No fat, no grissle, no waste–simply tender pieces of chicken without any fuss. All you have to do is hydrate the chicken a few minutes before you prepare dinner and away you go! You can use fresh onions, mushrooms and green beans or just use the ones on sale to make your life easier.
Here are the links to everything on sale. The chicken and mushroom sales won't go live until Wednesday at 9 a.m. MST. The potatoes and green beans are on sale now!
Thrive Life Sliced Chicken 45% OFF
Thrive Life Sliced Mushrooms 50% OFF
Thrive Life Mashed Potatoes 30% OFF
Thrive Life Green Beans 30% OFF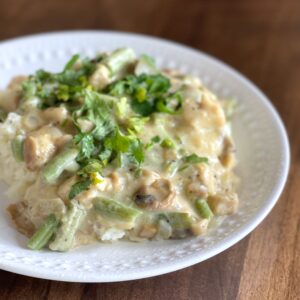 Ingredients
1 1/2

cup

Thrive Life Sliced Chicken

or rotisserie chicken

1 1/2

cup

water

2

Tbs.

chicken bouillon

1

cup

Thrive Life Green Beans

or fresh

1/2

cup

Thrive Life Sliced Onions

or fresh

3

Tbs.

olive oil

2

Tbs.

water

1

tsp.

black pepper

1/2

tsp.

salt

1

Tbs.

Montreal Steak Seasoning

1

Tbs.

cornstarch

1

cup

evaporated milk

Juice and zest of 1 lemon

1

Tbs.

Dijon mustard

MASHED POTATOES:

3

cups

boiling water

1/4

cup

Thrive Life Powdered Milk

2

cups

Thrive Life Mashed Potatoes

4

Tbs.

butter

Salt & pepper

to taste

1/2

cup

Thrive Life Pepperjack Cheese

Fresh parsley

for garnish
Instructions
In a microwave safe bowl, pour 3 cups boiling water and powdered milk and mix together. Put in the microwave for 3-5 minutes or until the water/milk is super hot. Remove from the microwave and add the mashed potatoes, butter, pepper jack cheese, parsley and salt & pepper. Mix until combined and fluffy. Let sit while you make the gravy.

Put the chicken, bouillon and water into a bowl (if using freeze dried chicken). Let the chicken rest until tender. Heat a large skillet or pan to medium heat. Add the olive oil to the pan. To the olive oil add the onions and green beans. Add a couple tablespoons of water to help hydrate the green beans. Add the seasonings to the pan. Sprinkle the cornstarch over the vegetables. Add the chicken and bouillon water to the pan. Let simmer. Add the evaporated milk, mustard and lemon zest and juice. Let warm through and then serve over the mashed potatoes. Garnish with fresh parsley.