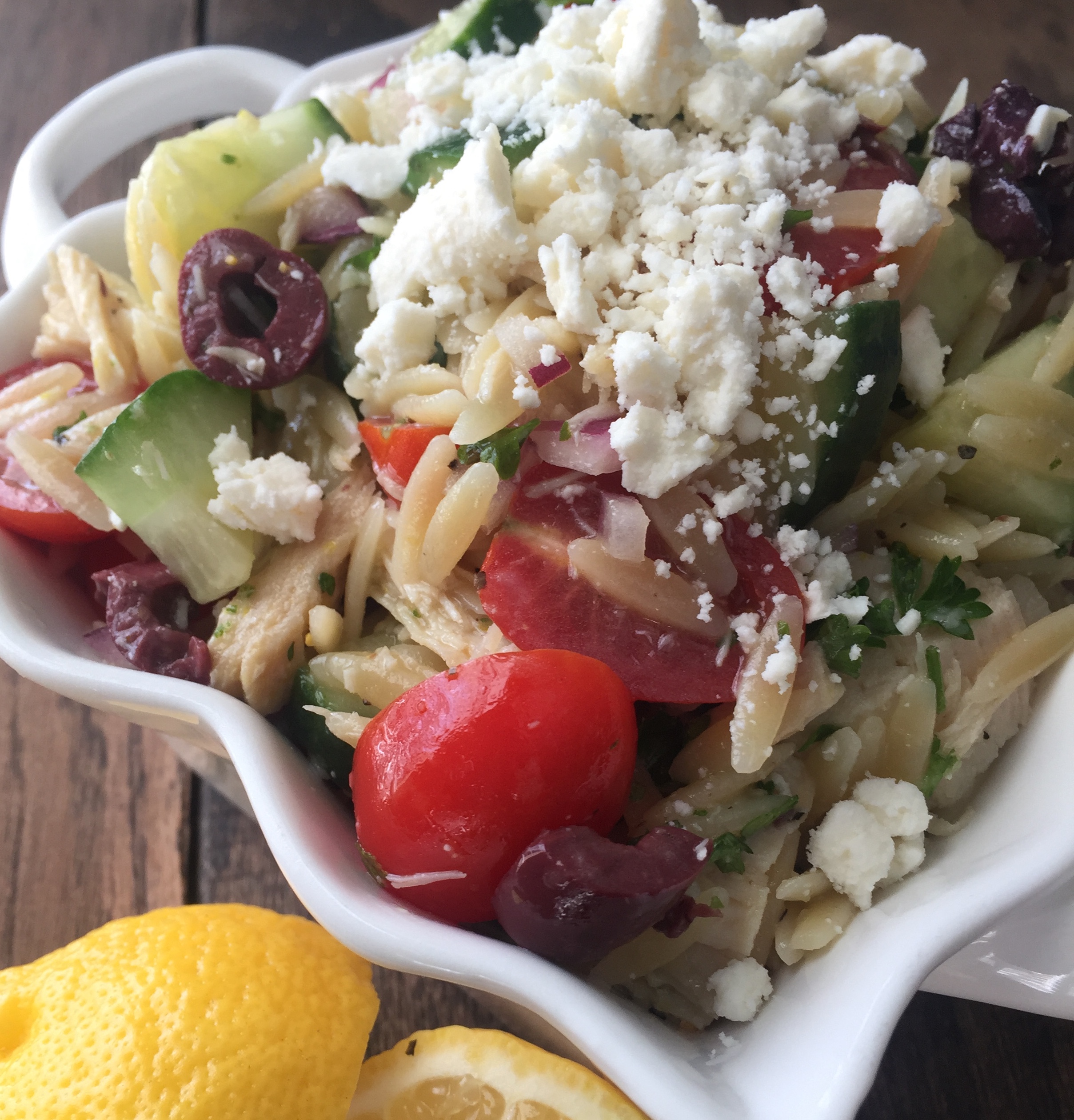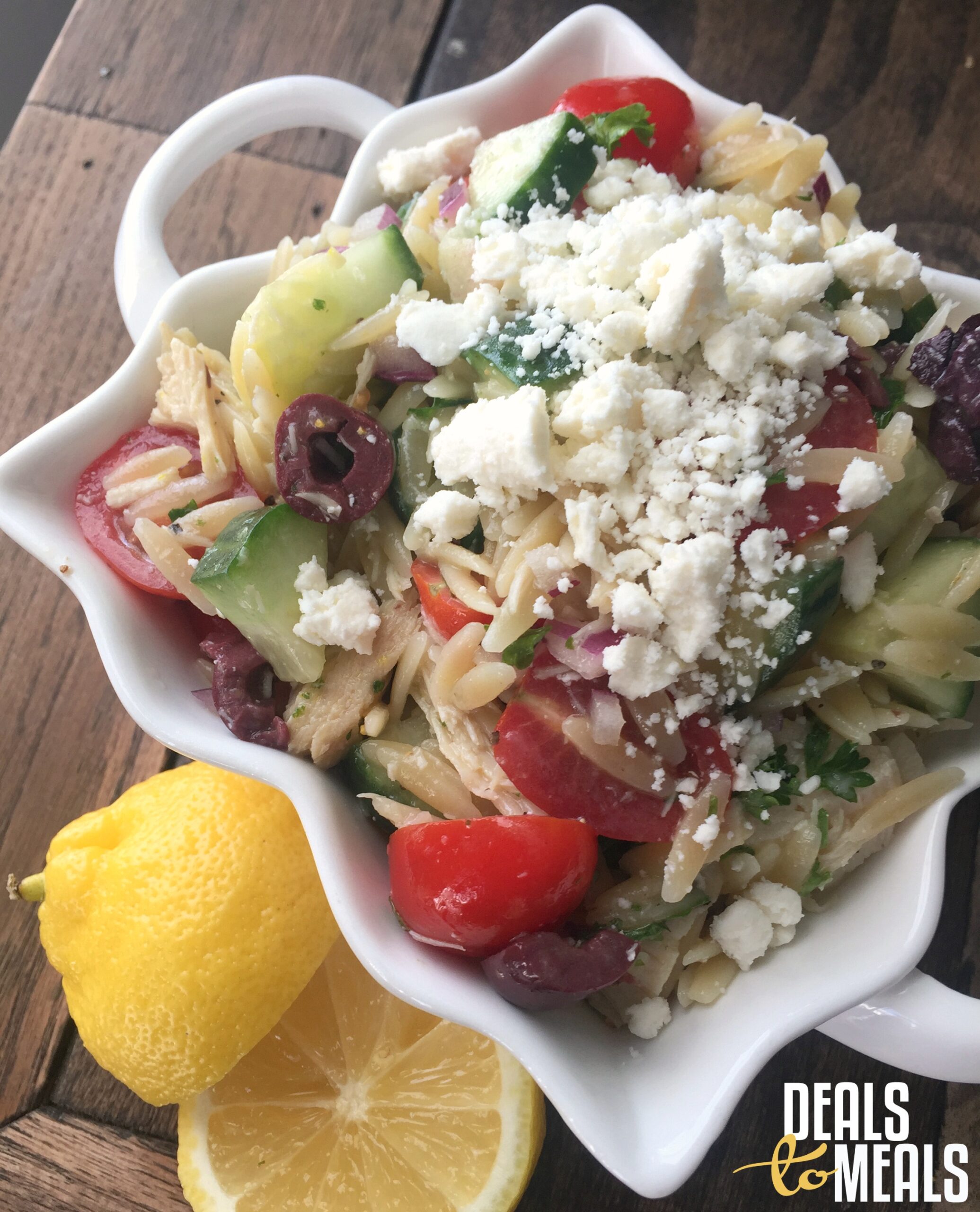 Isn't it so great to see some spring flowers poking through the cold, frozen ground? I couldn't be more happy that it's spring time–hooray! I love this time of year. There is a feeling of rebirth, renewal and hope that comes as we think about spring and the ending of winter. There is not a more sacred time in our family than when we focus on Jesus Christ during the Easter season. We love recounting His life, His sacrifices for us, and the miracle of His resurrection. It's just a sweet time to be with family and enjoy some fresh, healthy recipes of spring. When I think of spring I think of flavors that are light, bright, filled with fresh ingredients and herbs, and overall healthy. It's a time of year I try and shift my cooking of heavy, comfort food to a little lighter, brighter recipes.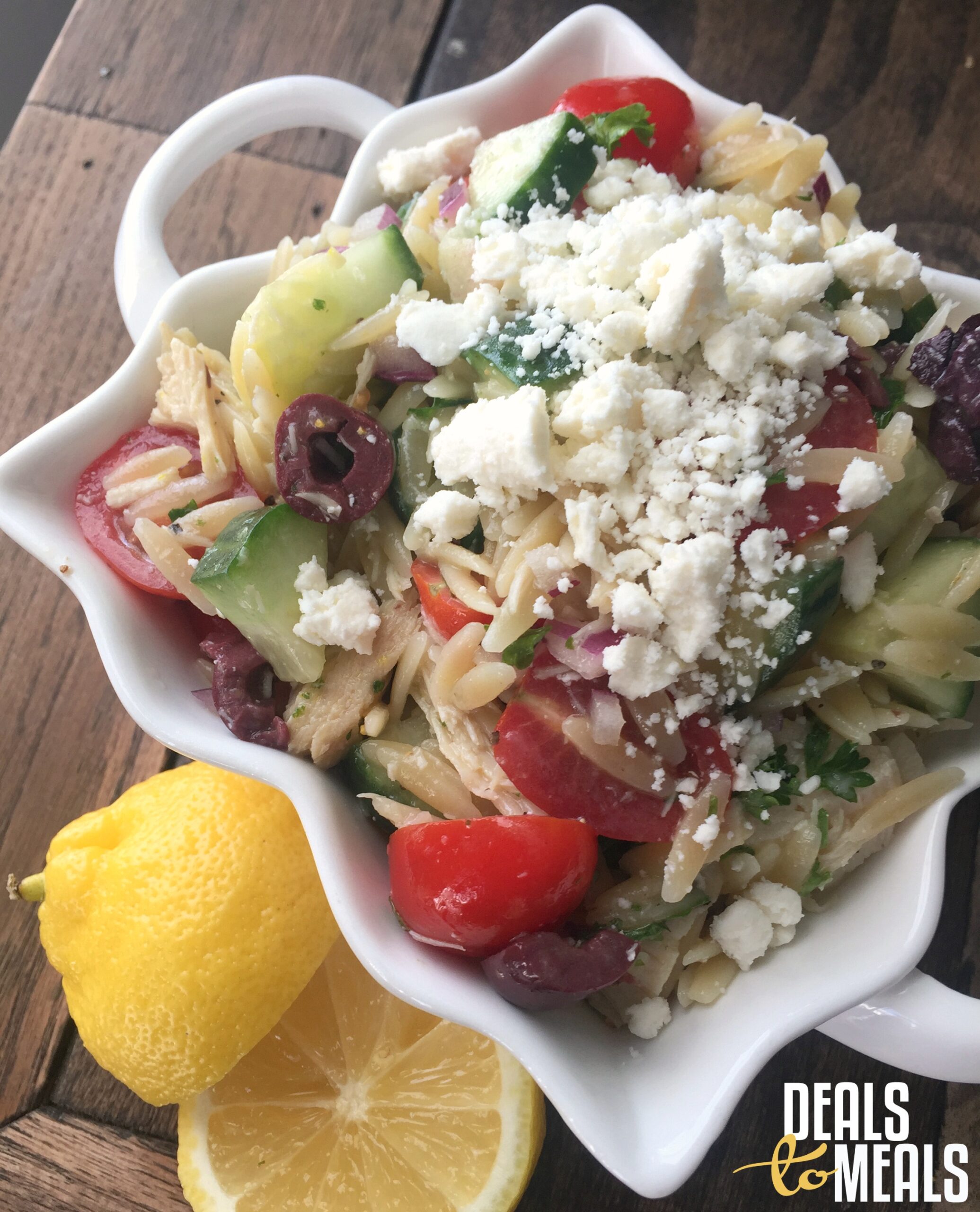 This Orzo Salad is the perfect spring salad to add to any of your Easter meals or celebrations. In fact, this recipe is a great one to bring to a bbq (yep, did that last night ;), or pack for an outdoor picnic lunch. If you're a vegetarian, this recipe is fantastic with or without chicken as well. This salad is filled with fresh vegetables, a tender, petite orzo pasta and drizzled with a light, fresh lemon basil dressing. I actually have some leftovers from last night I'm going to go enjoy for lunch today. Hope this salad puts a little spring-fling in your kitchen this week.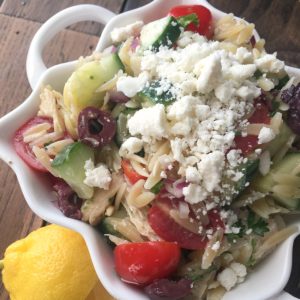 Ingredients
1

lb.

orzo pasta

2-3

boneless chicken breasts

grilled and seasoned with lemon pepper

1

pint

grape tomatoes

cut in half

1

english cucumber

diced

1/4

cup

fresh parsley

chopped

2-3

Tbs.

calamata olives

chopped

2-3

Tbs.

red onion

diced

1/2

cup

feta cheese

DRESSING

Zest and juice of 1 lemon

1/2

cup

white vinegar

1/2

cup

olive oil

1

tsp.

lemon pepper

5-8

basil leaves

1/2

tsp.

garlic powder

Salt to taste
Instructions
Grill the chicken breasts until no longer pink in the center. Season the chicken with salt and pepper, as well as a generous amount of lemon pepper. Once the chicken is done, remove from the grill and let cool on the counter. When the chicken is cooled, dice the chicken into small pieces. Add the cooked chicken pieces into a salad bowl.

In a large pot, add enough water to cover a pound of orzo pasta. Turn the heat to medium heat and boil the orzo until tender. Once the pasta is tender, drain the pasta into a mesh strainer. Put the pasta into the bowl with the chicken.

Cut and prepare the vegetables and add to the salad.

For the dressing, puree all of the ingredients until smooth. Pour the dressing over the pasta, vegetables and chicken. Serve with fresh feta as a garnish.