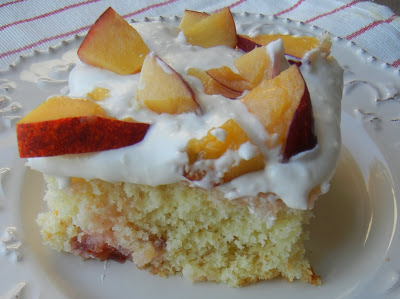 I can't believe it has been one year already since we had our sweet baby Blake. Where does the time go? It is strange to think that my little baby, and most likely my last baby, is now a waddling toddler. I can't think too hard about that or it will make me cry. I miss those days when he would snuggle on my lap and cuddle with me. Now all he can think about is how to get down so he can walk along all of the furniture. I knew that day would come, I just can't believe it's here already….boohoo! Here he is in his favorite place. He loves to hold on to the French doors by the front door and stand and watch the kids play outside. He doesn't dare go down the porch stairs yet, so he just stands there and squawks at the the kids in the circle. It's pretty cute.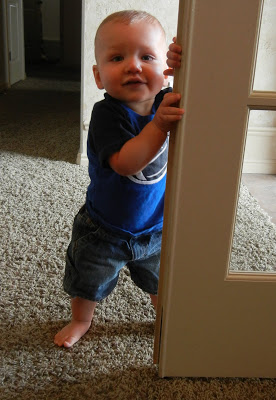 It's funny the more children you have how easy it is to have the days all mesh together. I was making dinner today and realized that tomorrow would be Blake's birthday (ah!). We will be camping on his official birthday, so I decided to throw together a birthday cake for tonight. Is that sad or what? Our poor neglected fifth child. He is really not neglected, he is kissed more than the rest, but it's sad when birthday parties become a little more crazy & hectic the more kids you have. We quickly sang Happy Birthday to him before kids ran off to scouts, church activities, etc. So..here is a Happy Birthday wish to our loveable, squishy, Blakester. He was a BIG fan of this cake. He was shoveling it in with both hands.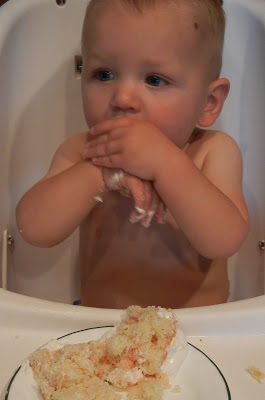 Now..what cake did I choose to make? Last year I experimented with this recipe and it is now quickly a favorite cake of mine in the summer. When our peaches are ripe on our tree I love to make this cake for all of our summer get togethers. It is light, airy, moist and full of peach flavor. I only had Walmart peaches today, but it was still a special treat for a special day!


*Quick tip: If you don't have the time to make the mousse, you can just use whipping cream or Cool Whip. It won't be quite the same, but it will still be awesome.
[buymeapie-recipe id='881′]