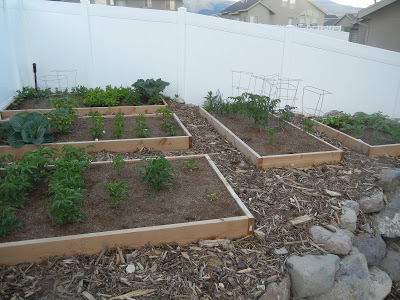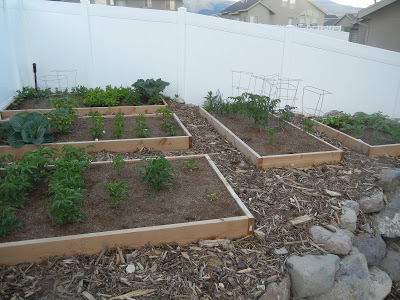 Can I tell you, I am thoroughly in love with my garden (don't tell my husband! 😉 Nearly every morning for the past several weeks my children and I run up to the garden before breakfast to see how our garden is doing. I was so used to going up to my garden in the past and seeing nothing but weeds, dried out plants, and I would leave feeling frustrated. These square foot gardens however, I feel are a miracle! Nearly every day I go up to my garden and the plants have bloomed and have grown larger over night. It seriously is SO fun!! It is amazing what good soil does. I really think that was our down fall in our last garden. The soil in this garden is so soft, dark and moist. No wonder the plants are thriving (shocker! I tell ya, I am a little slow in the gardening department!).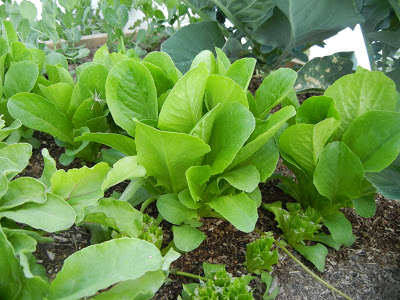 Lettuce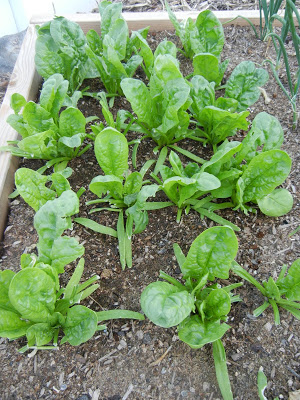 Spinach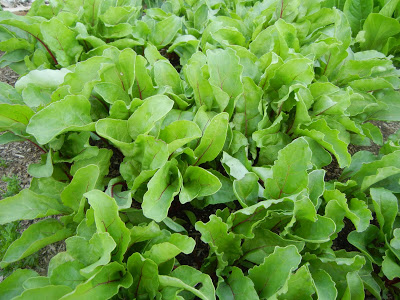 Beet greens–you just cut off the tops of the beet greens (the smaller the leaves the more tender they are) and use them in salads or cook them up with a little butter and vinegar.
So..what is growing in my garden. Well, everything is growing, but the produce I am loving these past two weeks is the lettuce, spinach and beet greens. We are a family of part rabbits. We eat salads for dinner or lunch several times a week–especially in the summer when it is too hot to cook. I wanted to give you a couple of ideas of ways you can use the lettuce, beet greens and spinach in your garden. (If you don't have a garden, that is okay..lettuce is on sale this time of year so you can still make these recipes 😉
This first recipe I created the other night was to use up some of the spinach in my garden and all of the free pasta we have so much of from last month's sale. I really loved the results. It was a light and over-all healthy side dish to our barbecue. I served this salad with grilled beef, but I think the next time I will make it a dinner salad and just add grilled chicken for a one-dish-wonder.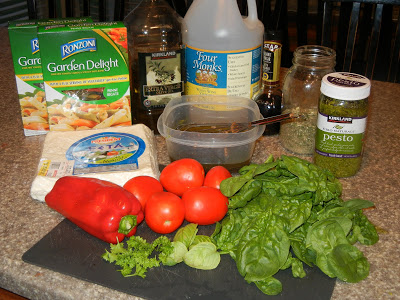 [buymeapie-recipe id='880′]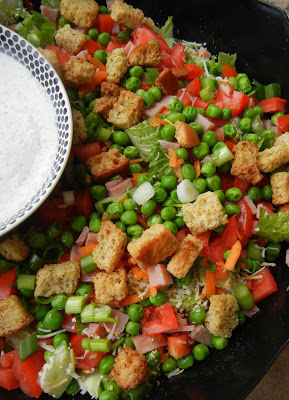 This salad is not anything unusual, it is jut your ordinary Chef Salad. The other night it was hot, I was tired and the last thing I wanted to do was turn on the oven. So, I decided we would have a salad bar for dinner. Surprisingly the kids and my husband loved it. I served this salad with our homemade ranch dressing and who could resist? Did I mention I am also in love with ranch? Our homemade
Honey Mustard Dressing
would also be good if you don't like ranch.
Here are some of the items we put on our salad–make this salad in another month and nearly all of the ingredients could be growing from your garden:
Lettuce, rinsed and chopped
Spinach, rinsed
Beet greens, rinsed and chopped
Frozen peas, thawed (soon we will be able to have peas from our garden..yum!)
Tomatoes, diced (grape tomatoes should be coming soon)
Shredded cheese
Diced green onions (just about ready to cut from my garden)
Diced ham
Red bell pepper (coming July or August)
Croutons
Shredded carrots (nothing better than homegrown carrots..I can't wait!)
Broccoli florets, diced (not quite big enough yet to cut–but soon)
Here are a few other recipes from our blog that use spinach or lettuce:
Lemon Chicken Farfalle (spinach)
Asian Chicken Pasta Salad (spinach)
Sausage Tortellini Soup (spinach)
Raspberry Spinach Salad
Wonton Chicken Salad (lettuce)
Wingers Sticky Chicken Salad (lettuce)
BBQ Ranch Chicken Salad (lettuce)