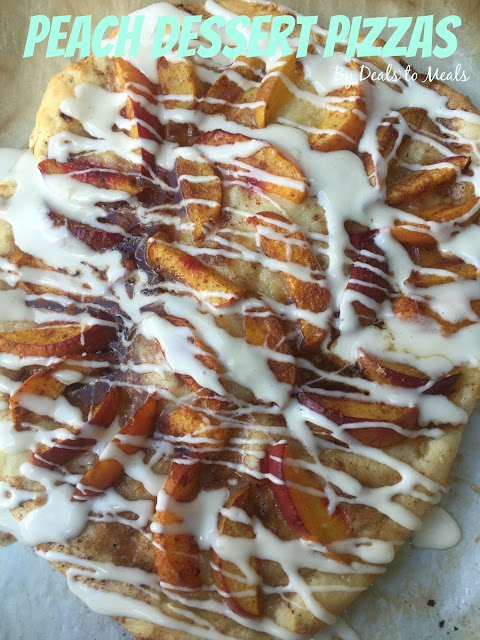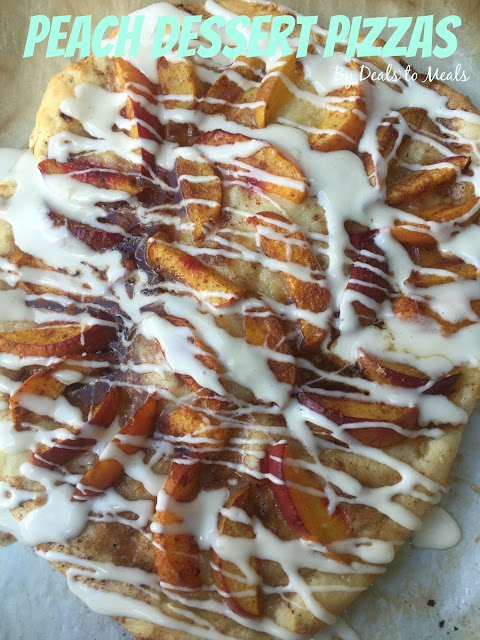 One of my favorite things to make on the weekends are homemade pizzas. Especially with football season in full swing, I love to make up some homemade pizzas and enjoy a lazy Saturday afternoon watching a football game (yes, we're Cougar fans over here). The other day we had every topping you could think of for pizza and then wanted to appease our sweet tooth as well. We had peaches from our tree that needed to be used and I had some leftover cream cheese frosting. So…we made these amazing Peach Dessert Pizzas and they were a huge hit! I used the same pizza dough recipe I use for everything, topped it with some melted butter, brown sugar, cinnamon and sliced peaches. I then baked the pizza at 425 degrees until the top was nice and brown, and then I removed it from the oven. I let it cool for a few minutes and then drizzled some cream cheese frosting all over the dessert pizza. Make sure and bake the pizza on a piece of parchment paper so the cooked sugar doesn't stick to your pan and make it hard to clean.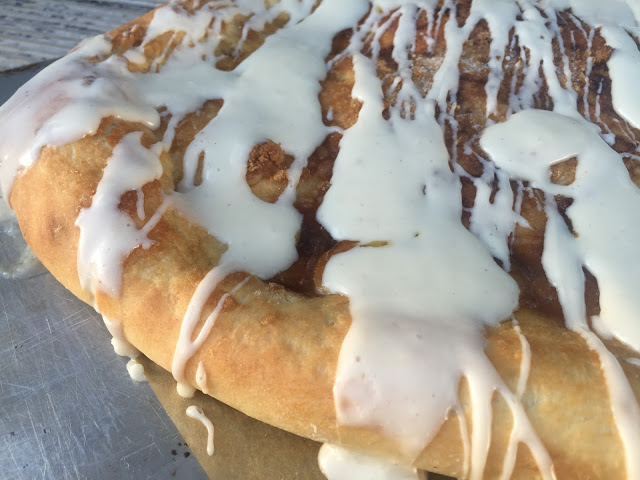 For those kids who don't love peaches, we also did a basic cinnamon and sugar pizza. Everything was the same, minus we left off the peaches. I am salivating just thinking about how delicious these pizzas were. I think these are going to have to be on the dessert menu again this weekend. Yum!! I can't wait for you to try these dessert pizzas! Let me know what other dessert combination pizzas you love. I think I've opened up a whole new world of dessert options 😉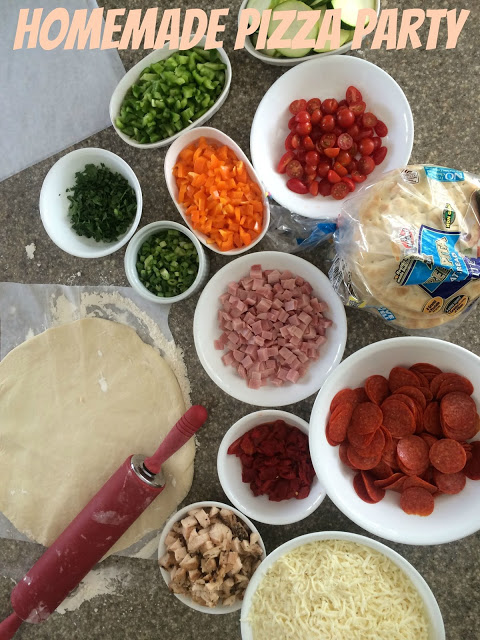 *Tip: If you are in a hurry and don't have time to make homemade pizza dough, just buy the pita bread from Costco and use it as the crust. It works great and the kids love to have their own personal pizzas! It's a great meal idea for those busy nights 😉 I'm sure the dessert pizza would also be good this way.