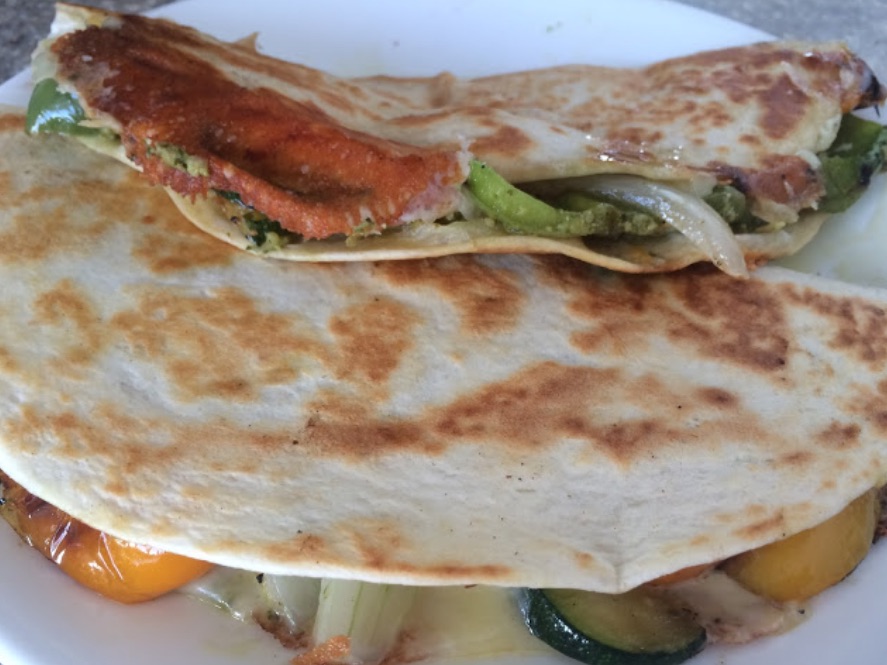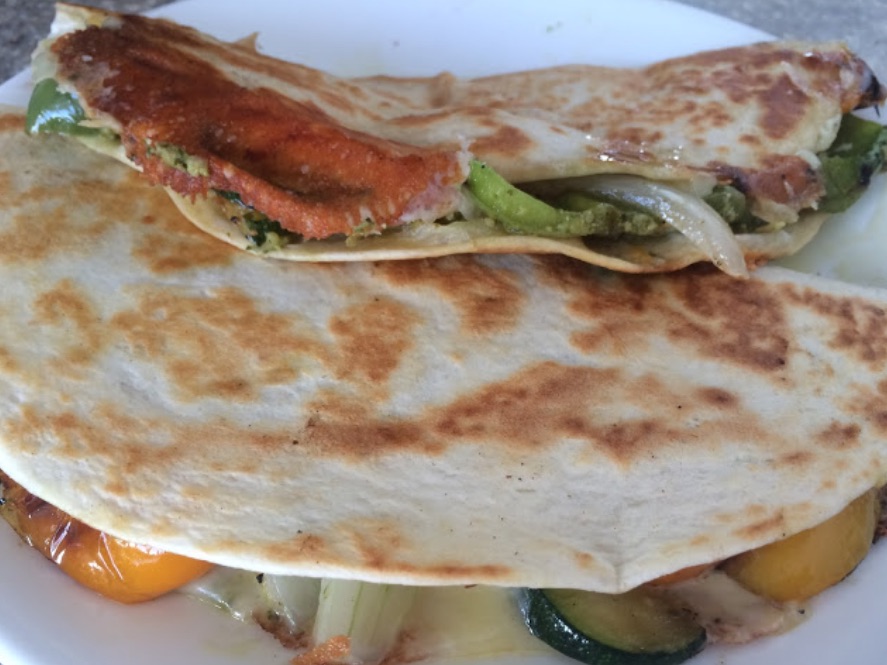 Please tell me it is not just my group of friends that exercise while talking about food? We are such a hilarious group of ladies. Here we are trying to burn calories while we are dreaming up the next thing we're going to put in our mouth when we get home. The other day we were exceptionally daydreaming about yummy food and my friend was telling me about a grilled vegetable quesadilla she had made from veggies in her garden.  From the time I left her, I could not get the thought of those quesadillas out of my head. Well, guess who showed up at my door that night? My cute friend with a plate of the most amazing quesadillas I have EVER had! Seriously, it was incredible. You would never have guessed it was all vegetables. There was so much flavor in the quesadillas because of the pesto, you didn't miss the fact there was no meat.  And then you have two kinds of melted cheese and I could hardly contain myself. I had already eaten dinner but somehow managed to stuff my face with the entire quesadilla!
Fast forward until the next couple of weeks and I have made these three times! They are that good. Even my kids (minus my one extremely picky child), gobbled these up and loved them as much as I did. If you have garden vegetables or produce in your fridge you need to get rid of, these are the perfect solution! I hope you enjoy them as much as I did! 🙂 Thanks Missy for another great recipe!!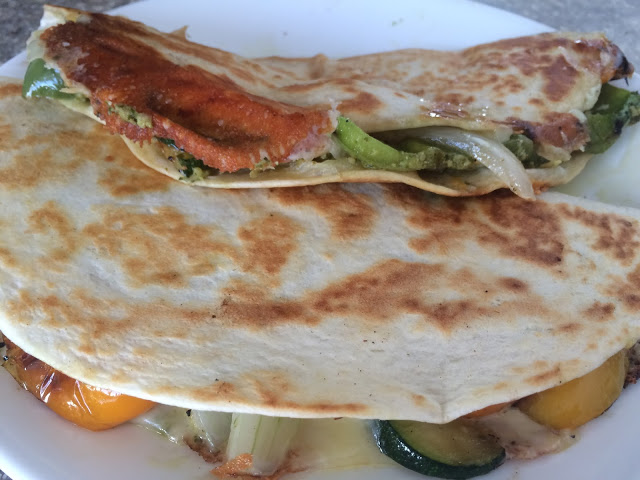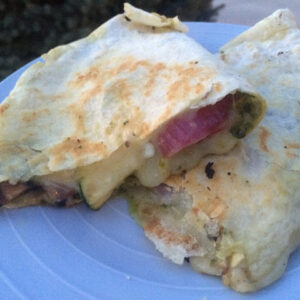 Ingredients
1/2

cup

pesto

I love the jar from Costco that I freeze into little baggies with single servings for later meals

1

cup

feta cheese

2-3

cups

shredded Monterey jack cheese

you could also use mozzarella

Any vegetables of your choosing

peppers, onions, zucchini, mushrooms, eggplant, tomatoes, etc.

1

package flour tortillas

Butter

Olive oil
Instructions
Prepare your vegetables by cutting them in half, keeping them in large enough pieces to grill. Place all of the veggies in a bowl or pan and drizzle with a little olive oil. Season with salt and pepper or Montreal Steak Seasoning. Toss the veggies to coat and then place them on a hot grill to cook. Grill them on both sides until they are tender (but not mushy) and have some nice grill marks. Remove them from the grill and slice them into pieces. Spread a generous amount of pesto on a tortilla and then several of the sliced vegetables onto one half of the tortilla. Sprinkle some mozzarella cheese on top of the vegetables, as well as some feta cheese crumbles. Heat a saute pan or griddle to medium-high heat and drizzle with some olive oil or a pat of butter. When the oil is hot, place the tortilla on the pan and cook until the cheese begins to melt and the tortilla is nice and golden brown. When it is, flip the quesadilla to the other side and cook for a few more minutes. Let the quesadillas cool and then serve.