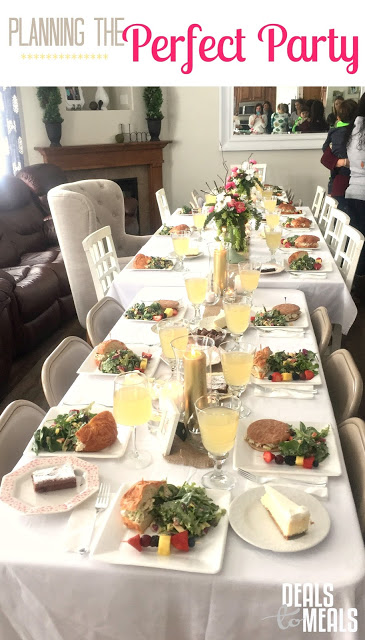 Last week was my sisters 35th birthday and we decided to throw her a surprise birthday party. She is a huge fan of birthday's so we wanted to make this one special. Instead of just going out to lunch we wanted to throw a party that would help her feel loved and special. It was such a success I wanted to share some tips that made this party unforgettable.
I have to give all of the credit to my two dear friends Amber and Betsy. I handled the food and they were in charge of set up and decor (two things I don't do!). Give me food assignments any day, but to make something look beautiful, that's totally out of my comfort zone. Didn't they do such a great job though? It was seriously magical!
No matter what party I am throwing, this is my go-to menu of choice. It's easy, can be prepared a day (or two) in advance and is a crowd pleaser for everyone. Here's what we served:
*Fruit Kabobs (any of your favorite fruit on a skewer)
*Sparkling Grape Punch (two 2 liters of Fresca or Squirt & 12 oz. Welch's White Grape Juice Concentrate)
Betsy did an amazing job mixing disposable items with real place settings. We didn't want to spend the afternoon washing dishes, so we used a nice square paper plate with the plastic ware that looks like it's real silver. For the dessert plates, she has collected different eclectic small plates from the local D.I. that all have a soft, antique look. They were darling! She also has collected different shapes and sizes of goblets. The modge-podge look worked perfectly together and made the table seem extra special.
(The biggest problem with planning a party is knowing who to invite. Without hesitation we could have had 50 amazing ladies at my sisters party. Not inviting everyone is the problem–if only my house was larger to hold everyone :/)
Betsy put a strip of burlap down the center of the table and had two matching floral arrangements on the center table. Along the other tables were lots of mis-match candle holders with candles in white and gold. The lit candles made the table feel super romantic and elegant. She also printed off small images with the 'birthday number' and framed them on the table. You could also print out pictures of the special guest and put those on the table. A white table cloth made the perfect blank canvas for the table.
This was the most adorable idea ever! Each person who comes to the party is asked to bring something that represents their favorite thing about the birthday person (or bride, mother-to-be, etc.). For example, my sister loves to write thank you cards to people, so someone brought a stack of thank you cards for her. Another person brought scripture markers because she loves to read her scriptures. My sister is a great conversationalist and is always giving compliments, so I gave her a big bag of conversation hearts. We told everyone to bring small and simple things but you could be as elaborate as you wish. The sweet part was everyone sharing things they loved about my sister. There were lots of tears and laughs which made the party memorable.
Whether you're planning a future birthday party, bridal shower or baby shower, I hope these tips and ideas make your party a great success!
Happy Birthday Sista!