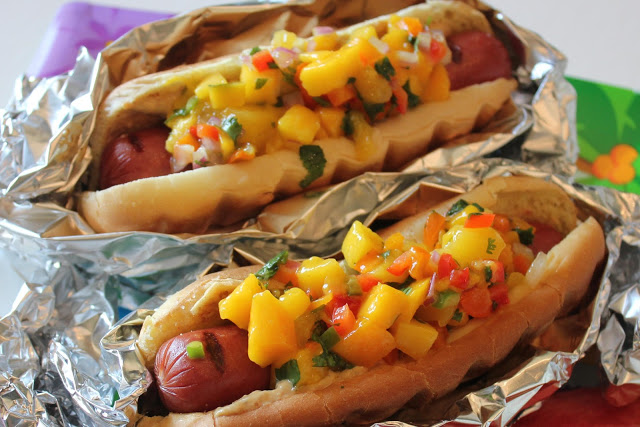 I spent 4 years of my life living in New York City and got quite use to being able to get a good hot dog anytime I wanted one and sometimes I crave them.  The one version of hot dog I miss the most is for these Polish Dogs with Mango Salsa. My favorite thing about hot dogs served from chow trucks or carts are the flavorful mustard's and the creative toppings you just don't get with the Costco hot dogs I have resorted to eating when a craving sets in.   My daughter had a big splash party for her birthday this week so I decided I would serve gourmet hot dogs for the parents and because the party was Hawaii themed I threw together a tropical topping for the occasion.  This is not an everyday meal, but it is a fun treat for summertime BBQ's and parties!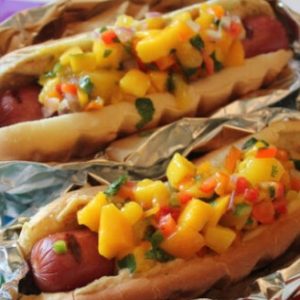 Ingredients
Salsa:

2

ripe mangos

pitted, skin removed and cubes

3-4

roma tomatoes

diced small

2

limes

juiced

1

Tbs.

red onion

minced

1/2

red bell pepper

1/4

cup

fresh cilantro leaves

chopped

1/2-1

jalapeno pepper to taste

1

Tbs.

sugar

Hot Dogs:

16

oz.

polish dogs or all beef hot dogs

1

pkg. hot dog buns

Teriyaki sauce

optional
Instructions
To pit a mango, place it stem side up with the narrow side facing you. Make a vertical slice starting at ¼ in. to the right of the stem. Repeat on the other side. Lightly score the flesh of the mango into diamonds. Buckle the skin, pushing the flesh outward so that it resembles a porcupine. Slice off the cubes. Combine all ingredients. Let stand for 10 minutes. Toss before serving.

Heat a grill or hot pan to medium-high heat. Add your polish dog or beef franks to the grill or pan. Cook until the franks are hot all the way through with nice grill marks. Place the cooked frank into the hot dog bun. Top with the Mango salsa. Drizzle with teriyaki sauce if you'd like more sauce and flavor. Serve warm.