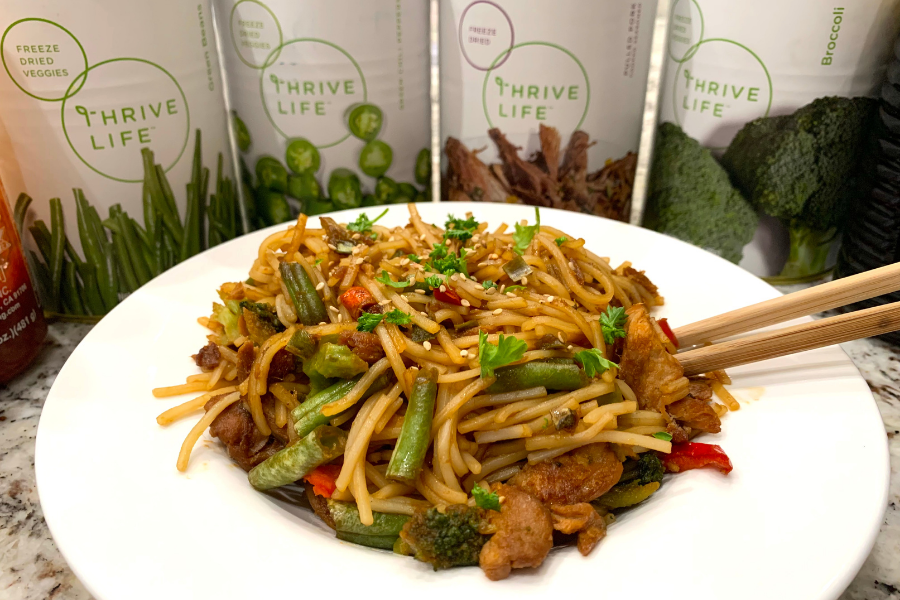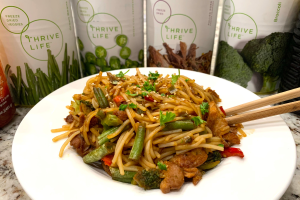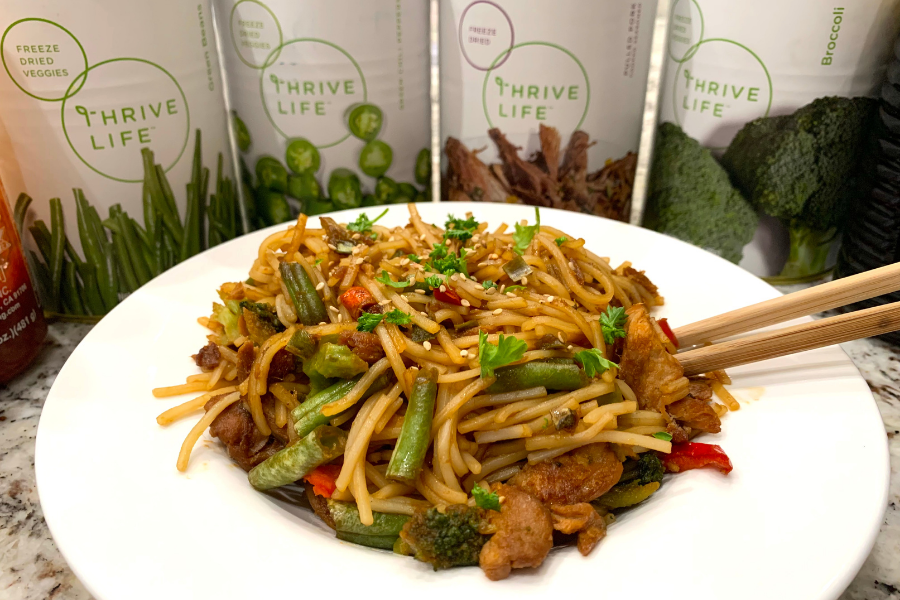 Hey guys! I'm sure you seen me sharing about a product called Thrive Life. It's (in my opinion) the VERY best freeze dried product on the market. Their quality is unmatched and everything I have tried is so fresh, so delicious, so flavorful and exceeds all of my expectations. I originally thought I would be buying their product to add to my long term food storage and never using it again. However, after a couple months of using their product I am realizing how much I enjoy the health benefits and the ease of use. There are a couple times a week when I don't have time to prep and make a homemade meal. On these nights we either eat cereal (yuck) or go out to eat (not good on the budget with a family of 7)!
Thrive Life products have simplified my life in a way I had never even though possible. Now you know me, I'm a bit of a food fanatic. I only eat food that tastes good, I have a pretty sophisticated and picky palate and I am very hesitant to eat anything that isn't fresh and delicious. Let me tell you, the products of Thrive Life have met every single requirement for me. I'm not just saying that. If I didn't ever get a penny from this company I would continue to order their products every month. Considering I am one of the most frugal people on the planet, this is saying something for me!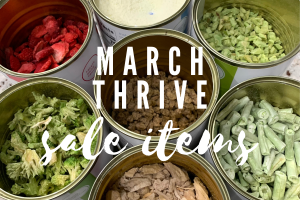 Let me show you how easy their products are to use in your everyday cooking. Last night we were all going a million different directions. I had about 20 minutes to get dinner on the table and I was thrilled when my March Special Pack arrived in the mail. I immediately opened everything up to show you what the March sale items look like. Everything was beautiful! I looked over the ingredients and realized many of them screamed stirfry to me. I had leftover rice noodles in my fridge and within 15 minutes had a homemade, delicious, healthy stir fry ready for dinner. Wow!?! Seriously, it's genius! I didn't have to crock pot the pork, cut the vegetables or do any prep. I simply hydrated the ingredients in a little water, sauted them and away we went!
Now, I have a motto to never pay full price for food. This goes for buying Thrive Life products as well. This is why I would only recommend purchasing their month sale items. Each month they highlight 5-7 items that go on sale for 15-30% off. Combine this with the free shipping and you have a pretty amazing deal.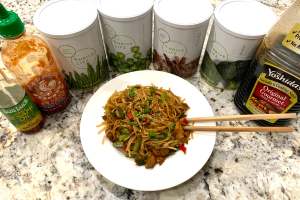 However, if you want these items even LESS (um…yes!!), then check out our Bulk Order Consultants and see how you can get the sale prices PLUS an additional 15-30% off. That makes these items a steal of a deal and the best time to stock up.
Check out our site where we show you which cities in the U.S. are currently ordering in bulk. Is your city not listed? That's okay! Do YOU want to become the consultant in your area? If you know what's good for you, you would scream, Heck Yeah! Why you ask? Because being a consultant gives you FREE food and money in your pocket to share what you love. Here is a little info about how the bulk pricing works and how YOU can become a consultant! Email me at shandra@dealstomeals.com if you would like more info on that. Either way, stock up on this month's deals and make up a batch of this delicious Pulled Pork Teriyaki Noodle Bowl on a busy night.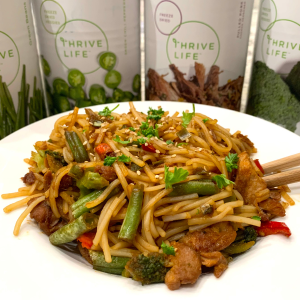 Instructions
Heat a large pot of water to a boil. When the water is boiling add the rice (or regular) noodles. In a bowl, add the vegetables. Pour enough water over the vegetables so they can re-hydrate. Place the pork in a bowl and add enough water to cover the pork. Let them soak for about 5 minutes. In a sauce pan, heat the sesame oil until hot. Drain the water from the vegetables and add to the hot pan, being careful when it spits. Saute. Drain the water from the pork and add to the pan again. Let it simmer for a few minutes while you drain the water from the noodles. Drain the noodles from the boiling water and add to the sauce pan. Add the Yoshida's sauce and the Sriracha sauce. Toss until coated. Add more sauce if needed. Garnish with sesame seeds.