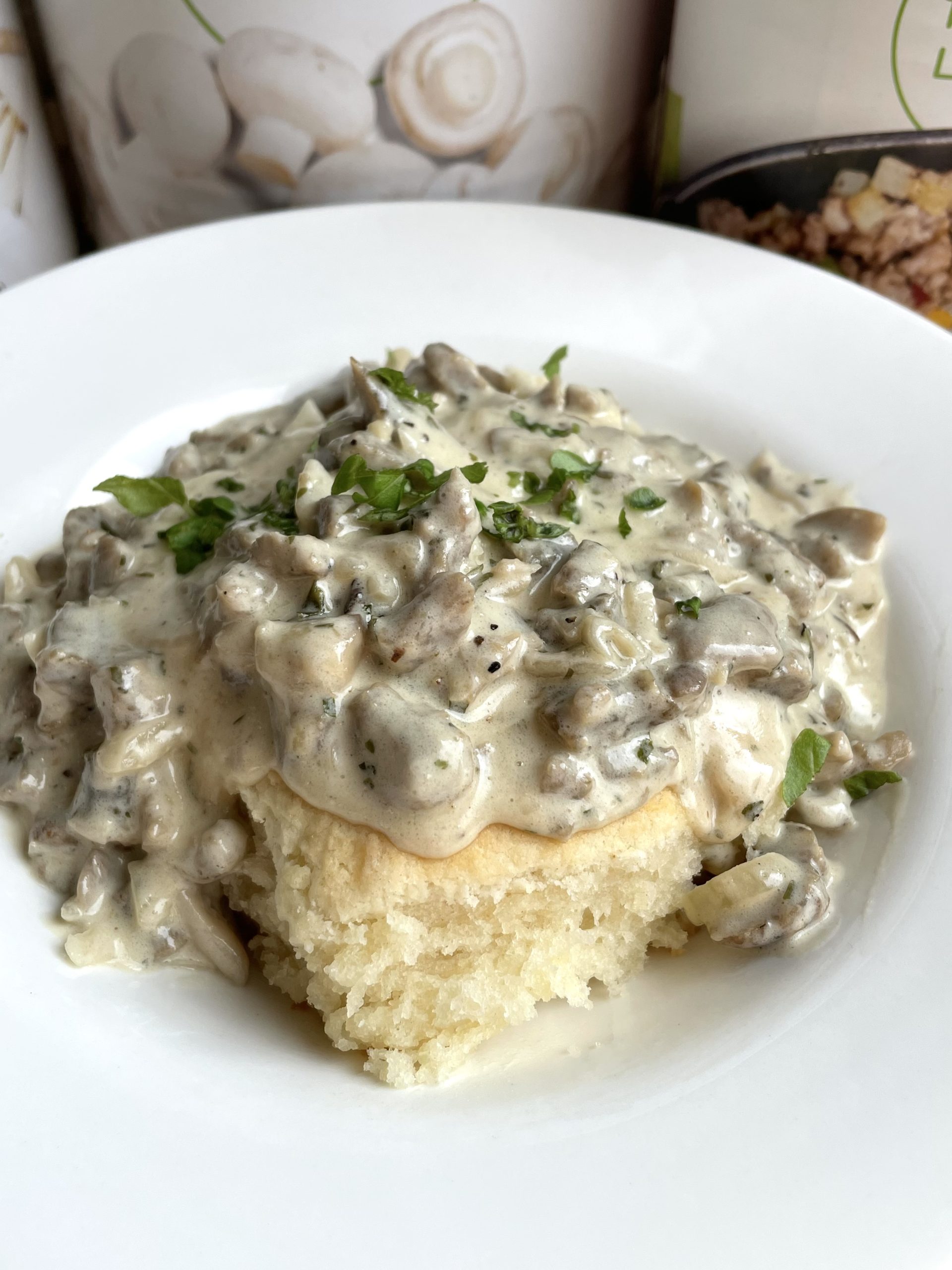 Yep, pretty sure there are few recipes more comfort-home-town food than Biscuits with Gravy. The flakey biscuit with a creamy, meaty gravy just screams a comfortable, warm, meal from home. Several members of my family request this breakfast meal nearly once a week. I actually like to serve Biscuits and Gravy for dinner too for a quick, weeknight meal. This recipe is especially fast if you use store bought biscuits (though not nearly as delicious) and Thrive Life freeze dried products. The gravy comes together in literally minutes and is so hearty, meaty, flavorful and amazing! Such a great food storage recipe to have on hand in case of an emergency.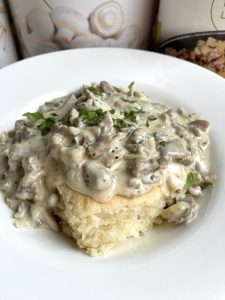 If you are like me, I LOVE warm, fresh biscuits out of the oven. Pretty sure that's as great as my very, favorite dessert recipe. A warm, buttery biscuit with jam–doesn't get much better than this! I love our original Mile High Biscuit recipe or you can use this recipe for Popeye's 7up Biscuits. Either recipe works great for this recipe!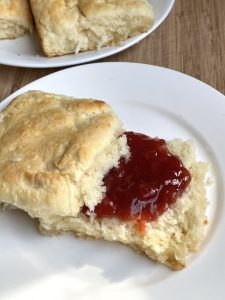 Hope you enjoy and don't forget to stock up on Thrive's products that are all on sale this month. This recipe used the sausage, onions & mushrooms from their current sale. Get BULK deals in your local area if you want Thrive items even cheaper. Have an amazing day!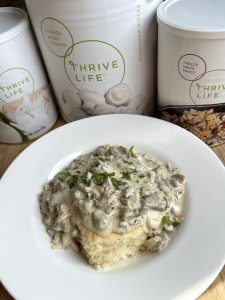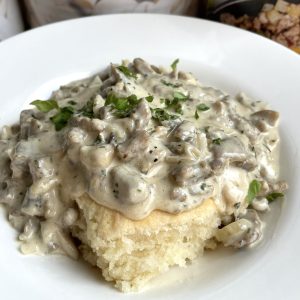 Ingredients
1

cup

Thrive Life Sausage

or 1 lb. ground pork sausage

2

cup

water

if using freeze dried sausage

1/2

cup

Thrive Life Onions

or 1 white onion, diced

1/2

cup

Thrive Life Mushrooms

or 8 oz. white mushrooms, diced

1

stick butter

1

tsp.

Montreal Steak Seasoning

1

Tbs.

garlic powder

or fresh garlic

1

Tbs.

beef bouilion

1

tsp.

parsley

1

tsp.

black pepper

Cayenne pepper

to taste

2

cups

heavy whipping cream

or 2 cans evaporated milk
Instructions
In a bowl, add the freeze dried sausage with two cups of water. Let the meat hydrate for about 10 minutes. Towards the end of the 10 minutes, add the freeze dried mushrooms and onions to the meat and water bowl. Let them sit for a couple minutes. Drain the water from the bowl and set aside for thinning the gravy later. In a large saute pan, add the butter and bring to medium-high heat. Add the hydrated sausage/onion/mushrooms to the pan and saute. Add the seasonings to the meat and continue to cook for a few minutes. Add the heavy whipping cream and turn the heat to low heat. Let the gravy simmer until ready to serve.

If you are using fresh pork, onions and mushrooms, saute the ground pork first until golden brown and then add the onions and mushrooms. Continue to saute in the butter and then continue the recipe as indicated above.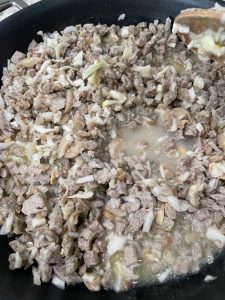 Look how simple it is to make creamy gravy with Thrive Life products. You simply hydrate them, simmer, add cream and seasonings and you're done! So fun to cook with!