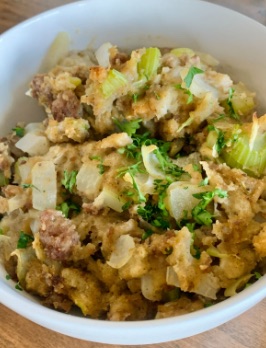 Nothing beats my Mom's Sausage Cranberry Stuffing. It's a huge hit every year and it's not Thanksgiving without this delicious, moist, flavorful stuffing. Cranberries are optional in this recipe, but if you like a little sweet and savory, don't leave them out. You'll love it!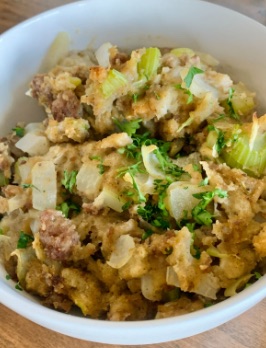 Ingredients
1/2

stick butter

1

onion

chopped

2

cups

celery

diced

1

lb.

sausage

4

qrts. Dried bread crumbs

1

Tbs.

salt

1

tsp.

Black pepper

1 ½

tsp.

Poultry seasoning

1

tsp.

Sage

½-1

can chicken broth

½

cup

craisins

optional
Instructions
Sauté chopped onions and celery in butter until the onions start to be tender. Add the pork sausage to the pan and saute until the pork is cooked through and golden brown. Season the meat and vegetables with all of the seasonings. Slice the bread into cubes or bite sized pieces. Place them into a large bowl. Pour the sausage/onion mixture over the bread pieces and stir.

Drizzle as much chicken broth as you would like onto stuffing. If you like a more wet/moist stuffing, add the whole can. If you like your stuffing more dry, add only a ¼ -1/2 of the can. Bake the stuffing inside of the turkey, until the turkey is cooked through. Or, you can spray a 9x13 pan with nonstick cooking spray and then bake at 350 for 35-45 minutes, or until bread is cooked and golden brown on top. The longer you cook your stuffing, the less moist it will be. If you like your stuffing more moist, bake the stuffing with tinfoil on top for most of the cooking time and then remove at the very end to get the tops a little brown.
This is a great recipe to use Thrive Life freeze dried products. You can use Thrive's sausage, celery, onions and mushrooms in this recipe. Great food storage recipe to add to your files!