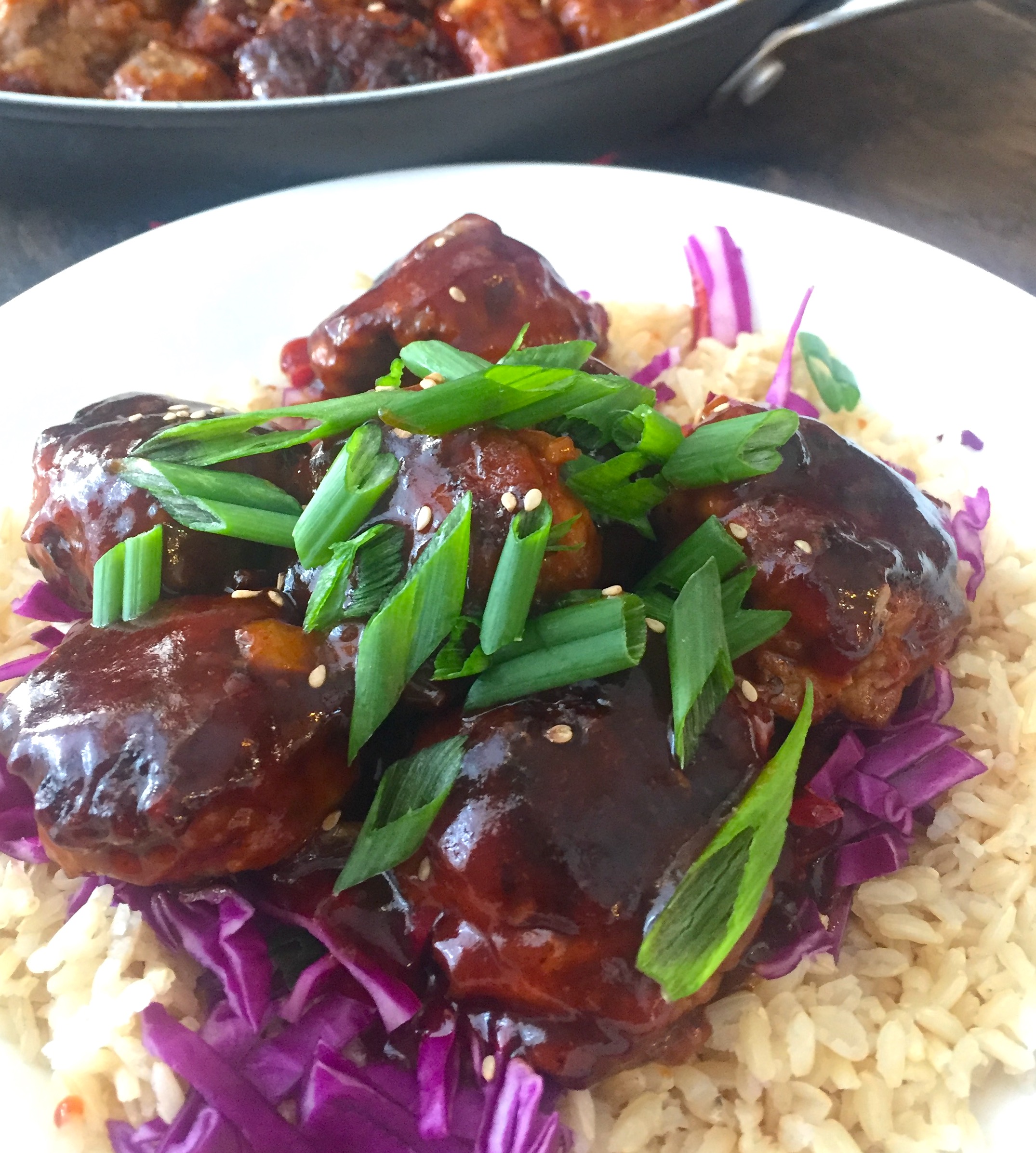 I'm a BIG fan of sweet and sour meatballs. This recipe I created for Sweet and Spicy Korean Meatballs is another fun way to introduce some sweet, sour and spicy to your meatball routine. If you love stocking your freezer with Costco meatballs you can make this meal in minutes by just making the sauce and serving with precooked meatballs over rice.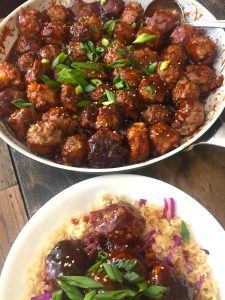 Homemade meatballs though are a hard one to beat! This recipe is a delicious and fun way to add some new flavors to your meal plan. Don't be afraid of the different sauce ingredients. Once you have these basic Asian ingredients in your pantry you are going to be set for all of your favorite recipes in the future. Go-Chu-Gang is one of my very favorite Asian flavors and one you will love to keep on hand as well. You can find this at any of your local grocery stores in the Asian aisle. It's a little spicy and sweet and great over these meatballs! Hope you enjoy.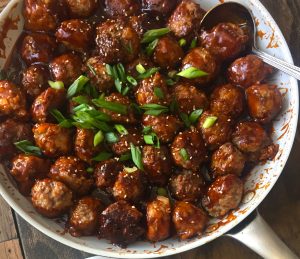 Remember to check out the best grocery deals in your area on our site for FREE! As well as our meal plan on Prepear. Both are great ways to save TIME & MONEY in a fun and easy way!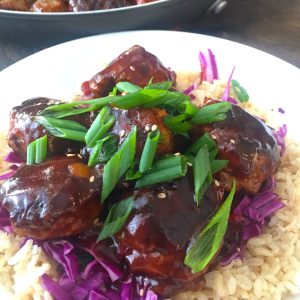 Ingredients
MEATBALLS:

3

lb.

Lean ground turkey or beef

1

white onion

diced small

2

eggs

1

cup

panko crumbs

2

Tbs.

sauce

recipe below

1

Tbs.

Sesame oil

2

tsp.

Garlic powder

1

tsp.

Salt

SAUCE:

2

Tbs.

Oyster sauce

1

cup

Korean Gochujang

1/2

cup

water

2

Tbs.

Soy sauce

1/2

cup

brown sugar

2

tsp.

Sesame oil

1

tsp.

Garlic powder

1/2

cup

ketchup

1/2

cup

rice vinegar

1

Tbs.

Cornstarch

Cooked rice

Shredded Cabbage

Green onions

sliced
Instructions
In a bowl, add all of the sauce ingredients together until smooth.

Dice the white onion into small pieces. In a large bowl add the lean ground turkey (or beef). Add the eggs, panko crumbs, sesame oil, garlic powder and salt. After you've mixed together the sauce ingredients add a couple tablespoons to the meat mixture. Combine all of the meat mixture together until smooth and combined.

Spray a cookie sheet with a thick layer of cooking spray. Heat the oven to 425 degrees.

With a cookie scoop or a large spoon, form the meat mixture into meatballs that are about the size of a golf ball. Place the meatballs onto the cookie sheet and bake the meatballs for 10-15 minutes or until they begin to be golden brown on the top. Remove the pan from the oven and turn the meatballs over to the other side.

Place the meatballs back into the oven and continue to bake for another 10-15 minutes or until the center of the meatball is cooked through and no longer pink.

While you are cooking the meatballs, add all of the sauce ingredients into a sauce pan and bring to a boil until the sauce begins to thicken.

When the meatballs are cooked, serve over rice with the sauce and garnish with green onions. You can also serve these meatballs with some shredded cabbage for extra nutrients, texture and color.

QUICK MEAL TIP: Use frozen and cooked meatballs if you are in a hurry. Simply cook the meatballs as desired and add the sauce on top and serve over rice.