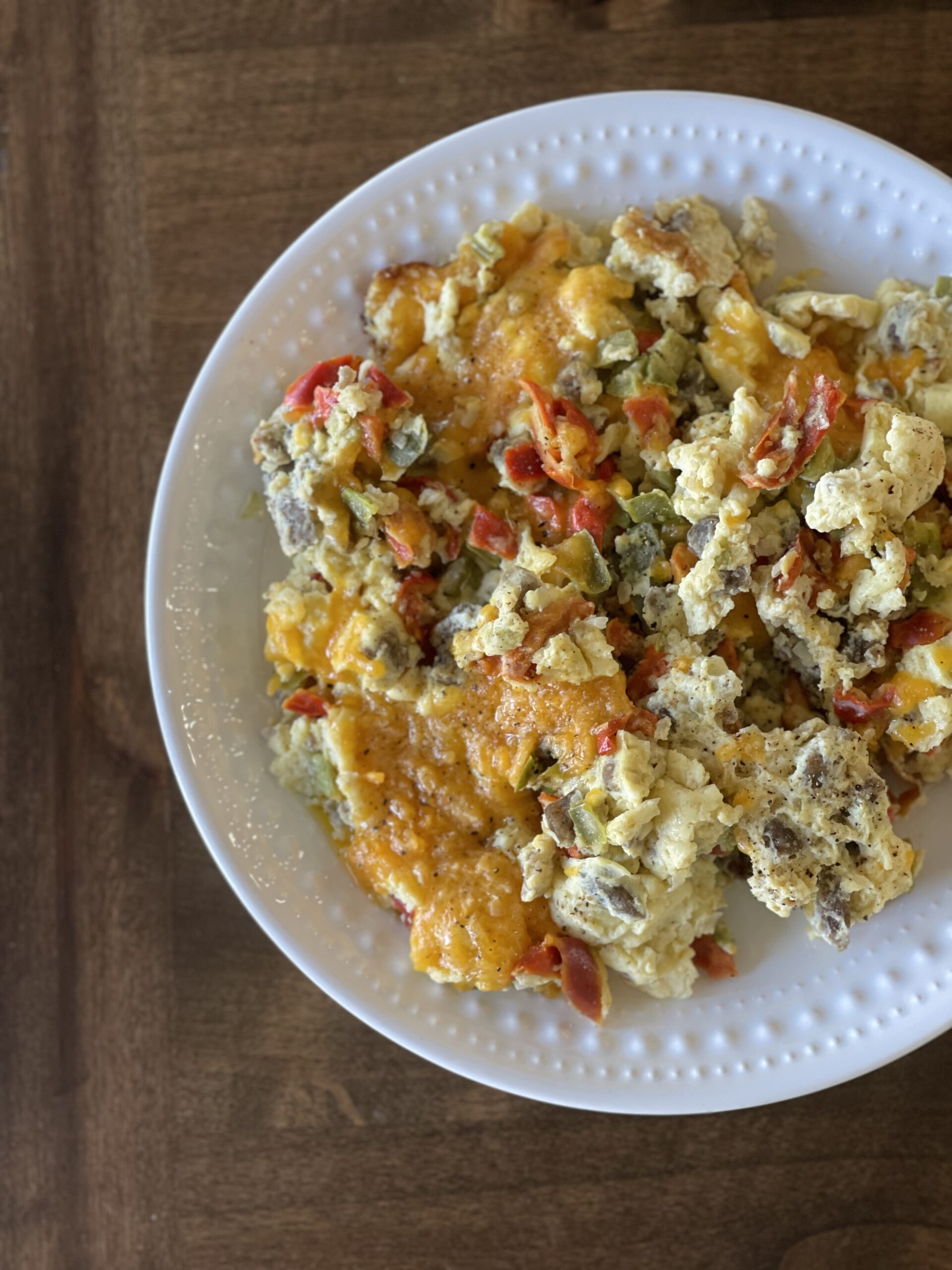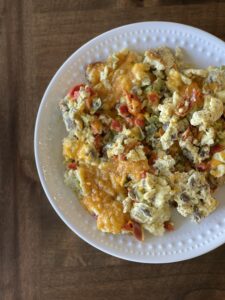 TODAY is the very last day to stock up on powdered eggs on sale for 30% off so you can make this Scrambled Egg Hash entirely from your food storage! Yes, that's right. All of these beautiful vegetables, fresh sausage, fluffy eggs and melty cheese all can be made from a can. These ingredients can all be stored for 25 years and are important items to have in your food storage. Milk, eggs and cheese go off sale TODAY so don't hesitate and stock up while prices are low. Milk is 60% off people. That's insane and pretty much cheaper than milk from the store! Here are the links for these THREE items you need to stock up on TODAY!
*Thrive Life's Powdered Milk 60% off
*Thrive Life's Powdered Eggs 30% off
*Thrive Life Cheddar Cheese 30% off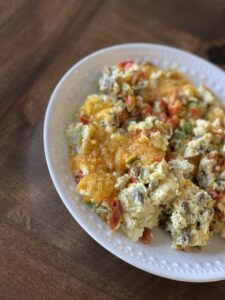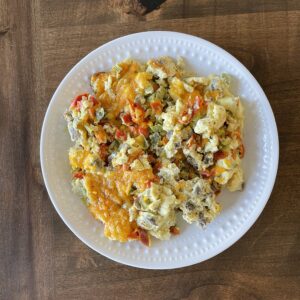 Ingredients
2 1/2

cups

water

1

cup

Thrive Life's Powdered Eggs

1/4

cup

Thrive Life's Powdered Milk

1

cup

Thrive Life's Sausage

1

cup

water

to hydrate sausage and then drain

1/2

cup

Thrive Life's Red Bell Peppers

1/2

cup

Thrive Life's White Onions

1/4

cup

Thrive Life's Green Chilies

1/2

cup

Thrive Life Shredded Cheese

2

Tbs.

olive oil

1

tsp.

Montreal Steak Seasoning

1

tsp.

garlic powder

1/4

tsp.

red pepper flakes

1

tsp.

salt

or as desired

1/2

tsp.

black pepper
Instructions
Place the freeze dried sausage and into a bowl and add the cup of water to hydrate for about 10 minutes. In another bowl whisk together the 2 1/2 cups water, powdered eggs and powdered milk. Whisk until smooth.

Heat a saute pan to medium-high heat. Add the olive oil. To the oil add the peppers, onion and chilies. Saute until soft and then season with the spices. To the hot pan add the sausage once it's been drained from the water. Saute until sausage is warmed through. Add the egg/milk mixture and let it start to cook on the bottom. Mix eggs so that the mixture doesn't get overly cooked. Turn down the heat, put a lid on it and let the egg cook on low heat. After a few minutes take the lid off, stir one more time and then add the shredded cheese ontop of the egg. Stir a little bit and then put the lid back on the pan. Once the cheese has melted, remove lid and serve. You can serve in a tortilla for breakfast burritos or with a slice of toast.