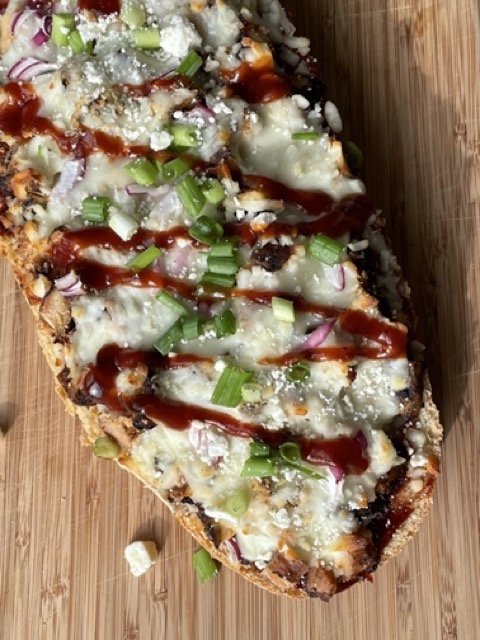 It's summer and let's be honest, no one wants to spend hours in the kitchen slaving away on a hot meal and that's where these Simple BBQ Chicken Pizzas come into play. This meal is here to save your dinner dilemma when you are busy and need something quick. There are only a few ingredients and by using store bought French bread and rotisserie chicken meat you have a meal for less than $10 and can be made in less than 10 minutes. This pizza is cheesy, comforting, hearty with lots of chicken and full of delicious flavor.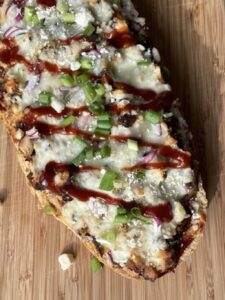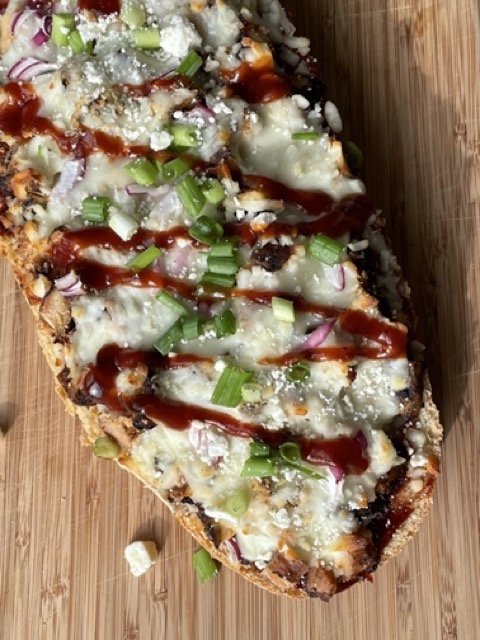 This week Tyson Chicken Breasts are on sale at most Smith's grocery stores in the mid-west. Here in our area it's on sale for $1.99/lb.! This is an amazing deal and a great time to stock your freezers with lots of chicken and save BIG later on in the year. You can also grill up several packages of chicken and keep in the freezer for meals like this where you just want to thaw, cook and eat without much hassle. You can also use Thrive Life Chicken which makes for a super simple meal as well. Check out our video on Instagram highlighting the best grocery deals this week.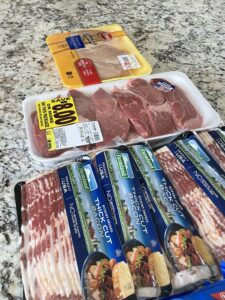 Don't forget to check out the best grocery DEALS in your area for FREE!! Simply set up a new account, login, choose the stores you want to shop at and away you go. Save $100's ever month knowing which items to buy each week. And it's free so you have nothing to lose!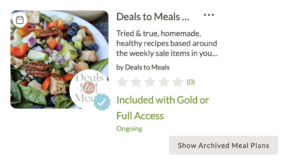 Want extra help with your meal planning each week? We're here to help with that too! Check out our Meal Planner on the Prepear App and see how simple it is to have your meals planned for you without any stress or headache. You can even send your grocery list directly to Walmart and have your groceries delivered or picked up saving you a trip to the store! Reach out with any questions on how our meal planner works. If you are currently paying for Deals to Meals, email help@preapear.com and they will make sure you can login and get going–saving time and money!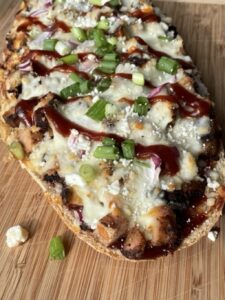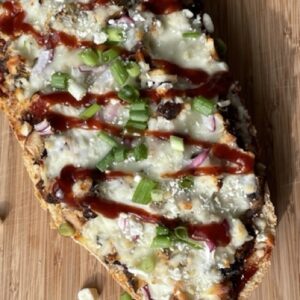 Ingredients
1

loaf French Bread

2

cups

cooked chicken

diced or shredded

1

cup

bbq sauce

2-3

cups

mozzarella cheese

shredded

1

stalk green onions

sliced

1/2

cup

feta or blue cheese

crumbled (optional)

1/2

red onion

diced

2

Tbs.

cilantro

chopped
Instructions
Preheat oven to 350 degrees.

Cook the chicken (or use rotisserie chicken or freeze dried chicken) and cook to your liking (grilled, roasted, slow cooked, etc.). Once the chicken is cooked through, shred or dice into bite sized pieces.

On a cookie sheet, cut the French bread loaf horizontally and lay flat, opened onto the pan. Spread the bbq sauce evenly over both halves. Sprinkle the cheese onto the bread. Add the chicken, onions, blue cheese on top of the cheese.

Bake at 350 degrees for 15-20 minutes or until the cheese is melted. Remove from the oven and sprinkle with fresh, chopped cilantro and serve.