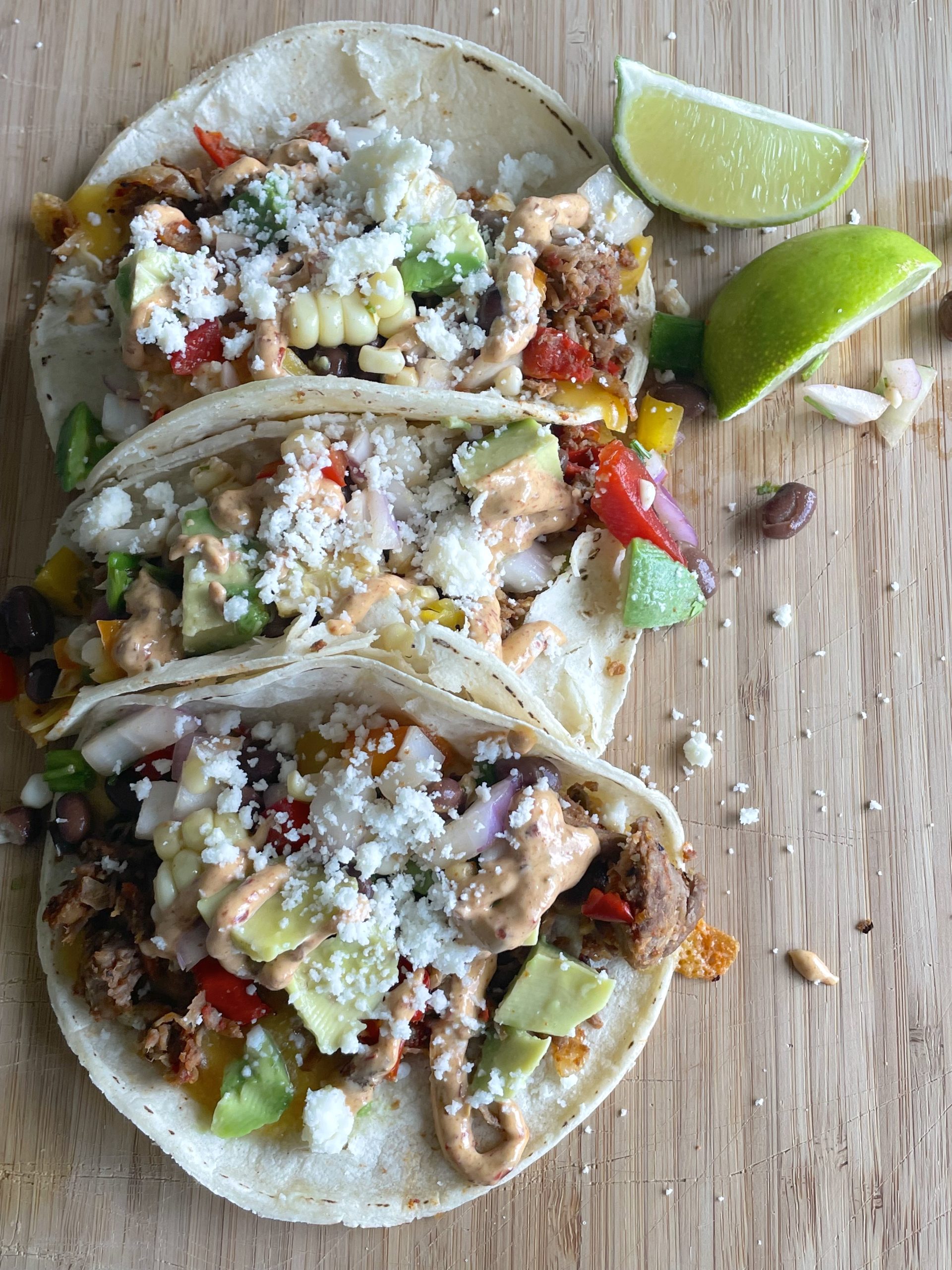 I just can't get enough of street tacos, can you? There are few things better than a flavorful meat, in a crispy tortilla, topped with fresh salsa and a flavorful sauce drizzled over the top. This recipe for Shredded Beef Chipotle Tacos is full of so much flavor and a new favorite recipe everyone in your family will love. The best thing about it is you can use a boneless beef roast out of your freezer and cooked in a crock pot until tender, or use Thrive Life Shredded Beef for a meal that comes together in less than 15 minutes. It's a simple way to get dinner on the table in minutes without all the mess.
For those who haven't cooked with freeze dried meat before, it is SO simple! All you need to do is put the amount of meat you want in a bowl, cover the meat with warm water and let it hydrate for about 10 minutes. Once the meat is tender, if you want the meat warm, you just microwave for a few minutes and serve as desired. Drain the excess water from the meat unless serving in a soup or a dish you want extra moisture. So, so simple and you will LOVE the price tag as well. This month Thrive has their #10 cans of shredded beef on sale for 20% off. With the monthly delivery service you get an additional 15% off and free shipping. It's a great time buy delicious beef roast at TODAY's prices and have it last for 25-30 years. Pretty sure in 20 years the prices of beef will be MUCH higher than it is today.
Best part about it, the price today is awesome! One cup of hydrated meat (or regular cooked meat) equals a pound. In one #10 can of shredded beef you get 23 (1/2 cup) portions of meat. When you hydrate the meat in water it bulks up about 50%. So, one can of beef equals about 20 lbs. This can is on sale for $85.75 (plus tax). Divide $85 by 20 and that makes the beef about $4.28/lb. In today's world that is a great deal. When you take into account there is NO fat and NO gristle, you are paying $4.28/lb. for PURE, DELICIOUS, TENDER meat. Isn't that awesome?!?
I tell ya, the more I crunch the numbers on Thrive's products the more I am sold they are a fantastic option to add to your food storage and use in your weekly meal plan. Combine this shredded beef with some fresh ingredients and you have these Chipotle Street Tacos you are going to love! Enjoy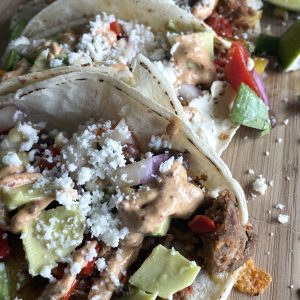 Ingredients
2

lbs.

boneless beef roast

or 2 cups freeze dried beef hydrated in 3 cups of water

1

onion

diced (or use Thrive sliced onions)

1

red bell pepper

sliced (or use Thrive sliced red peppers)

1

Tbs.

Montreal Steak Seasoning

1

tsp.

cumin powder

1

tsp.

chili powder

1

tsp.

garlic powder

Corn Salsa:

1

cup

frozen corn

thawed (or Thrive corn)

1

can black beans

drained

1

cup

grape tomatoes

diced

1/2

red onion

diced

1

avocado

diced

1/2

cup

cilantro

chopped

Juice of 1 lime

Salt

to taste

Chipotle Sauce:

1

cup

mayonnaise

1/4

cup

sour cream

1

tsp.

taco seasoning

2

chipotle peppers

1

pkg. corn tortillas
Instructions
Place the boneless beef into a crock pot. Add a little water to the bottom of the pot. Season the roast with the Montreal Steak Seasoning, cumin, chili powder and garlic powder. Turn the crock pot to high heat and cook for 4-5 hours, or until the roast shreds easily. Once the beef is tender and you are able to shred the meat with a fork, shred the beef into smaller pieces. Remove any excess fat. Heat a saute pan to medium heat. Add a little olive oil to the pan and add the diced onions and bell pepper to the pan and saute until soft. Add the shredded beef. Let rest on low heat while you prepare the salsa.

For the salsa, cut up the tomatoes, red onion, avocado and cilantro. Add to a bowl with the thawed corn, black beans and season with salt and the juice of a lime.

For the chipotle sauce, mix together all of the ingredients in a bowl.

Turn a flat griddle to medium-high heat. Place some corn tortillas on a griddle. Add some shredded beef to each tortilla. Top with the corn salsa and drizzle with the sauce when ready to serve.
Notes
*If you are using Thrive Shredded Beef place 2 cups of the freeze dried beef in a bowl. Add enough warm water to cover the beef. Let meat rest for 10 minutes. Drain excess water into a bowl but keep the juice in case you need it. Heat a saute pan to medium heat. Add a little olive oil to the pan and add the diced onions and bell pepper to the pan and saute until soft. Add the shredded beef and season with the seasonings. Continue the recipe as indicated above.
Add some shredded beef to your storage for a great price and an investment in your future!