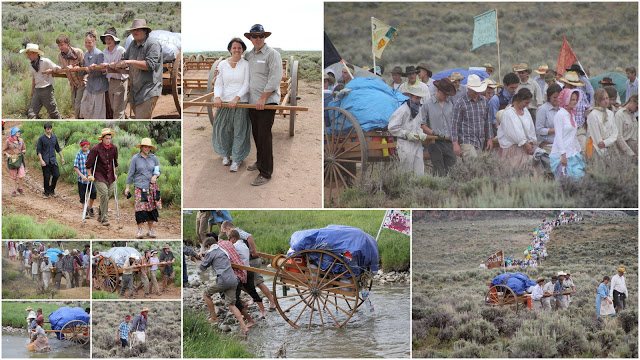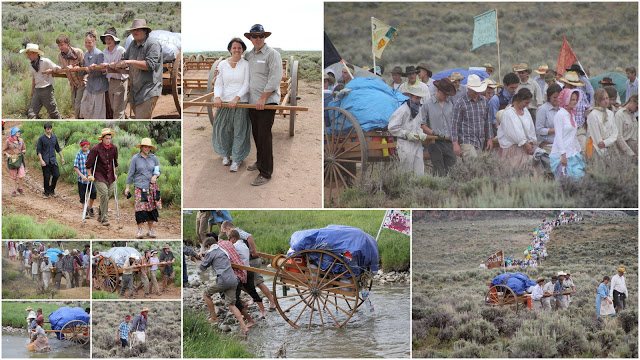 For those of you outside of Utah, you probably are unaware of our Utah holiday we celebrate tomorrow. You see, 166 years ago a group of hot, dirty, tired, hungry, famished, pioneers came to the Salt Lake Valley hoping to have a new start. A chance to finally practice their religion without persecution. Every year here in Utah we celebrate these pioneers and their courage who helped build this beautiful valley for us to enjoy today. I love Utah and feel it is such a special and wonderful place to live. If it weren't for these pioneers I am not sure where my family would live or be right now.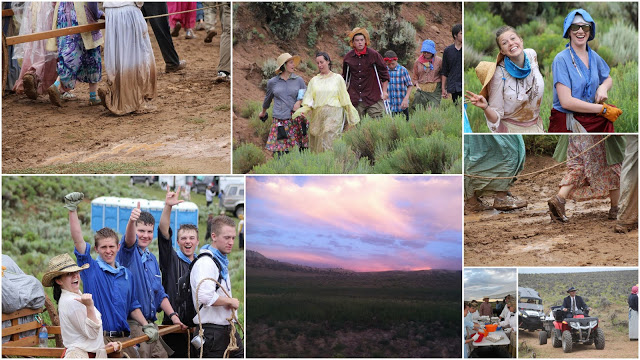 This year, more than any in the past I feel even more grateful for my early ancestors who sacrificed so much. Many pioneers lost several members of their family to cold weather, fatigue or starvation. Last week I was able to join with nearly 500 youth and leaders on a 'pioneer trek' of our own, to celebrate their sacrifices. We were able to travel on the same trail that our early ancestors traveled on. It was one of the most amazing experiences of my entire life. Although we did nothing but walk (a lot–over 18 miles), sleep in the sage brush and dirt, got covered in mud, got little sleep and were surrounded by over 450 teenagers, it was an incredible time! I have to say, this experience has given me hope for our future. The youth we were with were SO strong, positive, happy, good and wholesome. I was amazed that even though we were walking in over 5 inches of slippery mud for nearly 3 miles, these kids never stopped smiling. They continued on without complaint and were often heard singing and laughing as we walked. I even found a new hero. His name is Carson (the young man in the middle top picture). He broke his femur less than a month ago and insisted that he walk the entire 18 miles, despite the mud and rain, all on crutches. He had sores under his arms from his crutches and through tears and sweat he never gave up. I told him I will be having my daughter hunt him down in a few years for marriage. He was so incredibly inspiring. I really can't say enough about how wonderful these kids are. I miss being with them, crying with them, laughing and being together. It will be an experience I will never forget and I have to say I have a new appreciation for many things that I have always taken for granted–running water, a warm shower, a washing machine, a beautiful home, health and the chance to worship God how I choose. This year, between our country's Independence Day and Pioneer Day you are able to give thanks for the many blessings we have been given. It's a good life! 🙂
Okay, since the 24th of July we always have a bbq and get together as family I wanted to share a pork marinade that my family loves! It is a dry rub that makes the best pork chops or ribs you will ever have. You can grill the pork chops or bake them. Cover them in extra bbq sauce and you have a delicious dish everyone will love. Happy Pioneer Day!
[buymeapie-recipe id='484′]