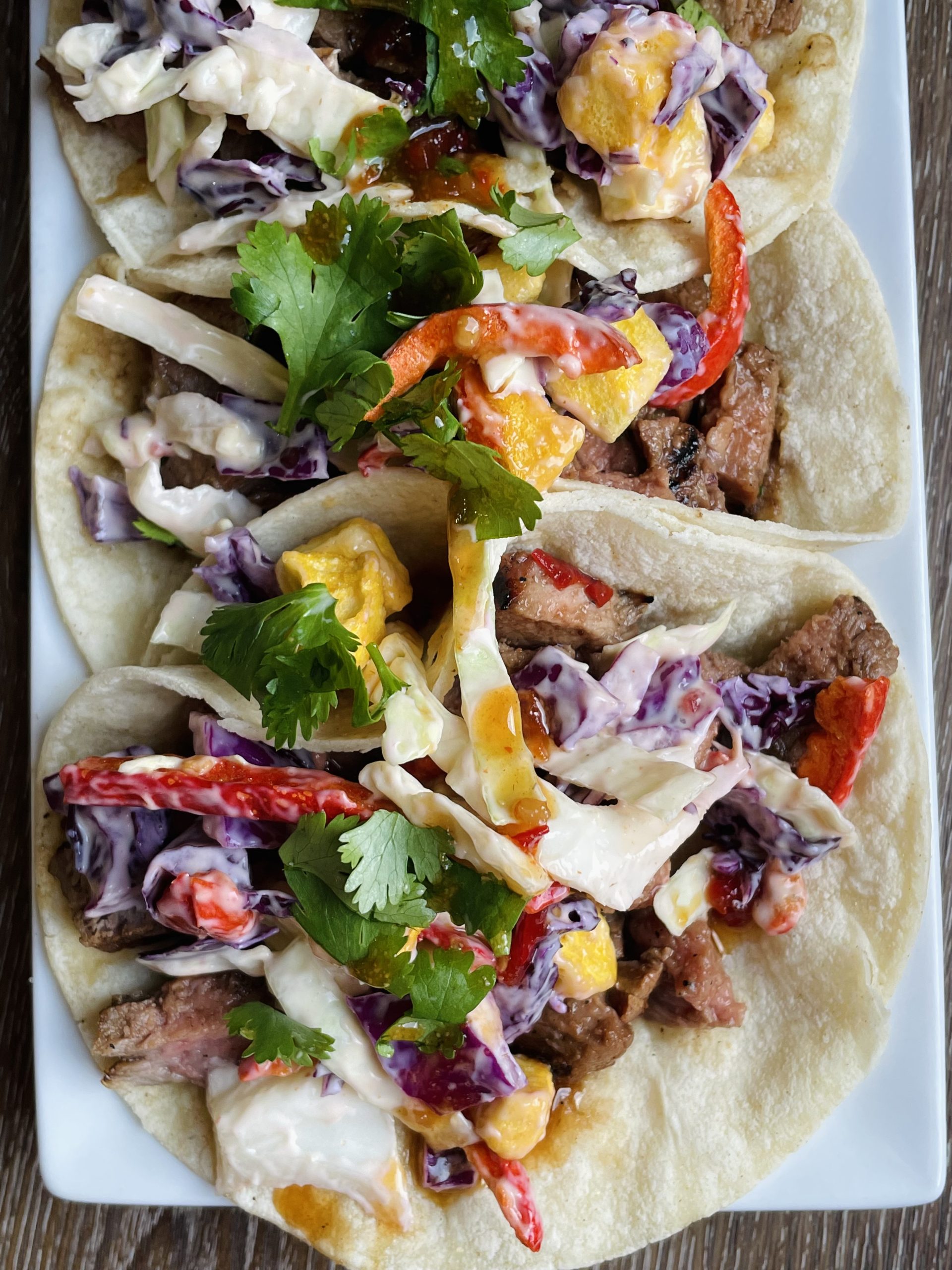 These Thai Steak Tacos have been on our family's meal planner for nearly a decade now. I don't buy steak very often since the price has become pretty outrageous per pound, but when it goes on sale I make sure and stock up!
This past week Smith's grocery store had steak on sale for under $5 a pound. I bought a few packages and knew that these steak tacos would definitely make there way to our meal planner.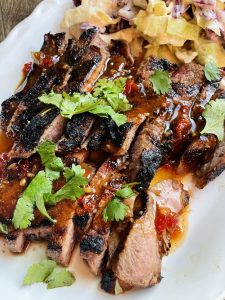 They did not disappoint! In fact, if you want a carb free meal, this steak was amazing served alone with the coleslaw on the side. No matter how you serve them you are going to love the sweet, tangy, spicy flair to this dish. It's everything you love about Thai food all in one place.
Since pulled pork and mangos are on sale this month through Thrive, I decided to switch things up and add dried mangos to the coleslaw. It was so delicious! I did use boneless beef steak but if you were in a hurry, Thrive Life's shredded beef or pork would work exceptionally well in this recipe. Check out he monthly deals at Thrive this month and stock up while prices are low. Using freeze dried meat you could have this meal on the table in only a few minutes! 🙂 Enjoy!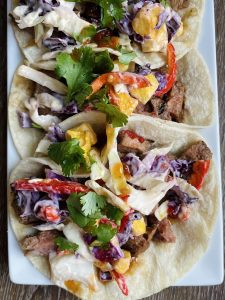 The coleslaw part of this recipe is super simple but full of so much delicious flavor. The sweet Asian flair is great plain, in the taco or on the side of the meat.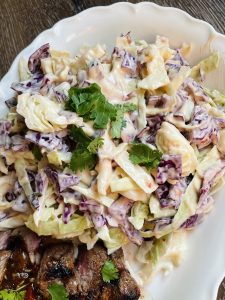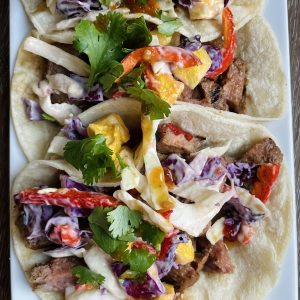 Ingredients
Marinade:

14

oz.

jar Sweet Chili Thai Sauce

3

Tbs.

soy sauce

2

tsp.

garlic powder

Dash cayenne pepper

1

tsp.

sesame oil

1

tsp.

ginger powder

Tacos:

2 1/2-3

lbs.

boneless beef petite steaks

1

pkg. corn tortillas

Coleslaw:

1

bag coleslaw cabbage

1/4

cup

cilantro

chopped

1/2

cup

marinade

2

Tbs.

sour cream

1/4-1/2

cup

mayonnaise
Instructions
In a bowl, whisk together the marinade ingredients. Reserve 1/2 cup of the marinade for drizzling on the steak and a 1/2 cup of the marinade for the coleslaw. Place the remaining marinade into a gallon ziploc bag or bowl. Add the boneless beef to the remaining marinade and let sit in the fridge until ready to grill. You can marinade the steak an hour or several, however long you have is great.

When you are ready to begin grilling, turn an outdoor grill to medium-high heat. Remove the steaks from the marinade and place on the hot grill. Discard the rest of that marinade. Cook the steaks on both sides until some char marks appear and the edges of the steak are cooked. Cook steak as long as you would like for your desired doneness. Medium wellness seems great for this recipe.

While the steaks are cooking, prepare the coleslaw by placing the coleslaw cabbage into a bowl. Add the chopped cilantro and then drizzle with the extra reserved marinade, sour cream and mayonnaise. Toss until it's as coated as you desire. Set aside until steak is done.

Once the steak is cooked to your likeness, remove from the grill and let rest for 5 minutes. When ready to assemble tacos, cut the steak into thin strips or dices. Drizzle the cut steak with the reserved 1/2 cup of marinade.

Heat a flat griddle to medium heat and place several corn tortillas on the griddle. Fill each taco with some sliced or chopped steak. Let warm until tortilla is golden brown and a little crispy. Top the taco with coleslaw. Serve tacos warm and enjoy!
Notes
The picture is shown with red bell peppers and mangos in the coleslaw. You can add these or any other vegetables you'd like to that part of the recipe. Pineapple, green onions, avocados, etc. would all be great additions.