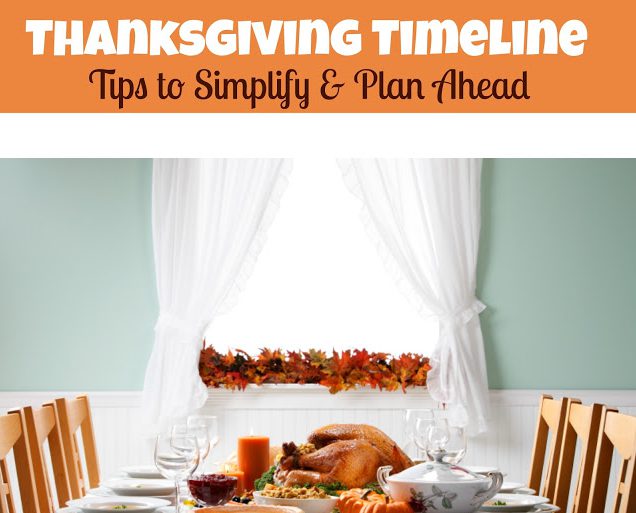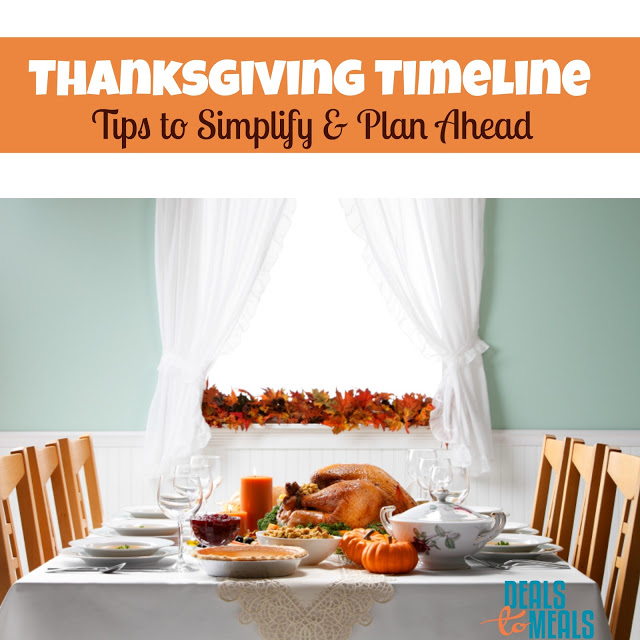 Thanksgiving is only a couple of days away, so it's the perfect time to start prepping for all of your upcoming parties and meals. Here are a few tips to help make your day go more smoothly and allow you to enjoy the holidays without too much stress.

24-48 hours before: Do your grocery shopping (using Deals to Meals) and use your grocery list to make shopping easier. Pick and choose those meals you want to make for your upcoming Thanksgiving meals, as well as leftovers and your week's meal plan. You don't want to have to go out shopping over the weekend with all of the crowds, so plan ahead for a week's worth of recipes your family will love.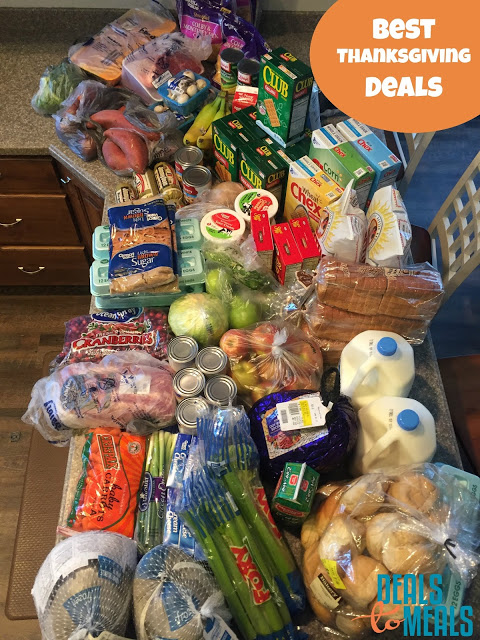 Went shopping today and got my 14 days of recipes, extra pork, turkey, ham, chicken, sausage and roast for my freezer, everything I need for Thanksgiving and food storage items I needed to stock up on. All of this for under $200! Login to Deals to Meals to see all of the best grocery deals in your area.

12-24 hours before: There are several items you can prep ahead of time to make Thanksgiving easier. Here are a few of the recipes you can prep ahead of time.
Sweet Potato Casserole: Boil the sweet potatoes, drain and let them rest and cool until you are ready to peel them and get them ready. Once they are cool, peel them, add the butter, brown sugar, salt and eggs and beat them together until smooth. Once they are smooth, put them in a baking dish and cover with tinfoil. Refrigerate until ready to bake. Make the crumble (or use marshmallows) and have that ready to put on the casserole right before baking. Sweet Potatoes also freeze really well if you want to make them weeks in advance.
Fresh Cranberries: Making fresh cranberry sauce is super easy and so much better for you. This can be made up several days (even a week before) and kept in the fridge until ready to serve. It also freezes well if needed.
Fresh Green Bean Casserole: Make the casserole a day or two ahead of time and keep in the fridge until ready to top with the French's Onions and bake. This casserole also freezes and can be made ahead.
Stuffing mixture can be made (sausage, onions, celery, etc.) and stay in the fridge for several days. If you need dried bread, cube that and place on a cookie sheet to dry for a few days until ready to combine the two ingredients and make your dressing.
Appetizers: Most of my favorite appetizers that I like to make for weekend parties can be made ahead of time and kept in the fridge until the party. Some of these are: stuffed mushrooms, dips, salsas, hummus, and much more.
Rolls: Rolls can be made, rolled onto a cookie sheet and frozen for later. On the morning of your meal, remove them from the freezer and let thaw for several hours until risen and then bake.
Creamed Corn: This recipe also is easy to make several days before and kept in the fridge until ready to warm and serve.

10-12 hours before: Depending on the size of your turkey, you will want to make sure and have it completely thawed and ready for cooking.
Turkey: I like to season my turkey and have it all ready to go in my roaster pan the night before so when I wake up I can put it straight in the oven (or slow cooker).
Mashed Potatoes: You can peel, dice and place the potatoes into a large pot of water. You can keep the potatoes in the water for several hours until you're ready to boil them and make the mashed potatoes. One tip: If you are needing to make the potatoes several hours before serving, keep them warmed in a slow cooker on low heat until ready to serve.
Stuffing: Assemble the stuffing and have ready to bake an hour before cooking.
Pie crusts can be made, as well as the fillings and kept in the fridge until ready to bake and assemble. Pie crusts also freeze really well in case you need to make them several days ahead and have ready to bake.
Decorate: It doesn't hurt to begin decorating the night before your party. The more you can have ready ahead of time, the less stressed you will be the day of.

3-4 hours before: There are a few things that need to be made the morning of your meal.
Rolls: Although you can make rolls ahead of time and freeze them, I am a little obsessed about having fresh, warm rolls right out of the oven. Give yourself three hours to make several batches of homemade rolls so you have plenty of time to let them rise sufficiently and be beautiful and delicious 😉
Check the cooking turkey and make sure it will be ready on time. Plan according to when your turkey will be done.
Bake all of the casseroles you made ahead of time so they will be ready for serving.
Cook your pies so they have time to cool before serving if needed.

30 Minutes Before: Have everyone gather so you can pull everything out of the oven and be ready to eat as soon as people gather to the table. No one wants cold food, so make sure people are ready when you take the food out of the oven.

Give Thanks: Going around our table and each of us sharing things we are grateful for is my favorite part of Thanksgiving. It is such a great time to reflect on all of the blessings we have been given. To share these feelings and blessings with family and friends is even a greater blessing. I hope your week goes smoothly and you are able to enjoy this time with those you love. I sure love and appreciate each of you!