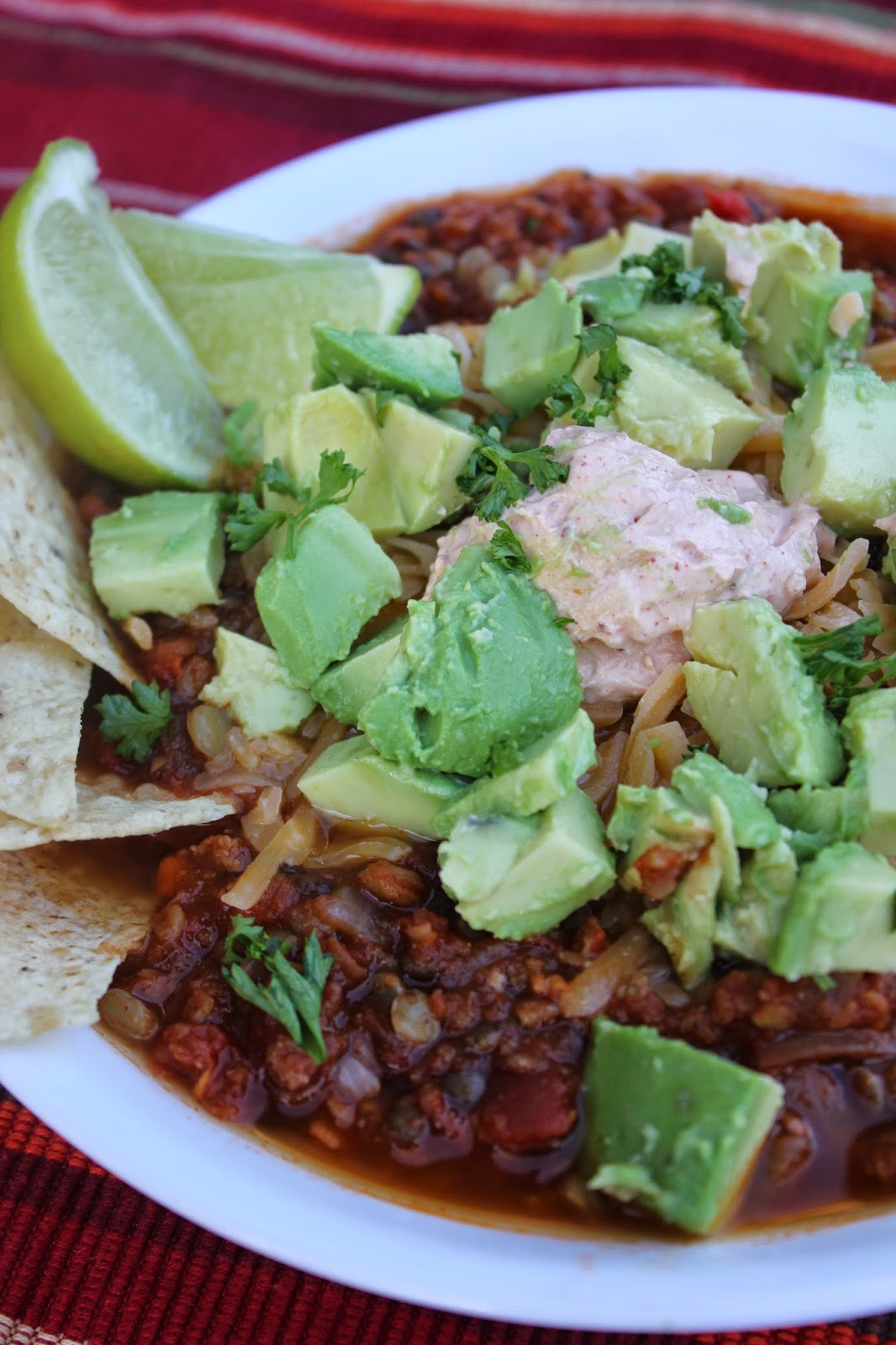 It's the new year and it's time to think about adding some healthy and hearty recipes to our diets. This Turkey Lentil Chili fits that mold for sure! It's healthy and full of all of the flavors you love about a traditional chili with some extra goodness. This chili uses low-fat ground turkey and lentils instead of beans. Lentils are such a great way to add protein and fiber into your diet with very few calories. This soup was so amazing with all of the garnishing–especially the chipotle sour cream. All of the flavors combined, was a great way to introduce lentils into our family's meal plan.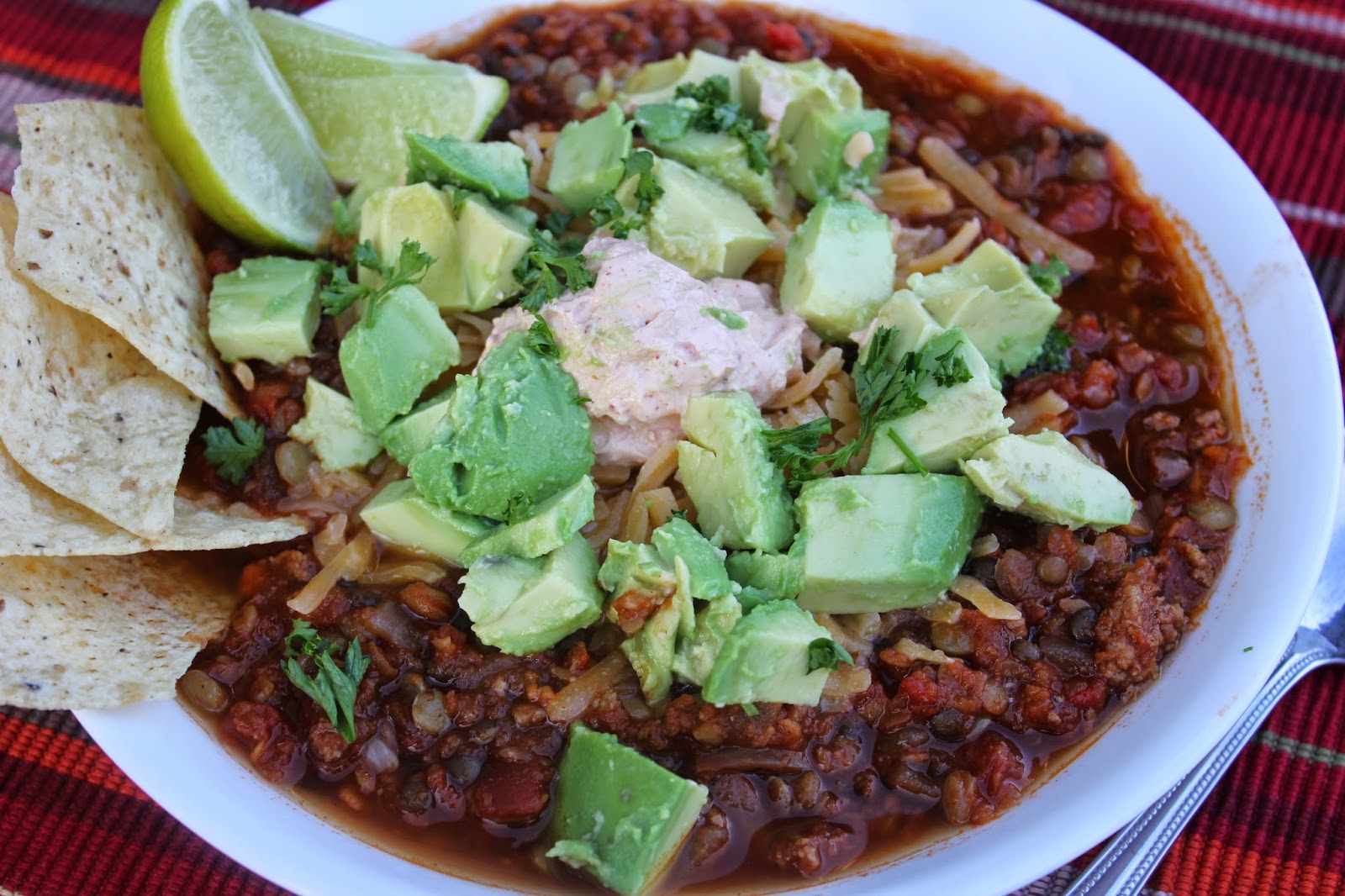 This is a great food storage recipe if you use Thrive Life Ground Beef or Sausage. Simply hydrate the meat in water and then saute the drained/hydrated meat into the olive oil with the onions and seasonings. Continue as normal. You can also use Thrive Life Onions, Red Bell Peppers, Garlic, Diced Tomatoes and Sour Cream to make this complete meal from your food storage.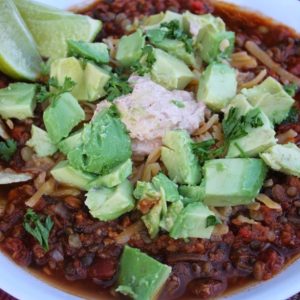 Ingredients
1

onion

1

lb.

ground turkey or sausage

2

Tbs.

olive oil

6

garlic cloves

minced

2

cups

lentils

1

tsp.

paprika

1

cup

carrots

diced very fine

6-7

cups

canned diced tomatoes

1

cup

chicken or beef broth

2

Tbs.

brown sugar

4

Tbs.

chili powder

1

Tbs.

beef bouillon

1

Tbs.

black pepper

2-3

Tbs.

cumin powder

1

can tomato paste

GARNISHINGS:

1

cup

sour cream

1

cup

shredded cheese

2

avocados

2-3

cups

tortilla chips

2

limes

optional
Instructions
In a sauce pan, cook the lentils as described on the package instructions (usually it's one cup lentils to one cup water). Let the lentils simmer on the stove until tender while you start the chili.

While the lentils are cooking, chop the onion and carrots. In a soup pot, add the onions, carrots and olive oil. Let the onions/carrots saute until slightly tender. Add the garlic cloves and the turkey (or sausage). Break apart the meat until crumbled and browned. Add the remaining ingredients for the chili (seasonings, tomatoes, tomato paste, etc.). Once the chili is brought to a simmer, add the cooked lentils to the chili. Continue to let the soup simmer until you are ready to eat. Season the soup with salt and pepper as needed. Garnish the soup with those of your choice (sour cream, avocados, lime wedge, cilantro, tortilla chips, shredded cheese, etc.).