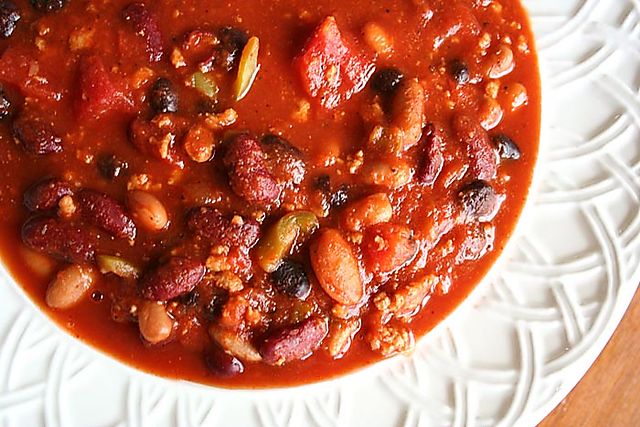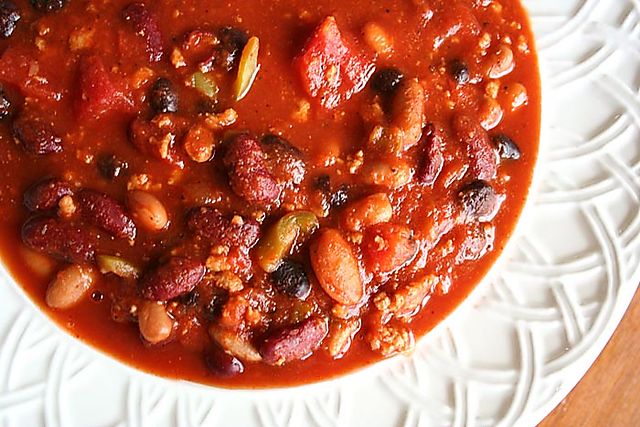 Remember my friend Tamara who shared her Cream Cheese Filled Pumpkin Muffins with us last week? Well, she has another delicious recipe I wanted to share with you. How many of you love the Wendy's chili? Sounds strange to enjoy a fast food restaurant chili, I know. Don't be disappointed in me 😉 But it actually is really great. I remember as a college student I would swing by Wendy's several times a week to get their baked potato and cup of chili. Put the chili on the baked potato, top with some sour cream and shredded cheese and you have a meal anyone would love–especially a poor, college student.
I have to say my tastebuds have definitely matured over time and I will admit it's been years since I've eaten Wendy's chili. However…now that I have a recipe for this super simple chili, I figure it's about time I whip up a batch in my own kitchen. The thing I love most about this chili recipe is it is so basic. Nothing crazy and fancy, but it's full of tons of deep chili flavor, hearty beans and meat and smothered in a great tomato sauce. If you are looking for a way to warm up on a cold, fall night, this is the recipe for you! Login to Deals to Meals to get this delicious recipe on our meal planner, as well as search all of our favorite chili recipe for upcoming winter nights 😉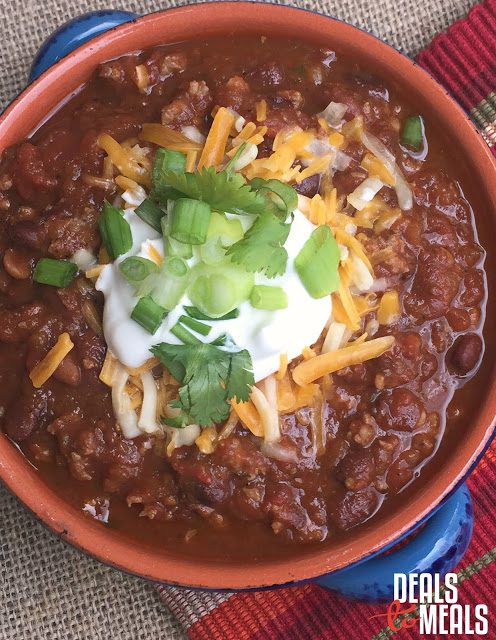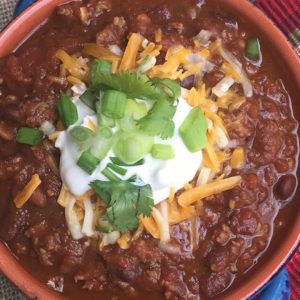 Ingredients
2

lbs

ground beef

or ground turkey

1

cup

diced onion

1 medium onion

1

diced green bell pepper

2

29 ounce cans tomato sauce

2

29 ounce cans kidney beans

2

29 ounce cans pinto beans

2

29 ounce cans black beans

3

medium tomatoes

seeded and chopped (or canned diced tomatoes)

2

teaspoons

cumin powder

3

tablespoons

chili powder

1 1/2

teaspoons

black pepper

2

teaspoons

salt

3

cups

water
Instructions
Brown the ground beef, onions, and bell pepper over medium heat, drain fat. In a large pot, combine the beef plus all the remaining ingredients, and bring to a simmer over low heat. Cook, stirring every 15 minutes, for 2 to 3 hours. This makes a HUGE pot of Chili, the leftovers taste wonderful! You can half the recipe if desired. Feel free to experiment and adjust the amounts of ingredients to your taste. I always serve this with my corn bread recipe - my kids love it!