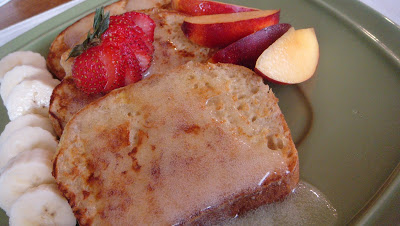 WARNING! This post may cause you to gain a few extra pounds! The yogurt syrup is SO good you may just have to drink it…causing you to consume more calories than you probably should in the morning. Your waistline might not thank you, but your stomach will! It is a heavenly way to start your day 🙂
Amazing French Toast with Yogurt Syrup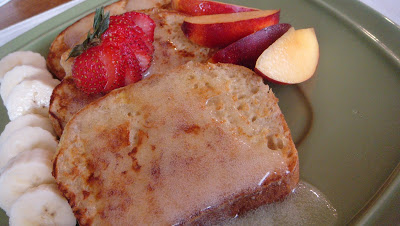 I have posted many breakfast foods on this blog over the years, but this one might be one of my favorites! Buttermilk pancakes were a staple in our home growing up and so I have tried to continue the tradition of making a warm breakfast for my kids as often as time allows (some weeks more than others). I do have to admit, that it is not purely out of the kindness of my heart that I make big breakfasts, but more because I LOVE a good breakfast myself! I am also a BIG fan of butter syrup. Why you ask? Well, a cube of butter, sugar, some vanilla, cream, etc. What is there not to like about that?? Well, this yogurt twist on the traditional butter syrup is AWESOME!! I made this syrup and the yogurt pancakes three times in one week. They are probably the most fluffy and soft pancakes I have ever had–even more so than my mom's traditional buttermilk recipe.
I am usually a die hard when it comes to adding wheat flour into every recipe possible, but if you can get yourself to eat the pure, unhealthy, no nutritional value white flour for a change, these pancakes are worth the splurge. They are so light and airy, the wheat flour might just ruin the texture.
Give these recipes a try the next time you have a few extra minutes to make a special breakfast for your family–they will be a hit! One tip for PERFECT French Toast: use homemade whole wheat bread–it makes your French toast more rich, dense and healthy. I also add a little vanilla, nutmeg, and sugar to my egg mixture of my French toast and it makes them even more delicious!
[buymeapie-recipe id='790′]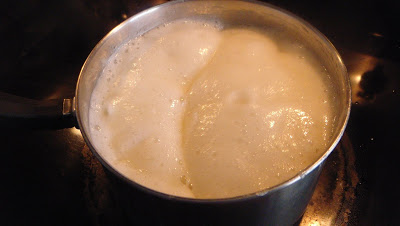 When you add the baking soda to the syrup it makes it begin to foam and become frothy. The consistency of the syrup is really fun and different!