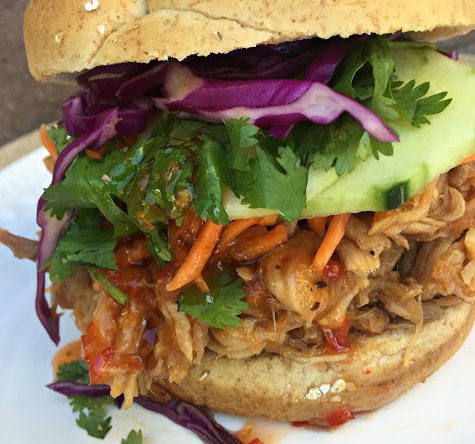 I am always looking for new ways to use pork. I love that it's always on sale for a great deal and I can feed my large family for cheap. This week pork is on sale again for a great price, so I wanted to come up with a recipe that is new and fun. I am super excited to share this recipe with you. This sandwich is super easy to make and is a healthy, delicious Asian recipe your family will love. I love the sweet and tangy sauce on the pork, along with the crisp and fresh coleslaw on top. Give this recipe a try–you're going to love it!
To find out where pork is on sale this week, login to Deals to Meals and see all of the best deals in your area.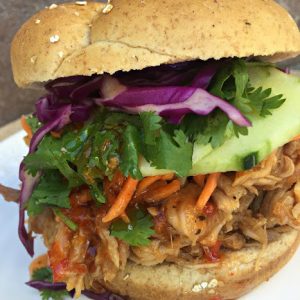 Ingredients
3-4

lbs.

boneless pork roast or chops

SAUCE:

4

Tbs.

soy sauce

2

tsp.

red curry paste

2/3

cup

Sweet Thai Red Chili Sauce

Salt and pepper to taste

1/2

cup

rice vinegar

1/2

cup

brown sugar

1

Tbs.

cornstarch

SANDWICHES:

1/2

cup

shredded carrots

1/4

cup

cilantro

chopped

1

cucumber

peeled and diced

1/2

head red cabbage

sliced

8-10

hamburger buns or rolls
Instructions
In a crock pot, place the boneless pork roast or chops into the bottom. Season with salt and pepper. Cook the pork on low heat for 5-6 hours, or until fork tender. Once the pork is tender, drain all of the grease and juices from the crock pot and discard. In a bowl, whisk together the sauce ingredients and pour all but 1/2 cup of the sauce, over the pork. If the pork is shred-able, then shred the pork into thin strips. Put the lid back on the crock pot and let it simmer for 30 minutes.

For the slaw, slice the carrots into really thin strips. Place the carrots into a bowl. Chop the cilantro and add to the carrots. Peel the cucumbers and dice them into small pieces. Add those to the bowl. Slice the red cabbage super thin and add to the bowl. Toss the slaw in the half cup of the remaining sauce. To prepare the sandwiches, place a generous portion of the shredded pork onto the bottom of the bun. Spoon some of the slaw on top of the pork. Serve the sandwiches warm and with extra Sweet Thai Chili Sauce.
Notes
*HEALTHIER OPTION: Serve on a whole wheat bun.