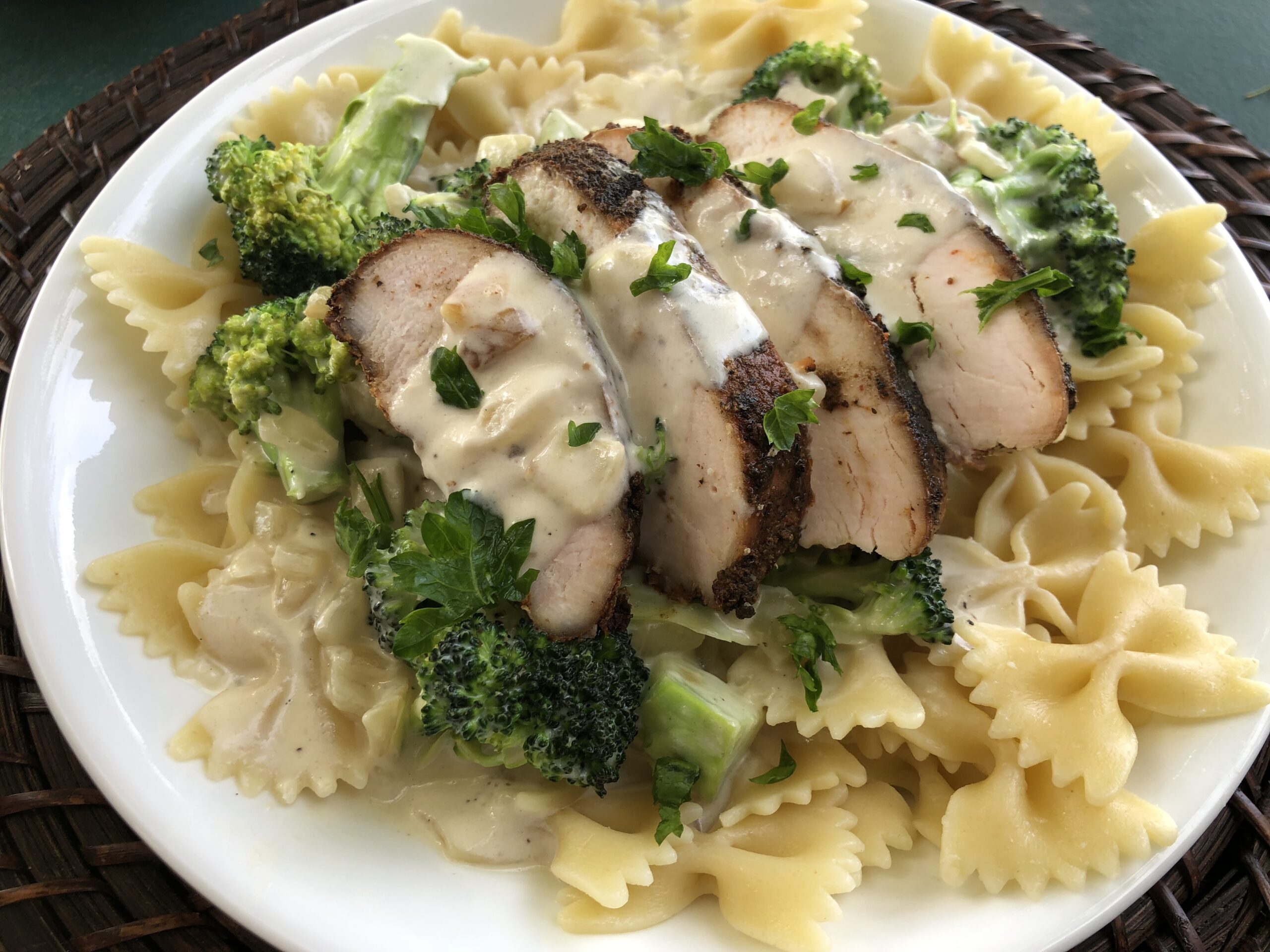 For Memorial Day my brother-in-law made the most amazing smoked chicken and I have been craving it ever since. I don't have a smoker so I had to create my own Blackened Chicken Rub to give the effect of this chicken being smoked.  This rub recipe would also be great on fish, steak or pork. Grill up the chicken that has been marinated with this rub and  it's a beautiful combination.  Look at that layer of rub. Isn't it pretty? That is a burst of flavor in your mouth waiting to happen. Alfredo and white pasta is generally pretty bland. Spice up your pasta dish with this flavorful, slightly spicy chicken. 
I used this grilled chicken to make a Blackened Chicken Alfredo and the combo was incredible. Add some broccoli for a healthier twist and your kiddos won't even mind. The chicken was so flavorful and swimming in the creamy alfredo sauce, it was a 10 out of 10!
Check out some of our other favorite Pasta Recipes.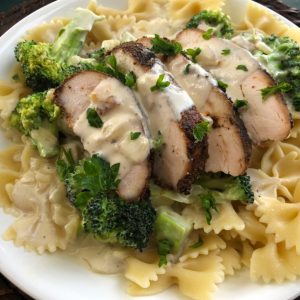 Ingredients
Chicken Rub:

2

Tbsp.

paprika

1

Tbs.

chili powder

1

Tbs.

garlic powder

1

Tbs.

onion powder

1

Tbs.

cayenne pepper

1

Tbs.

salt

1

Tbs.

black pepper

Pasta:

1

lb.

pasta of choice

Alfredo Sauce:

1

onion

diced

1/2

stick butter

1

Tbs.

cornstarch

2

tsp.

salt

1

tsp.

black pepper

32

oz.

heavy whipping cream or whole milk

1/2

cup

parmesan cheese
Instructions
Mix together the chicken spice rub ingredients together in a shallow bowl. Remove the chicken from it's package and spread the rub all over the chicken on all sides. Heat an outdoor grill to medium-high heat. Place the chicken onto the grill and let cook on both sides until no longer pink in the center. While the chicken is cooking, begin making the alfredo sauce.

Boil a pound of noodles (any shape will do) in a large pot of water. Boil until the pasta is al dente, drain and set aside.

For the sauce, dice the onion into small pieces. In a saute pan place the half stick of butter and the onions and let them come to high heat and begin to soften. Once the onions are softened, add the cornstarch and continue to mix. Add the seasonings to the onions. Add the whipping cream to the sauce and turn the heat down to medium heat and saute until it begins to simmer and thicken. Add the parmesan cheese and get ready to serve. You can add roasted broccoli to the pasta if you desire.

Take the cooked chicken from the grill and slice into thin slices. Drain the cooked pasta and place the pasta on a plate. Add the broccoli alfredo sauce on top of the pasta and top with the seasoned and sliced chicken. Serve with extra parmesan cheese if you .