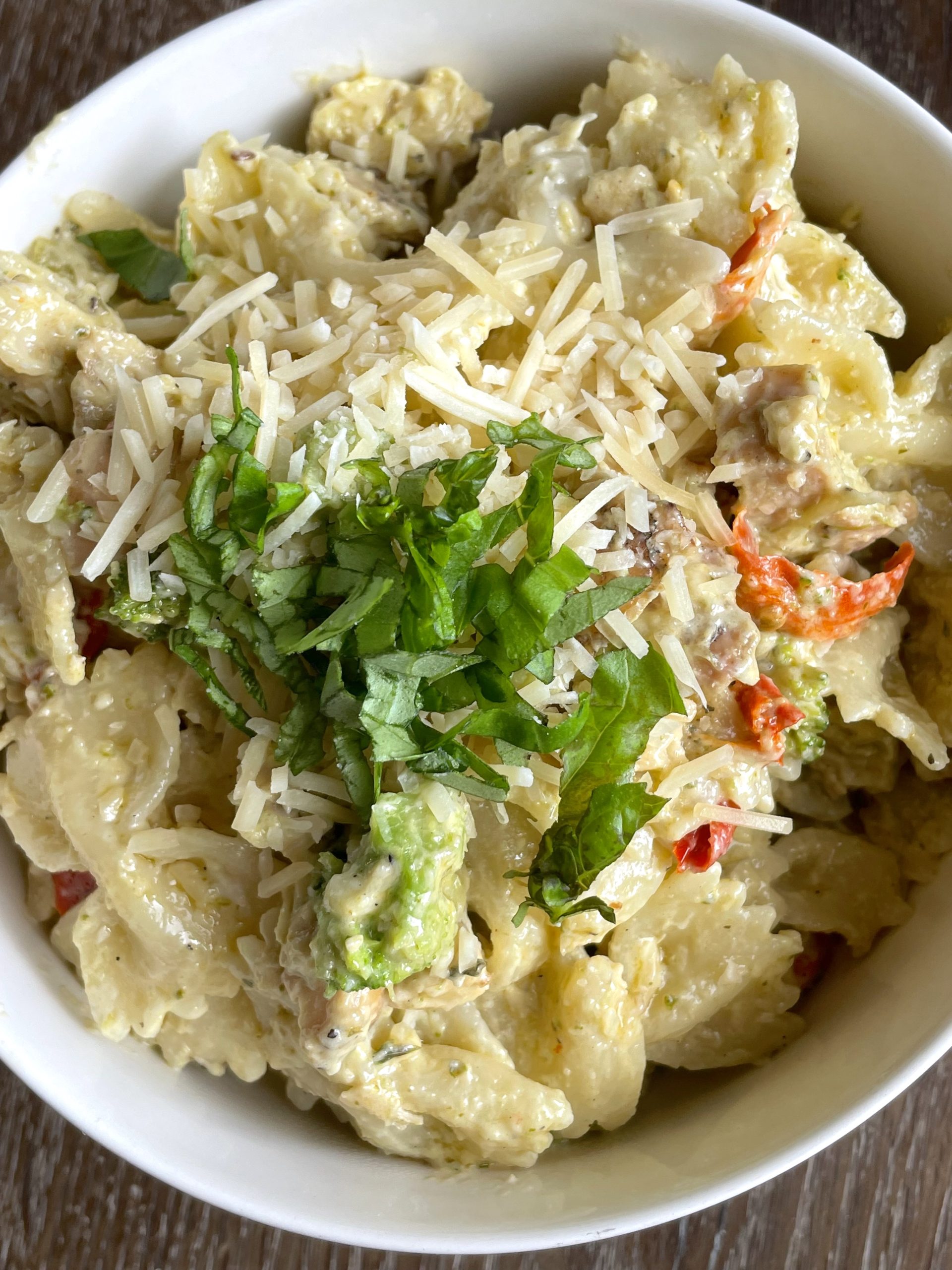 Now that school kiddos are back in school you are going to need quick and easy recipes on the table within minutes. This is the perfect time to pull out your Thrive Life products you have been buying the last few months, or you are stalking up this month. This delicious Chicken Broccoli Pesto Pasta is the perfect solution to a busy night. This pasta came together in less than 20 minutes and was full of creamy garlic, pesto flavor and was so delicious.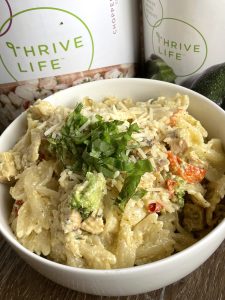 The other great part of this recipe is several of these Thrive ingredients are ON SALE this month! Check out Thrive's Broccoli that is on sale this week. For those with BULK ORDERS near you they are also offering bulk orders on Thrive Life's Sliced Chicken (my personal fave!). It's been weeks since I've used fresh chicken in recipes because I LOVE Thrive's chicken so much. I'm tired of the tough, stiff and stringy chicken that's being sold at my local grocery stores. Thrive Life's chicken always comes out perfect and is ready to use in 5-10 minutes. It's AWESOME! Give it a try in this amazing recipe and see how Thrive Life can change your dinner routine from stressful to successful!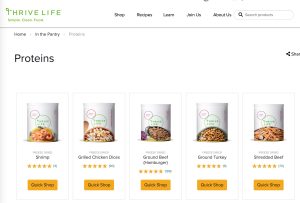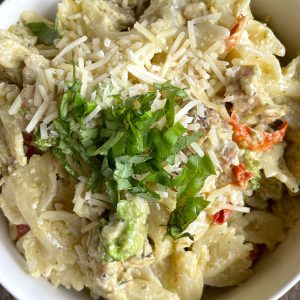 Ingredients
2-3

Tbs.

olive oil

1

cup

Thrive Life Sliced Chicken

1

cup

Thrive Life Broccoli

1/2

cup

Thrive Life Onions

1/2

cup

Thrive Life Red Bell Peppers

1

lb.

pasta of choice

1/4

cup

pesto

1

cup

mayonnaise

2-3

Tbs.

lemon juice

1

tsp.

garlic powder

Salt & pepper

1/4

cup

Thrive Life Parmesan Cheese

Fresh Basil

chopped
Instructions
Boil the pasta in a large soup pan until tender.

While pasta is cooking, place the chicken, broccoli, onions and bell peppers in a bowl and cover with water. Let the items hydrate for 5-10 minutes or until the chicken is tender.

In a saute pan, heat over the stove to medium-high heat. Add a couple tablespoons of olive oil to the pan.

Drain the water from the chicken and vegetables and add them to the hot oil. Let them saute until soft and the chicken is tender.

Season with salt and pepper as well as garlic powder.

Drain the pasta when it is al dente and rinse with hot water. Pour the cooked pasta into a bowl.

To the pasta add the chicken and vegetables and toss.

Toss the pasta in the mayonnaise, pesto and lemon juice. Stir until combined.

Garnish with parmesan cheese and fresh basil.

This dish can also be made with fresh chicken and vegetables. You can grill, bake or saute the chicken until cooked and tender. Saute fresh onions, bite sized pieces of broccoli and red bell peppers in olive oil just as you would the freeze dried version. Put the pasta together as described above.