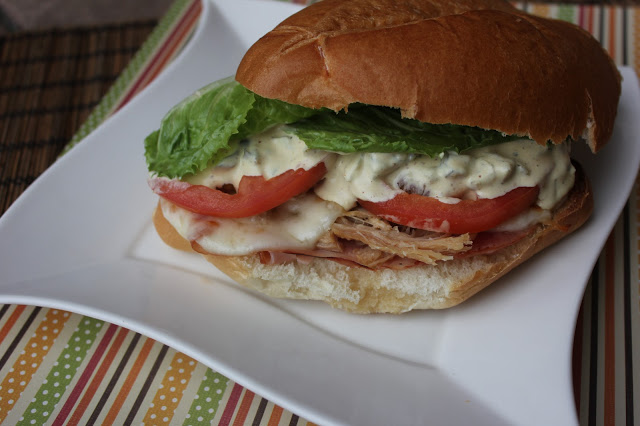 As the winter continues I find the dinner's that sound the best to me are the warm, creamy,
soups
that make you feel like you want to curl up by a fire and do nothing. The other night my son said, "Mom, can we PLEASE not have soup for dinner this week" I then realized that we had soup nearly every night the previous week and so I vowed I would try to get out of my winter-soup-rut and try a few different recipes. I had leftover shredded
pork
in my freezer and decided to spruce up an old favorite sandwich and make these Cuban Sandwiches something extra special. A traditional cuban has pork, ham, pickles and mustard. I love mustard, but I wanted to go with a sauce that had a creamy flare so we used the mayo from the
Spicy Gyros
and it was perfect! The different flavors all together made for a flavorful, filling sandwich for any day of the week…and any time of the year 😉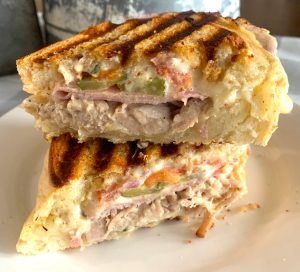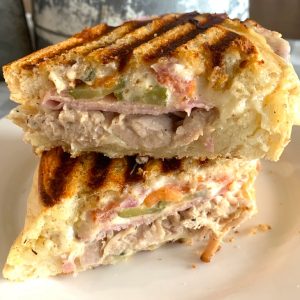 Ingredients
3

lb.

boneless pork roast

2

Tbs.

Montreal Steak Seasoning

1

tsp.

salt

12

hoagie buns

1

lb.

sliced ham lunchmeat

6

slices

Swiss cheese

SPREAD:

1/2

cup

mayonnaise

1/4

cup

sour cream

2

Tbs.

dijon mustard

3

dill pickles

diced small

1

tsp.

horseradish

Salt and pepper

to taste

Dash cayenne pepper
Instructions
Cook the boneless pork roast on low for 6 hours, or until tender. Remove the pork from the juices, shred and remove all the fat. Return the pork to crockpot and season to taste and keep warm until ready to assemble the sandwiches. Slice open each hoagie bun. Place a slice of ham, a 1/2 cup of shredded pork, sliced red onions, sliced tomatoes (optional) and a slice of cheese on one half of the hoagie bun. Make the dressing by dicing the pickles and combining the rest of the ingredients. Spread a generous amount of the sauce onto one side of the bun. Place the loaded bun in a panini maker until the cheese is lightly golden brown. Serve with extra sauce.