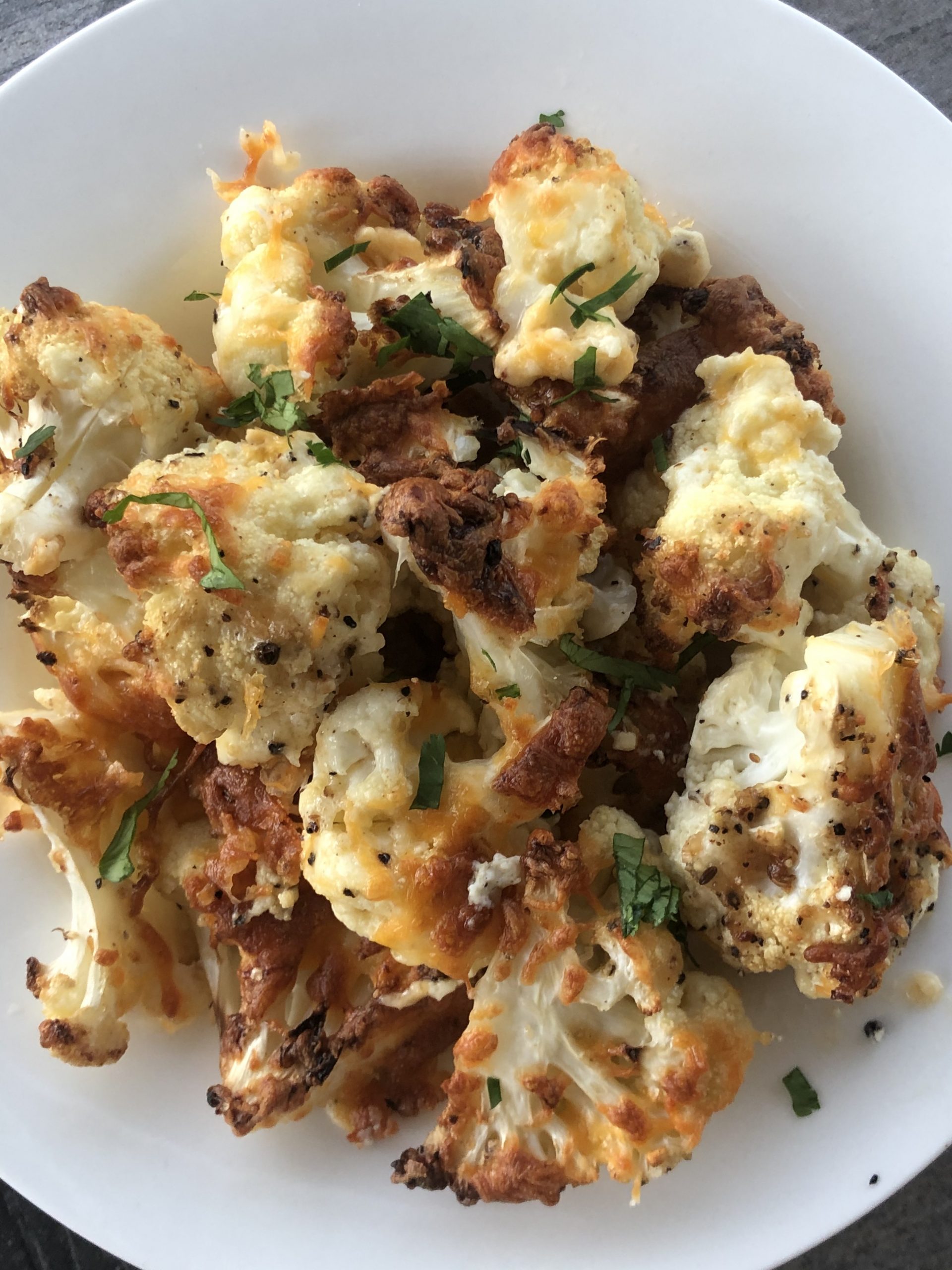 Take your vegetable side dishes to a new level with these recipes for  Roasted Cheesy Cauliflower and Roasted Brussel Sprouts. They are going to be the stars of your meal and ones that you will want to make over and over. It's healthy and delicious! 
I'm pretty good about cooking with vegetables in every meal, but every now and then I'm looking for a new recipe to spruce up our side dishes. These two dishes have been my favorites this past week. I pretty much ate these two recipes for 3-4 days straight and loved it EVERY time.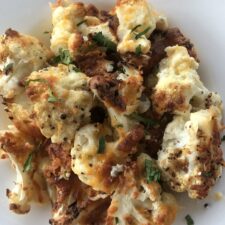 Roasted Cheesy Cauliflower
This recipe will get your children to LOVE cauliflower! The cheesy, crispy, goodness all over the tender cauliflower is a favorite way for us to eat this vegetable.
Print
Pin
Rate
Ingredients
1

large head cauliflower

1/3

cup

Best Foods Mayonnaise

2

Tbs.

dijon mustard or spicy mustard

1/2

tsp.

salt

or more to taste

1/2

tsp.

black pepper

1/2

tsp.

garlic powder

1/2

cup

shredded colby jack cheese

1

Tbs.

fresh parsley

chopped (optional garnish)
Instructions
Heat the oven to 425 degrees.

Cut off the bottom stem of the cauliflower and trim off any leaves. Rinse under cold water. On a cutting board, cut the cauliflower into bite sized pieces and place in a bowl.

In a separate bowl combine together the mayonnaise, mustard, salt, pepper and garlic together. Spread over the cauliflower and toss to coat.

Spray a cookie sheet with non-stick cooking spray and spread the cauliflower onto the sheet so they are not touching each other. Sprinkle the cauliflower with the shredded cheese and bake.

Bake for 10-15 minutes, or until the tops are golden brown and they are fork tender. Remove from the oven and garnish with parsley and serve.
Notes
Make sure and use a good quality mayonnaise. Best Foods is our favorite because it's not sweet. A miracle whip, or inexpensive mayo would change the flavor pallet.
This recipe for Roasted Cheesy Cauliflower is so amazing even your kids will go back for seconds. My family licked this dish clean and we couldn't get enough. The cauliflower is a little crispy, creamy, flavorful and has just the perfect golden touch. They both were so flavorful and simple it made it easy to make a few times this past week. If you're looking for a simple vegetable side dish, give these a try. Check out our FREE grocery deals portion of our website to find the best grocery deals in your area. You can save $100's by knowing where to shop and what to buy. It's easy and FREE! Spread the word and help us share what we do with anyone you know looking to save money on their groceries!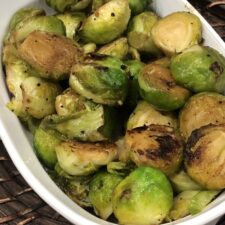 Maple Glazed Brussel Sprouts
This is my favorite way to enjoy brussel sprouts. You know it's delicious when even my kids will eat them!
Print
Pin
Rate
Ingredients
1

lb.

brussel sprouts

2-3

Tbs.

olive oil

2-3

Tbs.

real maple syrup

1/2

tsp.

salt

or more to taste

1/2

tsp.

black pepper

1/2

tsp.

garlic powder

optional
Instructions
Lightly rinse off the brussel sprouts in the sink under a colander. On a cutting board, cut off the stem pieces of the sprouts, keeping the majority of the sprouts in tact. If some leaves fall off, that's okay.

Heat a large skillet pan to high heat. Drizzle with the olive oil and place the trimmed sprouts into the pan. Don't toss for a few minutes and let the sprouts start to sizzle and get brown.

After a few minutes, toss them around in the pan and drizzle the top with the maple syrup. Let them continue to cook for several minutes as the syrup becomes caramelized and brown. Turn down the heat once they are nice and browned and let them cook until tender. Season and then serve warm.
Notes
You can switch up the maple syrup with balsamic glaze, agave, honey or whatever sweet flavoring you'd like. It's the sweet mixture that gives the caramelized flavor that's so amazing!