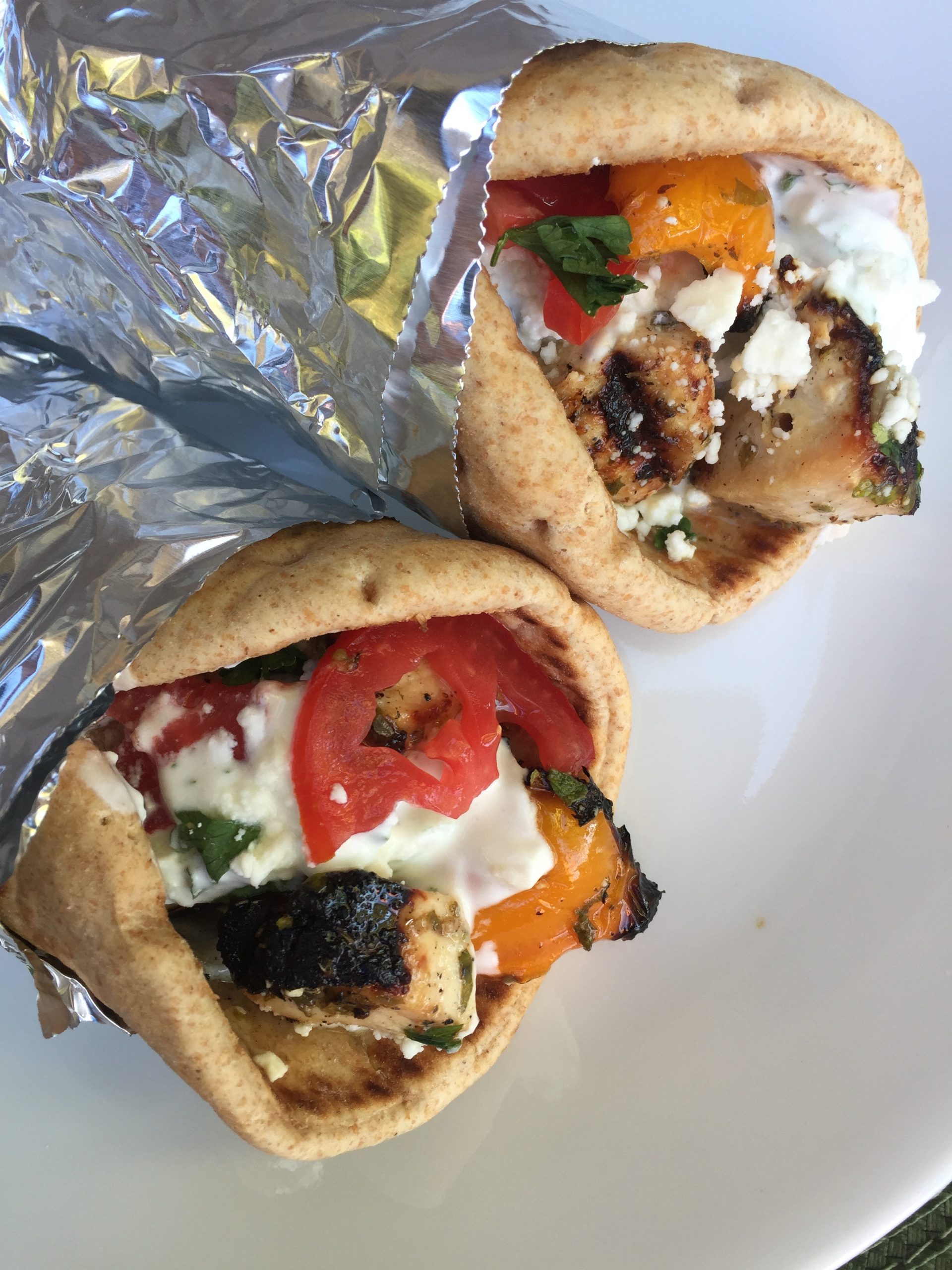 Oh, I am so thrilled I finally found this recipe for Greek Chicken Souvlaki. I made this recipe a couple years ago and haven't been able to find the recipe for awhile and I've been craving it! This recipe is SO perfect. It's a little sweet, a little spicy and has lots of Greek flavor and spices. The marinade is fantastic on it's own served over pork, chicken and even steak. These chicken and veggie skewers can also be eaten on their own and not in a wrap. However, when the grilled chicken, onion and peppers are all wrapped together and topped with the cold, creamy, cucumber sauce it is heaven. You are seriously going to love this recipe. Pin this recipe so you don't lose it like I did 😉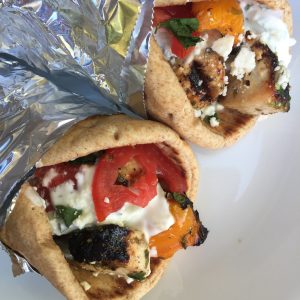 Ingredients
Marinade:

1/3

cup

olive oil

2

Tbs.

parsley

¼

cup

fresh lemon juice

1

tsp.

lemon zest

1

tsp.

oregano

1

tsp.

honey

½

tsp.

black pepper

1

red onion

cut into four pieces

1

green bell pepper

cut into pieces

1

red bell pepper

cut into pieces

Tzatziki Sauce:

1

garlic clove

minced

1

Tbs.

lemon juice

½

cucumber

peeled, cut in half, seeds removed, chop into fine pieces

¾

cup

greek yogurt

3

Tbs.

fresh mint

1

Tbs.

fresh parsley

3/8

tsp.

salt

1

package flat pita bread

1/4

cup

feta cheese

(optional)
Instructions
Cut the chicken into 1 inch pieces and place in a bowl or in a gallon Ziploc bag. In a small bowl, whisk together the marinade ingredients until smooth. Reserve a 1/3 cup of the marinade in a bowl until the chicken is cooked. Add the remaining marinade ingredients to the chicken and cover the chicken with plastic wrap and keep in the fridge for 30 minutes to several hours.

When you are ready to grill the chicken, prepare the vegetables. Cut the bell peppers and onions into large chunks and place on a plate. Take the skewers and load them with two pieces of bell pepper on one end of the skewer. Add 4-6 pieces of chicken onto the center of the skewer. End the skewer with a couple pieces of onion. Place the skewers on a preheated grill and cook until golden brown. Once the bottom portion of the skewers are cooked, turn the skewers to the other side and continue to cook. Cook until the chicken is no longer pink in the center. Once the chicken and vegetables are thoroughly cooked, remove from the grill and let them rest for a few minutes. In a large bowl, remove the chicken and vegetables from the skewers. Drizzle the chicken and veggies with the reserved marinade and toss to coat. While the chicken is resting, prepare the Tzatziki sauce.

For the sauce, add all of the ingredients together in a bowl and mix. For the pitas, place several pieces of chicken and vegetables and cover with the Tzatziki sauce. Top with feta cheese if you wish.
Nutrition