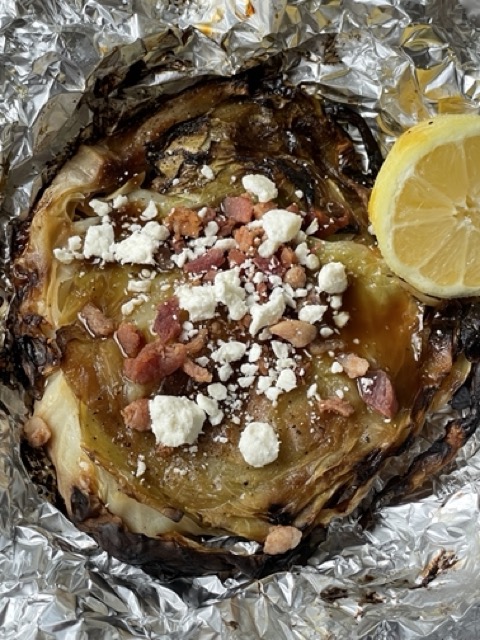 It's Memorial Day weekend and that means it's time to dust off the grill and get cooking up some family favorites. This recipe for Grilled Cabbage is a new recipe I am obsessed with. My son in law introduced this recipe to our family and I have made it several times since and will be making it again this weekend.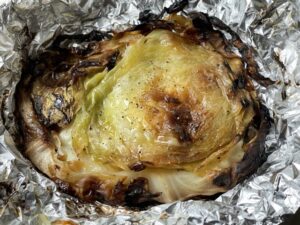 It is extremely simple to make but creates such a fun and different texture to the cabbage it's unlike anything you've had before. You can eat the grilled cabbage with just butter, salt and pepper. Or you can take it to another level and drizzle some balsamic glaze, blue cheese crumbles and crumbled bacon on it to make it extra special. No matter how you serve this cabbage you are going to LOVE it!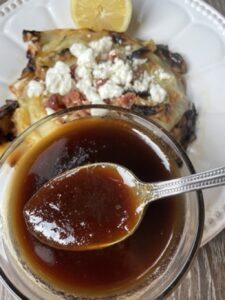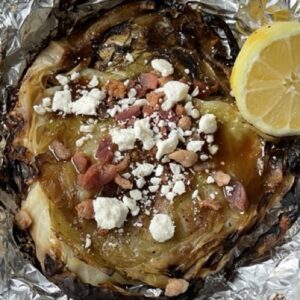 Ingredients
1

large head green cabbage

8

Tbs.

butter

Salt

Black Pepper

Aluminium foil sheets

Optional toppings:

Balsamic Glaze

Crumbled Blue Cheese or Feta

Crumbled Bacon
Instructions
Rinse the cabbage and remove any damaged or dark pieces to the outer edge of the cabbage. Slice the cabbage into 1/2 inch, circular slices. Place one slice of the cabbage onto a 12 inch by 12 inch tinfoil square. Place a tablespoon of butter into the center of the cabbage. Sprinkle the entire cabbage with salt and pepper. Wrap the tinfoil around the circle piece of cabbage to seal the edges and top. Continue to do this with all slices of cabbage (you should have about 8).

Heat an outdoor grill to medium-high heat. Place the tinfoil wrapped cabbage onto the grill. Close the grill lid and cook for 5 minutes. Turn the cabbages to the other side and grill on that second side for another 5-10 minutes. You can check the cabbage mid way through to see if the cabbage is tender and slightly charred.

When the cabbage is finished cooking, remove from the grill and let the cabbage sit to cool for 5 minutes. You can serve the cabbage right from the tinfoil or transfer to a plate. You can top the cabbage with balsamic vinegar, crumbled feta or blue cheese and/or crumbled bacon. Or, just enjoy plain with the butter, salt and pepper.
Here is a recipe for balsamic glaze. You can simply buy store bought glaze or make your own. It lasts in the fridge for weeks so you can always make it and store it for recipes in the future.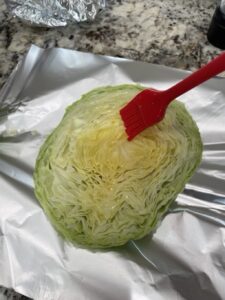 So simple to make this recipe. Simply slice the cabbage, brush with melted butter (or just place the tablespoon of butter in the center), wrap with aluminum foil and grill for 10-12 minutes. Serve warm. So yummy!