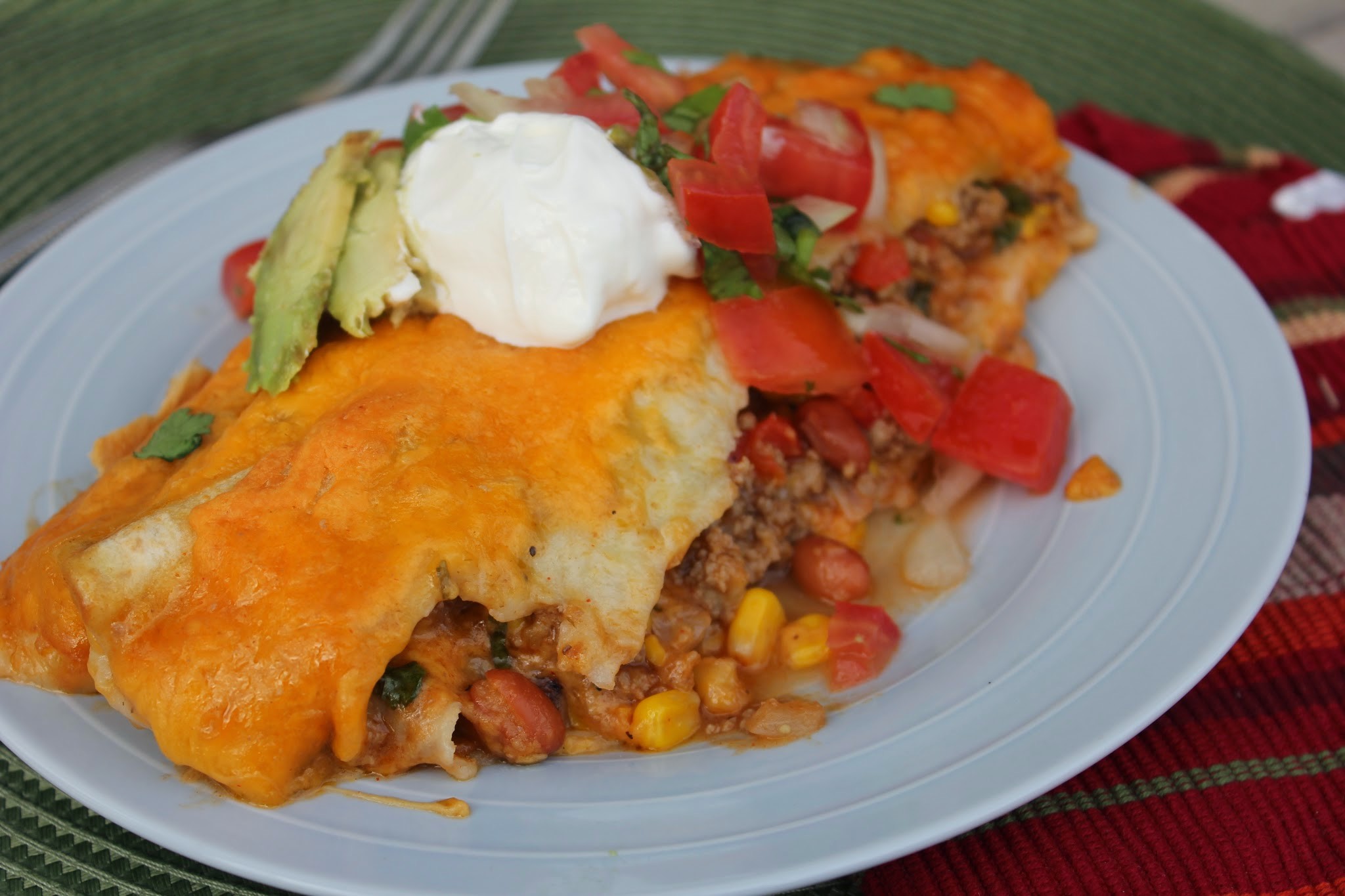 Has this week been crazy for anyone else, or is it just me? It seems like every night we have had multiple activities or places we needed to be. On crazy weeks like this one, I turn to some of my favorite simple recipes to get dinner on the table in a hurry. I love these Turkey Enchiladas, not only because I love ground turkey and the fact it's healthier than ground beef, but because this meal can come together in less than 30 minutes. Smith's has an awesome deal on ground turkey for only $1.99/lb. this week. I went and stocked up and came home and put this enchilada together before the kids came home from school. At dinner time I threw it in the oven and it was so nice to have a warm meal before we ran all different directions. The thing I love most about this dish is the amount of flavor and texture. I love the sweet corn on the inside along with the soft, pinto beans. Adding things like beans, rice or corn to your meat mixture is a great way to extend your meat. This recipe makes enough for one large 11×17 pan or one 9×13 and a small 8×8 square pan. It's a great dish if you need to make an extra pan for a neighbor in need. Hope you love these as much as we do!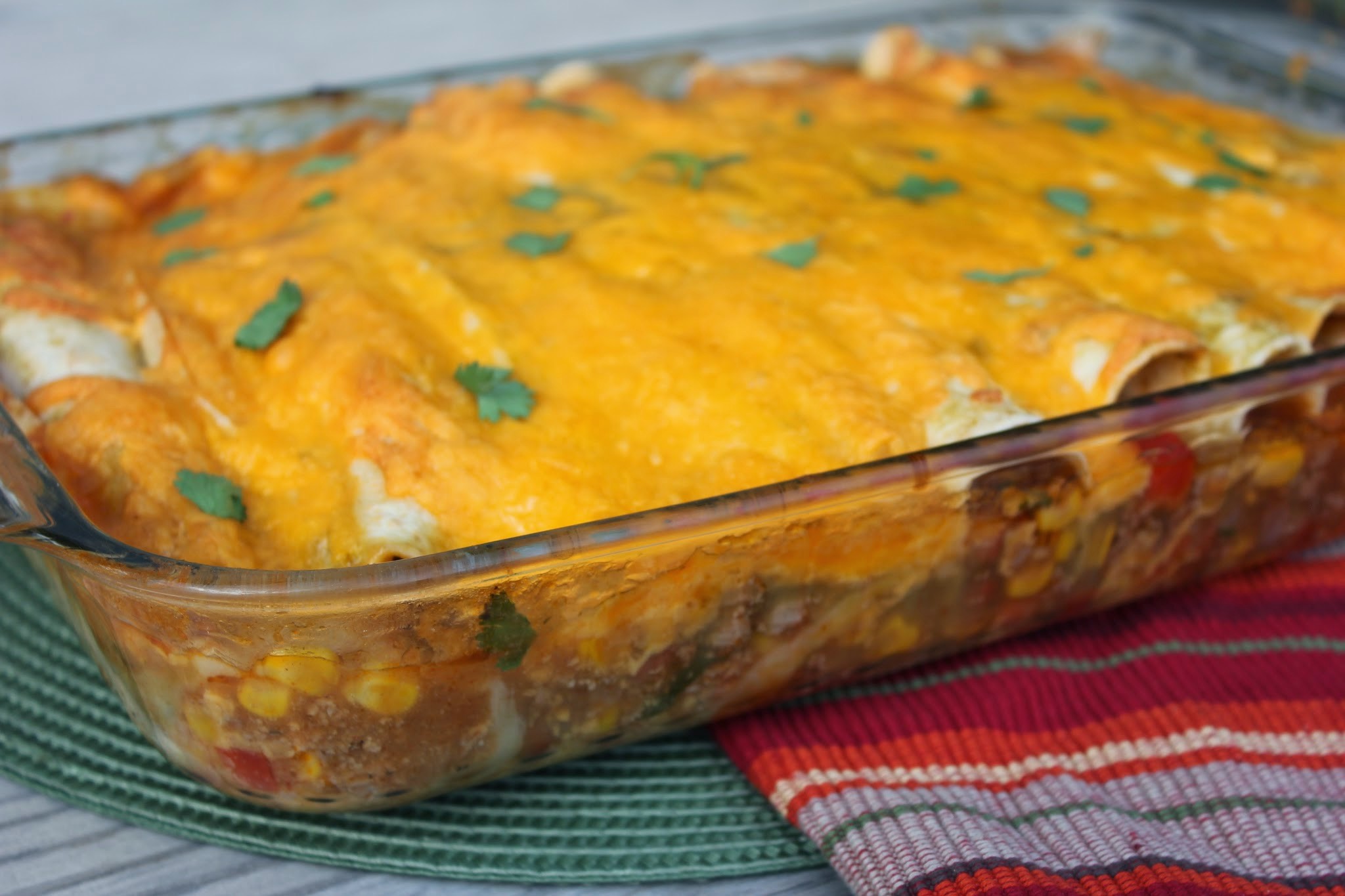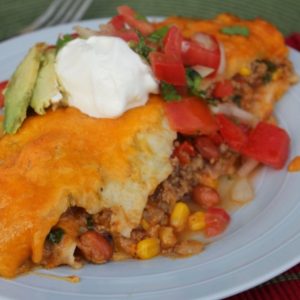 Ingredients
Turkey Mixture:

1/2

large red onion

chopped fine

2

lbs.

lean ground turkey

1

red bell pepper

diced

1

lb.

frozen corn

1

can pinto or black beans

drained

3/4

cup

salsa or salsa verde

8

oz.

can tomato sauce

2

tsp.

seasoning salt

1

tsp.

ground black pepper

2

tsp.

cumin powder

1/2

tsp.

cayenne pepper

2

tsp.

chili powder

1/3

cup

fresh cilantro

chopped

GARNISHINGS

Sour cream

Cheddar cheese

for the center of each tortilla and more for the top (about 3 cups total)

1

can green enchilada sauce

10 oz. can
Instructions
Dice the red onion. In a large saute pan brown the onions and ground turkey until browned. Drain any excess juices from the pan. To the meat, add the diced bell pepper, frozen corn, drained black beans, salsa, tomato sauce, seasoning salt, black pepper, cumin powder, cayenne pepper, chili powder. Let the mixture simmer together to let the seasonings mix together. Chop the cilantro and add to the mixture. Continue to simmer for 2-3 minutes and then remove from the heat and prepare to assemble the enchiladas.

Heat in a microwave 12-14 flour tortillas a few seconds until soft. Place a 1/3-1/2 cup of the mixture into the center of each of the tortillas. Place a sprinkle of cheddar cheese into the center of the tortilla and then roll up tightly. Place a few tablespoons of the green enchilada sauce on the bottom of a 9x17 inch pan. Place the rolled tortillas in a row into the pan. Smother the top with more enchilada sauce and top with more shredded cheese. Bake at 350 for 20-25 minutes or until the cheese is golden brown and the center is bubbly and melted. Serve with sour cream, more cilantro and fresh lime juice.