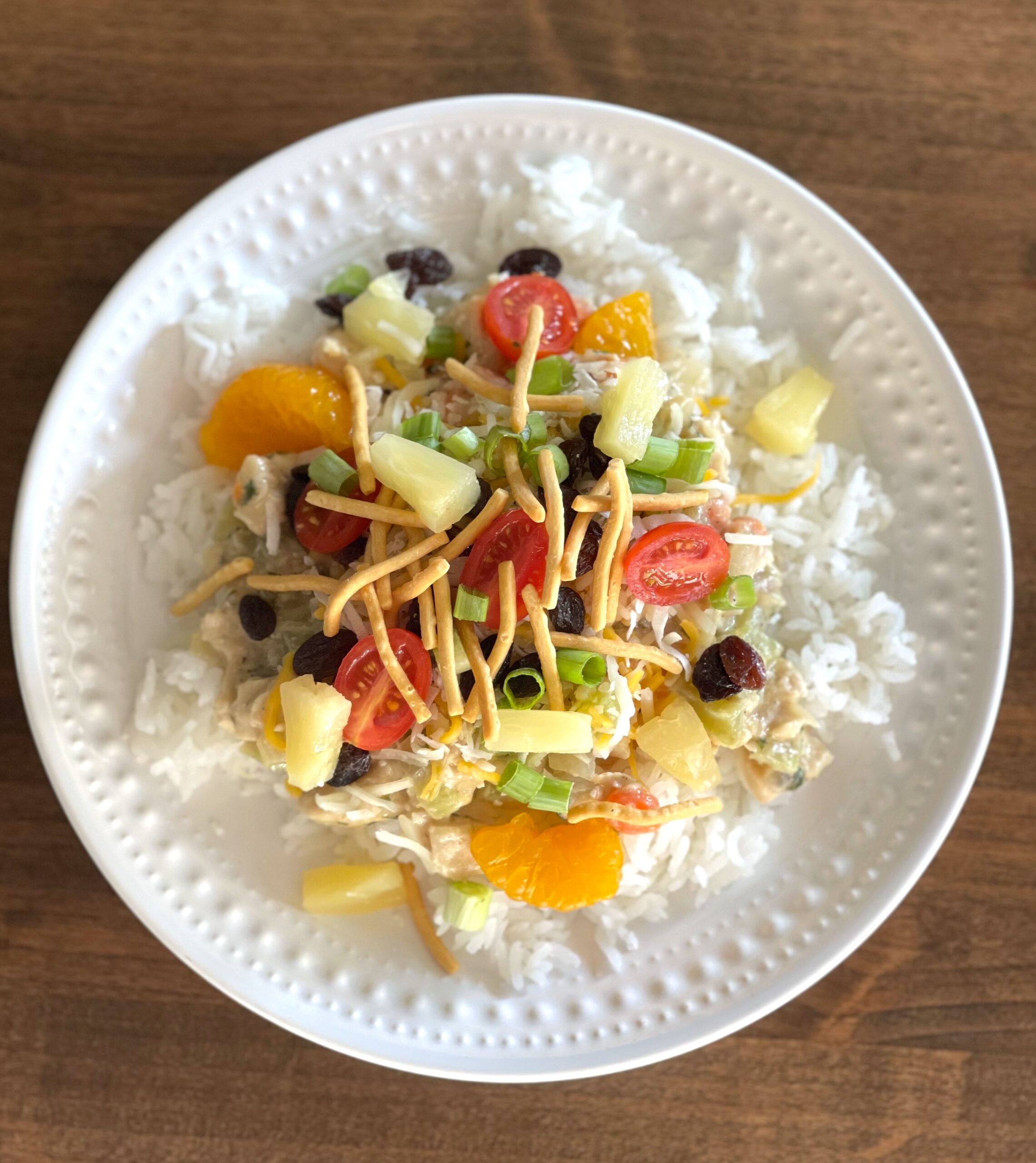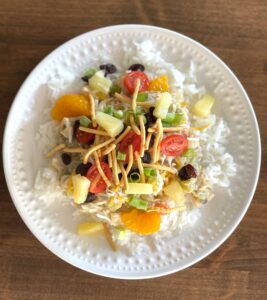 Unless you are from Utah, you may never have heard of Hawaiian Haystacks before. This creamy, chicken gravy is so perfect topped with some tropical and delicious flavors from Hawaii. My husband and I just returned from a trip to Hawaii and I was excited to make this dish to remind me of the tropical flavors of the islands I am already missing. Now of course, I'm not even sure if they serve Hawaiian Haystacks in Hawaii, but whether they do or not, this is a recipe my family has loved for many years.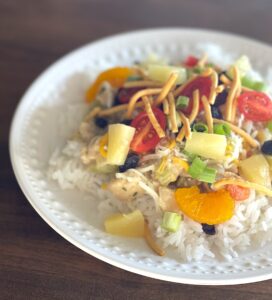 Besides this dish being deliciously comforting it can be made nearly from all food storage ingredients. Of course the fresh tomatoes and green onions can't be stored long term, but everything else can be made right from the shelves of your pantry or food storage. Such a simple & easy meal to make on a busy night. Use the Chopped, Freeze Dried Chicken from Thrive Life that is on sale and this meal can come together in the time it takes you to make a pot or rice. So quick, so easy and super delicious!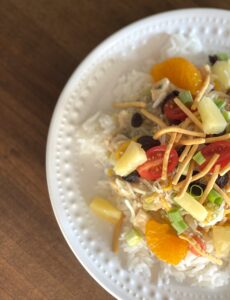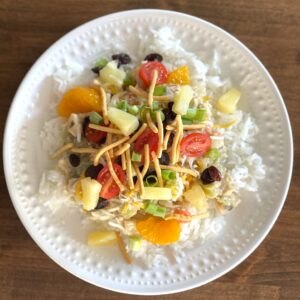 Ingredients
2

cups

of cooked and cubed chicken

or freeze dried chicken

3

tablespoons

olive oil

1/2

onion

finely chopped (or use freeze dried)

1/2

cup

carrots

diced small (or use freeze dried)

1/2

cup

celery

diced small (or use freeze dried)

1 1/2

tsp

garlic powder

1

teaspoon

chicken bouillon powder

1/2

tsp.

black pepper

to taste

Dash cayenne pepper

1/4

cup

cornstarch

2

cups

milk

or evaporated milk

1

cup

chicken broth

Salt

to taste

2

tsp.

parsley flakes

4

cups

cooked rice

Toppings:

Raisins

Chinese Noodles

Shredded Cheese

freeze dried works great

Canned Pineapple Tidbits

Canned Madarin Oranges

Green Onions

sliced

Tomatoes

diced

Coconut Flakes
Instructions
Cook the rice as you are preparing the gravy mixture. Two cups uncooked rice will make about 4 cups cooked and will work for this size of recipe.

For the gravy, in a large sauce pan, add the olive oil, onion, carrots and celery and saute until tender. Add the seasonings and cook for about one minute, stirring, until fragrant.

Add the cornstarch to the vegetable mixture and saute until the cornstarch is coating the vegetables.

Pour the milk and broth into the mixture and bring to a simmer.

Chop your cooked chicken (or use pre-hydrated freeze dried chicken) to the gravy and stir. Let simmer until the gravy starts to thicken. Season with salt as needed and garnish with parsley. Serve the hot gravy over the cooked rice and top with your favorite toppings.
Notes
*If you are using freeze dried vegetables and chicken, simply add a 1/2 cup of water to the onions, celery and carrot mixture as you are sauting those in the olive oil. Ten minutes before making the gravy, place two cups of freeze dried chicken into a bowl and pour 1 1/2 cups of water over the chicken to hydrate. Let it sit until the chicken is tender and then add the tender chicken to the recipe as you normally would. Hold onto the chicken juice until you know that you don't need it for the gravy, or use it as your chicken broth in the gravy. Make the rest as usual.