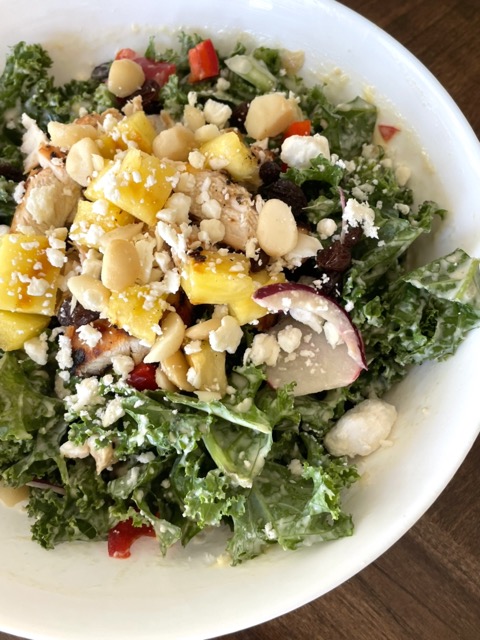 This week is everything tropical for me with Hawaiian Haystacks yesterday and this Hawaiian Macadamia Chicken Salad. My hubby and I went to Hawaii for work (and some pleasure) and went to the famous restaurant Duke's on Oahu, Waikiki. That place is SO delicious and all of their food was amazing. However, it was a simple salad on their salad bar that made me the most excited. It was kind of a strange combination of flavors but I loved it.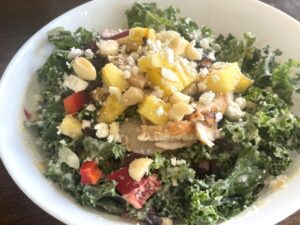 This salad is a kale based bed with slices of carrots, red bell pepper, macadamia nuts, quinoa (optional) and raisins. Kind of strange, right? I was super excited to come home and recreate this recipe. I knew it had a citrus dressing on it so I went for a pineapple based drizzle. I also added some Thrive Life Freeze Dried Chicken since I didn't want to spend hours in the kitchen cooking. You could totally use rotisserie chicken as well if you want the extra protein to turn this into a main-dish salad/meal. My family really loved the unique flavors and it's a simple salad to let your kids pick and choose which toppings they would like to add.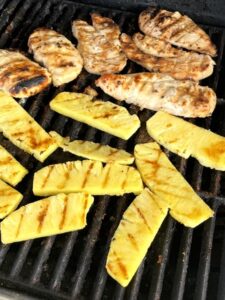 Before summer is over, you should get out at the grill one more time, grill up some chicken and pineapple and give this salad a try! It's super simple to make and a very healthy and easy recipe to throw together. Hope you enjoy! Aloha 😉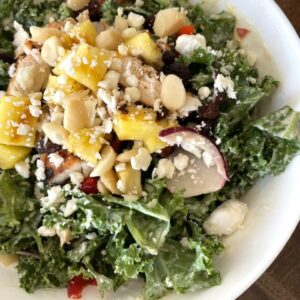 Ingredients
4

cups

kale

chopped

1/2

cup

quinoa

cooked (optional)

2

cups

fresh pineapple

diced

1/2

cup

carrots

sliced thin

1/2

red bell pepper

diced small

1/2

cup

macadamia nuts

chopped

1/2

cup

raisins

1/2

cup

feta cheese

optional

1/4

red onion

sliced

2

cups

cooked

grilled or freeze dried/hydrated chicken

Dressing:

1

cup

fresh pineapple

1/2

cup

mayonnaise

1

Tbs.

dijon mustard

1

Tbs.

lime juice

1/3

cup

rice vinegar

1/2

tsp.

salt

1/4

cup

sugar

1/2

tsp.

ginger powder

2

cloves

garlic

Dash cayenne pepper
Instructions
Prepare all of the salad ingredients by chopping the kale, cooking the quinoa, cooking the chicken (if needed), dicing the pineapple, slice the red onions, the carrots, etc. Toss the salad ingredients and let rest while you make the dressing.

In a blender, blend together all of the dressing ingredients until smooth. Serve the dressing with the salad and toss until ready to eat.