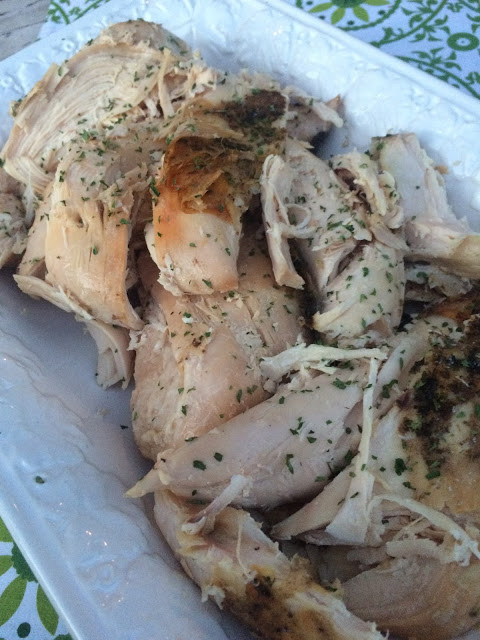 Bring on the Thanksgiving fun! I have been working on perfecting all of our Thanksgiving recipes this week to share them with you in our
weekly meal planner on our website
. Our best-ever Thanksgiving Meal Planner and Grocery List will be available for you to enjoy Wednesday morning. You will be able to find all of the best
Thanksgiving deals,
have all of our best holiday recipes and enjoy a grocery list that will make your shopping a breeze! You are going to LOVE this week's deals and meal plan, so hang in there until Wednesday to do all of your shopping. It will be worth the wait 😉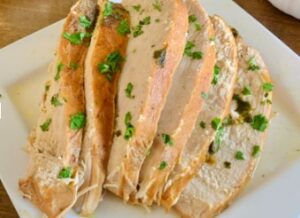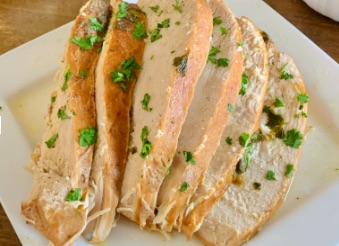 Until then, I am excited to share some of our tried and true favorite Thanksgiving tips and tricks and recipes for you to enjoy. Now, let's talk turkey. Our extended family is so large we don't ever do the 'traditional' cut the turkey at the table kind of a scene you see in the movies. With so many family members, the turkey meat is always shredded and brought out on a platter for our Thanksgiving dinner. If this is the case at your dinner table on this special day, cooking a turkey breast is the ONLY way to go! I know you don't get the dark meat with a turkey breast, but if the white turkey is your favorite thing, then you will love this simple method! Cooking a turkey breast in a crock pot, with a few special ingredients (see the recipe below), gives you the most tender, moist, juicy turkey meat you will EVER have! This turkey is infused with garlic, onion and citrus flavor–which not only makes the turkey amazing but gives the turkey pan gravy the best flavor you can ever imagine. I know this picture is not great (sorry, it was too late at night to take a photo), but I promise you will LOVE this recipe! Remember to check out
Deals to Meals
before you do any shopping or holiday prepping.
Also, many of our favorite fall recipes can also be found in our easily organized and delicious Fall Favorite Ebook. Download yours today to get a head start on your holiday cooking!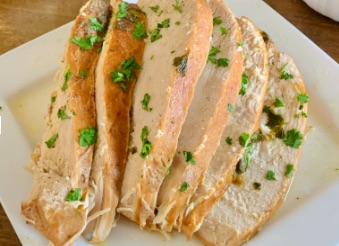 Ingredients
1

bone-in turkey breast

Herb Butter:

1

stick butter

1

tsp.

Garlic powder

1

Tbs.

fresh parsley

chopped

½

tsp.

Black pepper

¼

tsp.

sage

1

Tbs.

chicken bouillon base

1

lemon or orange

don't need for boneless

3

garlic cloves
Instructions
Remove the turkey breast from the wrapping. Remove the gravy packet and cut away the excess skin/fat around the turkey's neck area. Throw this extra skin away. With a knife try and separate the skin over the breast meat as far back as you can. Mix the herb butter together and take out a few tablespoons of the butter to spread over the turkey when it is done cooking. With the remaining butter, spread a thick layer of the butter underneath the skin of the turkey. Drizzle the rest of the butter on top and all around the turkey breast. Cook in a slow cooker for 5-7 hours on low/medium or until the turkey is fork tender and falls apart. Once the turkey is cooked, remove from the cooker and spread the last few tablespoons of butter on top of the turkey breast. Serve warm or cold.