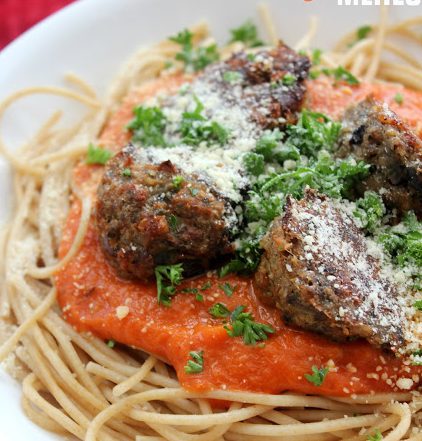 Every Wedensday morning while I'm doing my job I love to watch a cooking show called
Chef Brad
. It's a local cooking show where Chef Brad focuses on making regular family favorite recipes with a healthy-whole grain twist. It's kind of cheesy show, but I love the philosophy behind his cooking. He made a recipe last week I knew I had to try. It looked SO easy and I am all about eating more Italian food with a healthy twist. Let me tell you. This blender marinara sauce is SO, incredibly good–and SUPER easy! I was in shock at how simple it was. It is going to be my go-to method when I need a quick, fresh spaghetti sauce. I loved the flavor of the roasted tomatoes and garlic and the fact I just bake it and then blend it. Such a novel idea! Then…you add these healthy turkey meatballs that have cooked brown rice in them (yum!) and you have a combination over whole wheat pasta that you can feel good about feeding your family. With a few simple, healthy twists, Chef Brad did an awesome job turning a family favorite recipe into something a little more nutrient filled. This was a HUGE hit at our house and I can't wait for you to try it to.
Enjoy this recipe and all other amazing recipes on our weekly meal planner on Deals to Meals.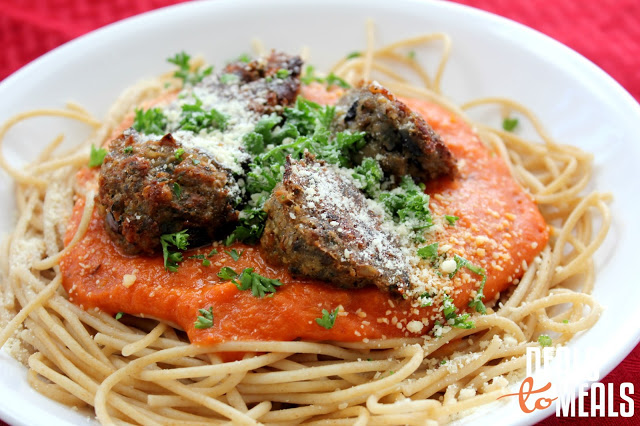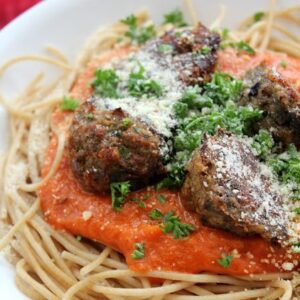 Ingredients
12

large roma tomatoes

1

red onion

diced

6

garlic cloves

whole

2-3

Tbs.

olive oil

1

tsp.

salt

1

tsp.

black pepper

1

tsp.

Italian seasoning

1

Tbs.

sugar

PASTA:

1

lb.

pasta of choice

Garnish

shredded parmesan cheese
Instructions
Rinse the tomatoes. Remove the core of the tomato. Cut the tomatoes in half lengthwise. Cut the red onion into large pieces. Place the tomatoes and red onions in a large bowl. Add the whole garlic cloves, olive oil, salt, pepper, Italian seasoning and sugar. Toss to coat all of the ingredients with the olive oil. Place the ingredients on a cookie sheet with the tomatoes face down. Place them in an oven that has been preheated to 450 degrees. Bake the tomatoes until they are golden brown and slightly charred on top (not black, but dark brown is okay). Once the tomatoes are soft and tender, and the onions and garlic are cooked, remove the tomatoes from the oven. Let them cool for a few minutes and then pour the entire pan of ingredients into a blender (be careful, they will be hot). If you are using a smaller blender, just blend half at a time. Blend the mixture carefully with the lid securely fit to the jar. Blend until the sauce is completely smooth. Season sauce with more salt, sugar or pepper as needed. Serve the sauce over noodles with parmesan cheese. Meatballs make a nice addition too.
Notes
*HEALTHIER OPTION: Serve over whole grain pasta. If serving with meatballs, serve with turkey meatballs.