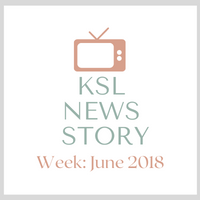 How fun is this?! I'm on Channel 5 KSL 10 p.m. news Thursday (7/19)! It's been a couple years since I've done a t.v. segment and it was so fun to be in a studio again. I love to share ideas and tips on saving money and I forget how fun it is to do it on t.v. Thanks KSL for this opportunity and the chance to share with your viewers five SIMPLE tips to help you cut your vacation food budget in half! Hope you enjoy!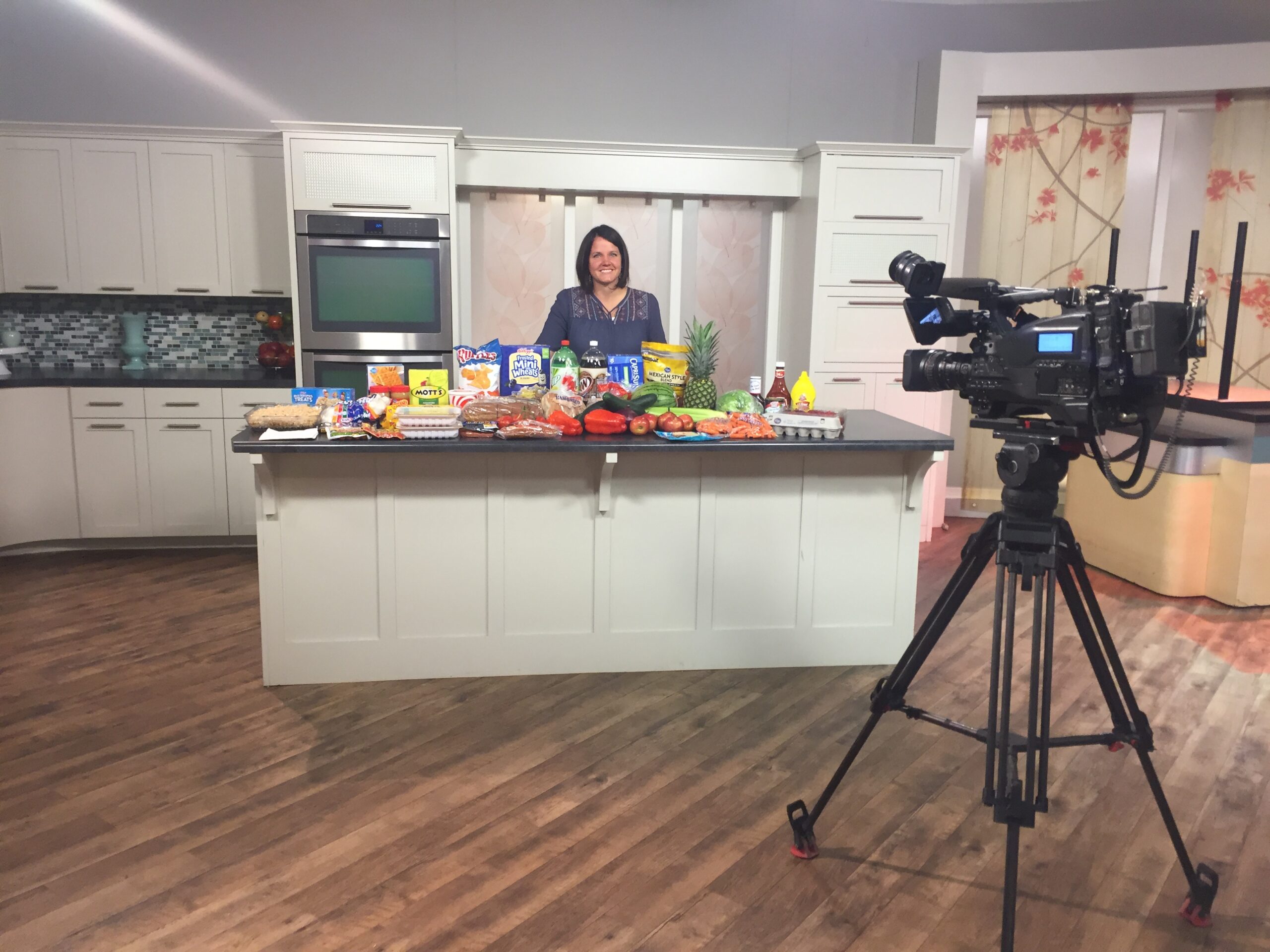 Let's get started on our 5 tips to save money on vacations.
Food on vacations can be one of the more expensive aspects to a family trip. Besides lodging and transportation, food can break a family's budget if you're not careful. Use these tips to help plan ahead and save hundreds of dollars on your next get-a-way.
1-Have a budget and a plan. Know before you go on your trip what you plan to spend on groceries. Have a plan to know what meals you'll be eating out and which ones you'll be eating in. Look online ahead of time to know which restaurants are close to your destination to give you an idea of how much you'll spend. Search the web for coupons for any place you choose to eat-out. You'll be surprised how many places offer coupons on the web to save your family some money. To keep your food budget low, try and eat more meals IN instead of OUT.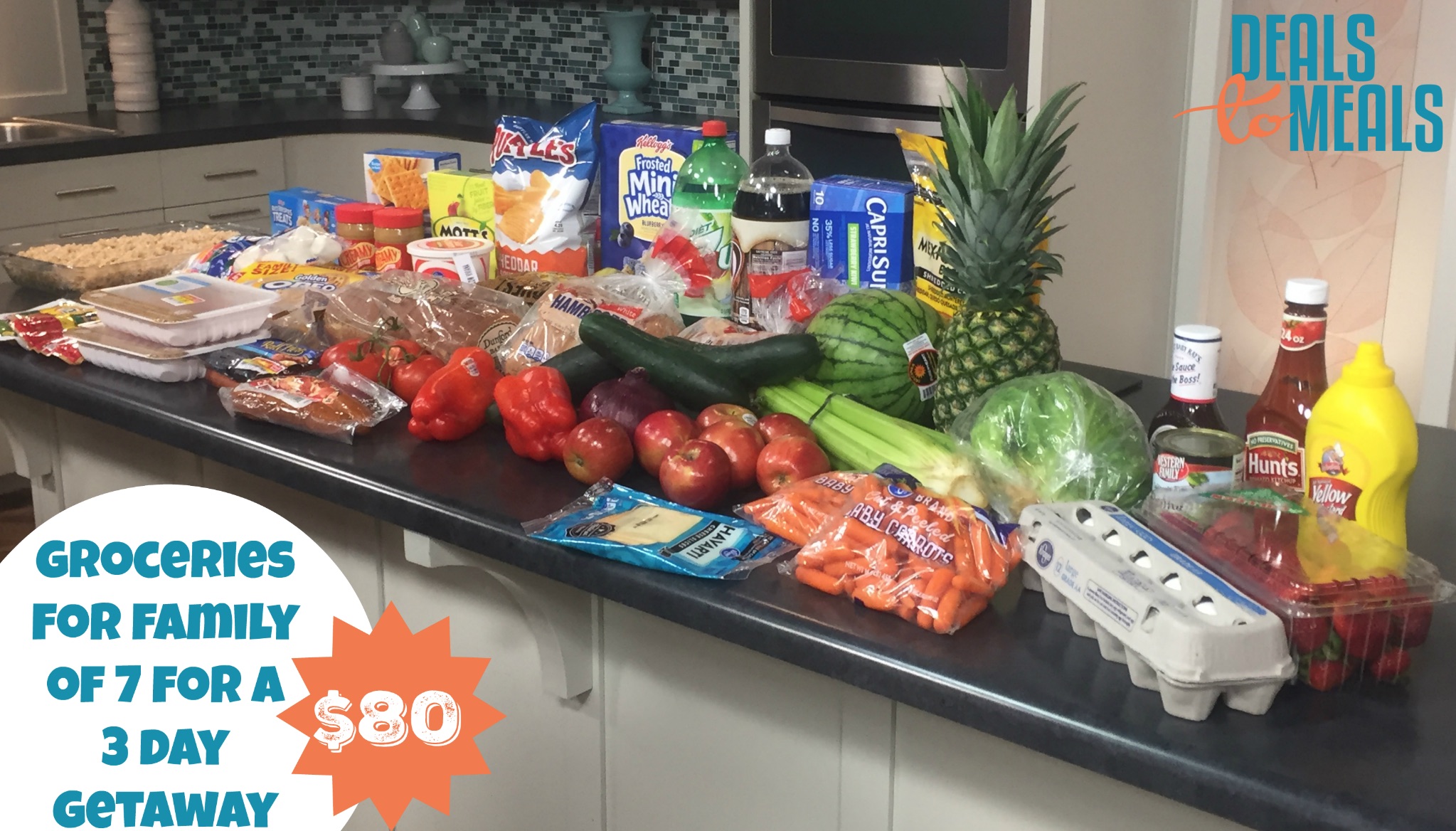 2-Watch the grocery sales and stock up on snacks, treats and food BEFORE You leave. Prices for groceries in a resort or destination area are MUCH more expensive than they would be at home. BEFORE you go to save hundreds of dollars. We bought all of these groceries for our upcoming weekend getaway for under $80! Nearly all of these groceries were on sale for 25-50% off.
3-Prepare some meals at home BEFORE you go. To feed a family of 4-6 at a restaurant can cost anywhere from $35-$100. However, if you prepare some meals ahead of time you can make a meal for your family for under $10. For example, boneless pork is on sale this week for only $1 a pound. Cook the pork in a slow cooker for 6-8 hours, shred and then add some bbq sauce. Let the meat cool and then place in a ziploc bag and freeze until ready to warm up on your trip. For an entire bbq pork meal, you would spend less than $10 instead of $60 that you would spend at a restaurant. If you have a stove in your hotel/condo you could even make up meals like lasagna and enchilada that can be made in a disposable tin and cooked on your trip.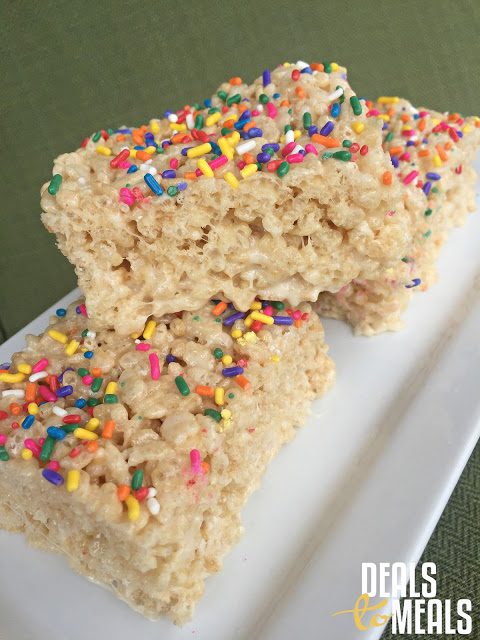 4-Instead of buying prepackaged snacks, take a few minutes before you go and make them yourself. For example, a box of prepackaged rice crispy treats will cost you about $3 for 8 small squares. However, you can make a large batch of rice crispy treats at home for less than $3 and you'll get 15+ servings.  Snacks and treats always go on sale this time of year for the best prices, so if you don't have time to make them, watch the deals and stock up so you can save money throughout the rest of the year. Login to Deals to Meals to see where the best treats and snacks are on sale in your area.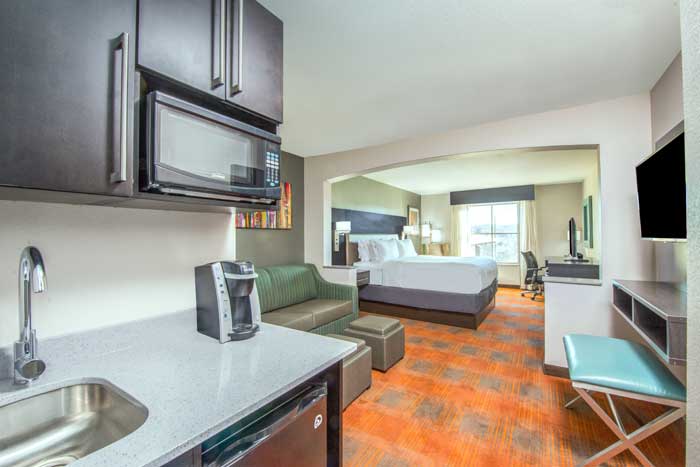 5-Choose the right lodging option. Find places to stay that have an ability to warm up food. Lodging is generally the most expensive part of a vacation. If you can find somewhere that offers a free breakfast and has a mini fridge and a microwave, you can save SO much money! If you prepare some food before hand you can easily microwave the meals to have a home cooked meal for much less than eating out. Families, depending on the size, can easily spend anywhere from $30-$100 on one meal. This can add up quickly if you are needing to eat out three meals a
day. That can be as much as $100-$250 a day spent just on food, depending where you choose to eat. The better option is to find ways to eat homemade meals where you will be staying. Whether you are sleeping in a hotel, a rented
home/cabin, camping in the outdoors, or in a condo, you can easily cook homemade meals and cut your food budget in half.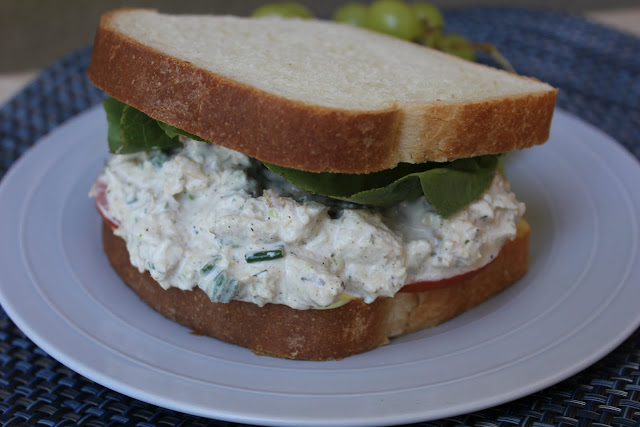 Get a list of our FAVORITE VACATION MEALS here.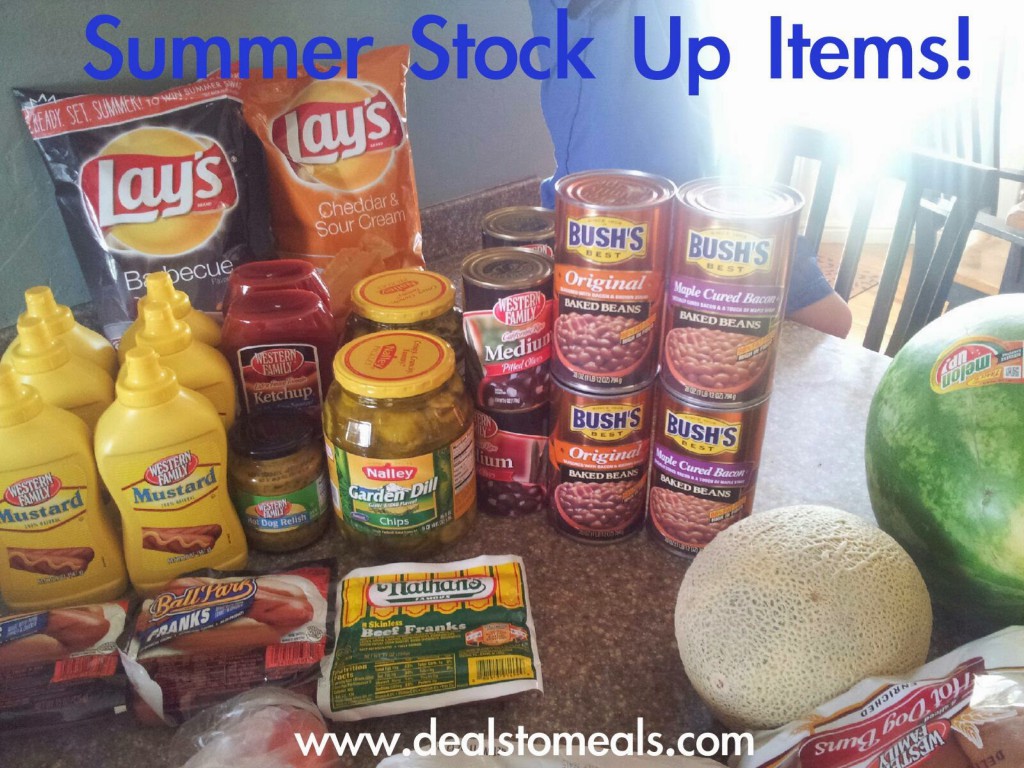 Don't forget to stock up on sale items when they are at their lowest prices. Groceries go on sale in cycles. This is the time of year to stock up on everything you need for your upcoming bbq: ketchup, mustard, relish, pickles, mayo, chips, snacks, watermelon, treats, etc. These deals will continue through Labor Day and then not return again until the next year. Don't miss this chance to stock up and SAVE!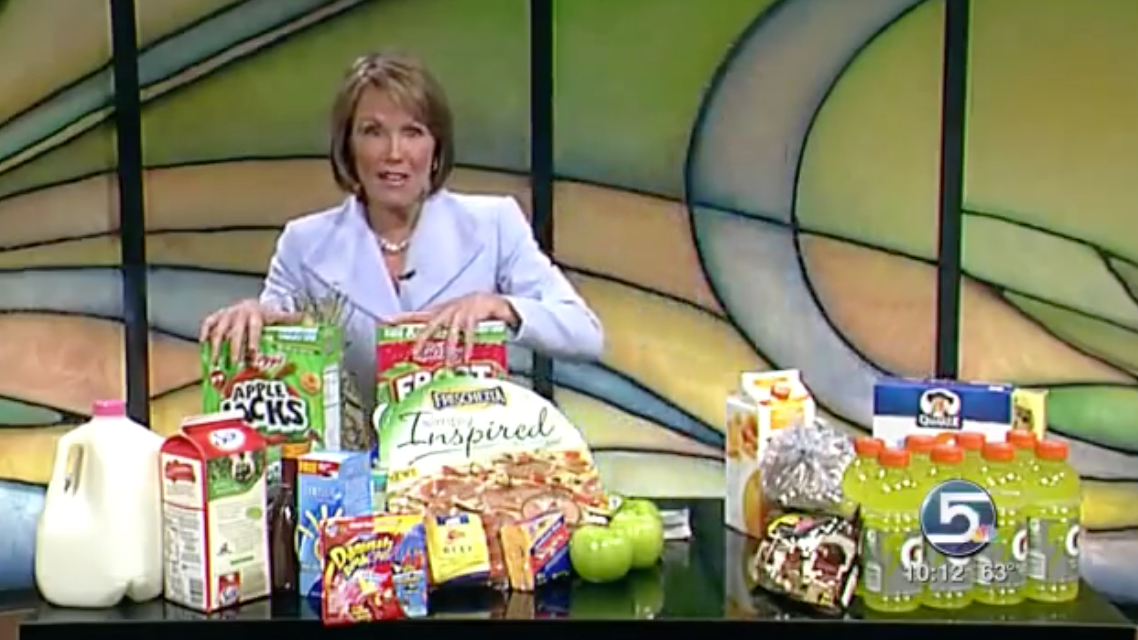 Want to watch another KSL segment? Check out our story of Coupon Clipping vs. Deal Shopping–see how we blew the coupon shoppers out of the water!
Have a great summer and feel free to email me at shandra@dealstomeals.com if you have any questions about how our service works. Thanks!