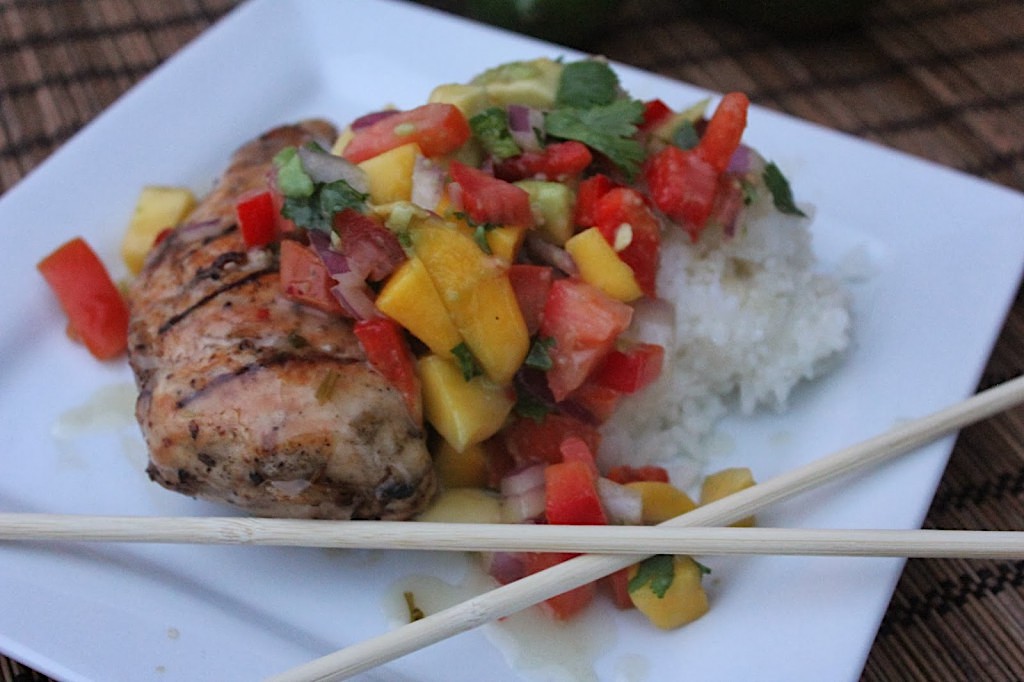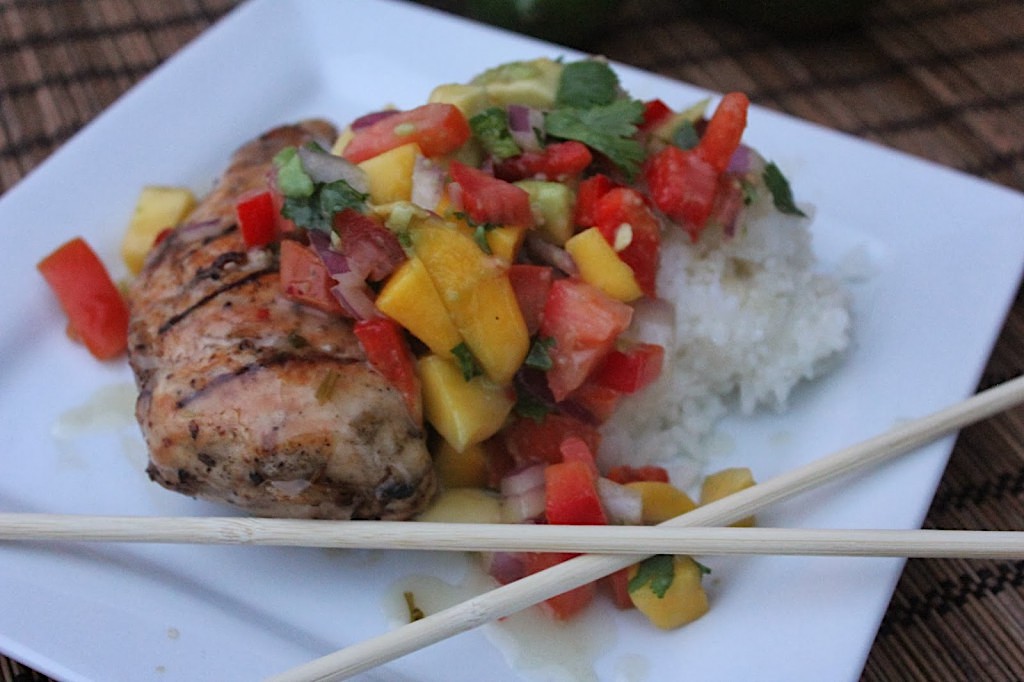 I came up with this recipe back in 2014 and it is still such a fun and flavorful dish to make. You can't eat this recipe and not be happy. The fresh, tangy, sweet salsa pairs perfectly with the marinated and grilled chicken. Serve over rice with extra sauce and the entire meal will whisk you away to the warm Caribbean with all of the fresh and exotic flavors. This is a delicious recipe you will see often on our Prepear Meal Planner. 
Ingredients
CHICKEN:

2

cups

liquid lime margarita mix

1/2

can coconut milk

1/4

cup

canola oil

Juice of 2 limes

1

tsp.

red pepper flakes

1

cup

cilantro

chopped

2

tsp.

salt

1

tsp.

cumin powder

1/2

cup

sugar

to be added to marinade after

Cooked rice

MANGO AVOCADO SALSA:

1

mango

peeled and diced

1

red bell pepper

diced

2

avocados

diced small

2 to

matoes

diced

1

jalapeno pepper

core removed and diced small

1/2

red onion

diced

1/2

cup

cilantro

chopped

Juice of 1 lime

Salt to taste
Instructions
Cook the rice and let rest until ready to serve. In a large gallon ziploc bag place all of the marinade ingredients together, seal the top shut and then shake the marinade around until combined. Add the six chicken breasts to the bag and keep in the fridge until ready to grill (the longer you let the chicken marinade the better--2 to 8 hours). Don't marinade overnight or the acid will break down the chicken too much. When ready to grill the chicken, remove the chicken and place on a hot grill, reserving the marinade! While the chicken is cooking on the grill, pour the marinade into a saucepan. Add 1 Tbls. cornstarch and a 1/2 cup of white sugar and bring to a boil for 5 minutes, or until marinade sauce becomes thick. Once chicken has been cooked on both sides (about 6-8 minutes per side), and the center is no longer pink, remove from the grill and let rest while you prepare the salsa. Once the salsa is chopped and ready, serve the chicken over the white rice, top with the salsa and drizzle with the marinade/sauce for extra flavor.

For the salsa: Place all of the diced ingredients into a bowl. Drizzle with juice of a lime and season with a little salt. Set salsa aside until ready to serve.
Notes
HEALTHIER OPTION: Serve over brown rice