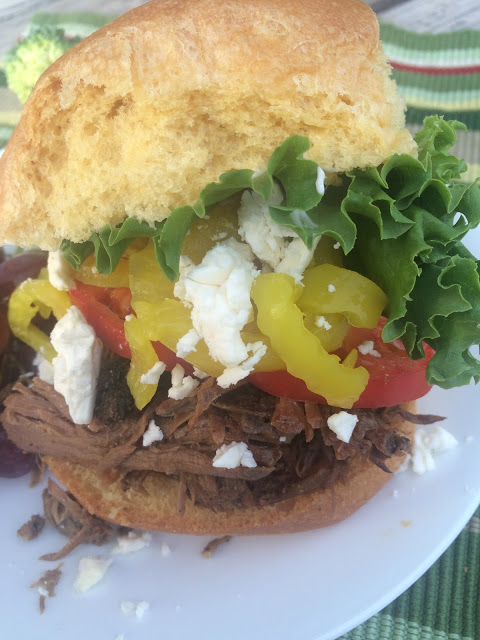 Before the holiday's are in full swing, I wanted to share this recipe for these New Yorker Beef Subs that are SUPER easy to make, and might save you on a busy night. I have so many Thanksgiving recipes I want to share too, so check back often this week for so many recipes you won't know what to do with them all 😉
These beef subs are in our Slow Cooker Ebook and one of my favorite recipes to use up leftover pot roast. Anytime I cook a beef roast in the crock pot, I always cook two. There is no need to only cook one, because the shredded beef roast freezes awesome for future meals, or is a great way to get several meals out of one recipe. I usually use half of the roast for regular French Dip Sandwiches, or Shredded Beef Enchiladas and then the leftover roast for these New Yorker Subs. There used to be a small sandwich shop near our home that made these subs and they were always my favorite. Now that the restaurant has been closed for years, I have loved being able to make them on my own. Basically it is tender, beef roast with simple mayonnaise, some banana peppers, lettuce, tomatoes and feta cheese. Nothing to fancy, but the combination is fantastic!! I hope this recipe helps simplify your dinner time rush one of these nights upcoming.
Not to mention, in nearly every state, boneless beef roasts are on sale for great deals. So, it's a great time to stock your freezer! Here in Utah, Boneless Beef Rump Roast is on sale at Fresh Market for only $2.99/lb. That's a GREAT deal, and a good time to buy several. For ALL of the amazing grocery deals this week, visit our website Deals to Meals! Hope you are having a great week!
New Yorker Shredded Beef Subs


2-3 lb. boneless beef rump roast
1 onion, sliced
Montreal steak seasoning
2 tomatoes, sliced
6-8 pieces of lettuce
1 cup feta cheese, crumbled
1 cup banana peppers
Mayonnaise
6-8 hoagie rolls or hamburger buns
In a slow cooker, place the beef roast into the bottom of the pot. Slice the onions and place on top of the roast. Sprinkle the roast generously with Montreal Steak Seasoning. Turn the crock pot to high heat and let the roast cook for 3-5 hours, or until the roast is tender and shreds easily (you can also cook the roast on low heat for 5-7 hours if you wish). Once the roast is cooked, shred the roast into it's juices into medium sized pieces. Season with more salt and pepper if needed. Let the roast cool while you prepare the sandwich ingredients.
Slice the tomatoes into thin pieces. Tear the lettuce into pieces for the sandwiches. Crumble the feta cheese and open the jar of banana peppers. Spread a generous portion of mayonnaise on each side of the bun or roll. Add to the sandwich a good portion of the shredded beef. Top with the feta cheese, banana peppers, tomatoes and lettuce. Serve the sandwiches warm so the cheese begins to melt a little bit with the hot meat. Enjoy!
[buymeapie-recipe id='124′]