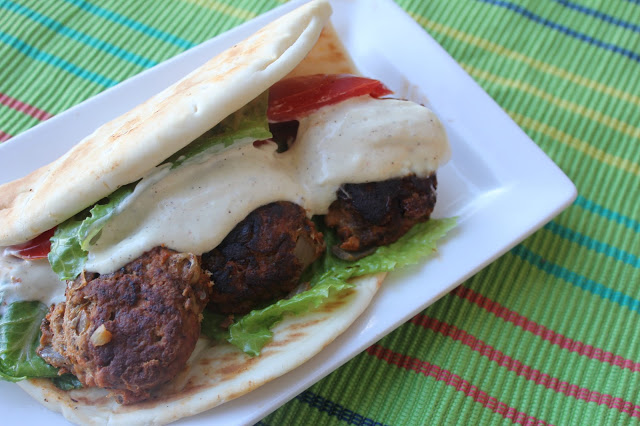 As I was looking through my files today I saw this picture and I couldn't believe I hadn't posted about these Spicy Pork Po Boys yet. This meatball wrap, or sub of sorts was totally amazing. The meatballs were a little spicy, heavy on the paprika, smoky flavor and went perfectly with the cool horseradish sauce. Add some fresh tomatoes and lettuce and you have a wrap (or gyros) that will satisfy anyone's cravings. I used the Costco flat bread pitas (which I love!) and the soft shell was a great combination to these wraps. You could also serve these meatballs on a sub roll or even a tortilla. If you need a new meal that is full of flavor and easy to throw together, give these gyros a try!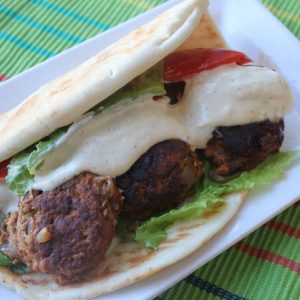 Ingredients
MEATBALLS:

1

lb.

ground pork sausage

1

lb.

ground beef

or turkey

1

egg

1

Tbs.

dijon mustard

1 1/2

tsp.

paprika

1 1/4

tsp.

thyme

3/4

tsp.

cayenne pepper

1 1/2

tsp.

salt

3/4

tsp.g garlic powder

1/2

tsp.

black pepper

SAUCE:

1/2

cup

mayonnaise

1/4

cup

sour cream

2

Tbs.

Dijon mustard

3

dill pickles

diced

1

tsp.

horseradish

To taste

salt and pepper

SANDWICHES:

6-8

pita bread or wraps

or tortillas

2 to

matoes

sliced

5-6

pieces

of lettuce
Instructions
For the sausage, in a bowl, combine the sausage, turkey (or beef), egg, mustard, paprika, thyme, cayene, salt, garlic and black pepper. Mix together until everything is incorporated. Get a frying pan to medium heat and drizzle with a little olive oil. Make the meatball mixture into golf ball sized meatballs and place in the pan. Cook on both sides of the meatball until they are nicely browned on both sides. Place a lid on the pan and let them cook for another 15-17 minutes, or until the center of the meatballs are no longer pink.

For the sauce, while the meatballs are cooking, prepare the sauce by placing all of the ingredients into a small bowl. Slice the tomatoes and tear off pieces of lettuce. When the meatballs are done, place them inside a hoagie bun or pita, place some tomatoes and lettuce pieces in the wrap and drizzle with lots of the sauce. Serve warm.