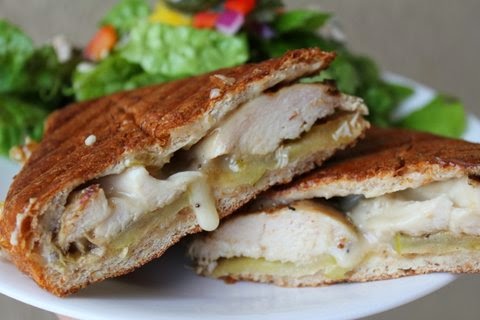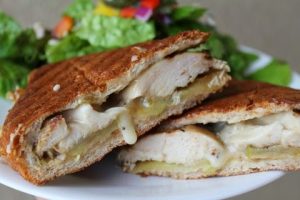 During our trip to Canada I came home knowing I would have to re-create two chicken sandwiches that we had there. The first was the Angry Bird Sandwich I posted about last week (SO amazing!) and the second sandwich I loved was at a restaurant called Earl's. As soon as I heard caramel apples on a sandwich I knew I would be hooked! This sandwich, although it sounds strange, has such a delicious and unique flavor. This sandwich has a grilled chicken breast, a creamy fig (or golden raisin) spread, caramelized apples and melted brie cheese. You cook this sandwich in a panini maker and everything becomes gooey, melty and completely wonderful together. I served this with a side salad and we enjoyed it for our ladies lunch earlier this week. This is chick-food at it's finest;) Hope you love it as much as we did!!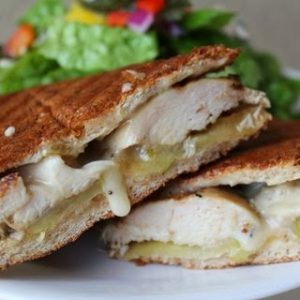 Ingredients
SPREAD:

1

cup

golden raisins or figs

1

tsp.

lemon juice

4

oz.

cream cheese

CHICKEN:

Montreal Steak Seasoning

APPLES:

2-3

green granny smith apples

cores removed and sliced thin

1/2

cup

brown sugar

Dash salt

Dash cinnamon

1

Tbls.

butter

SANDWICH:

6-8

bolilo buns or ciabatta buns

cut horizontally

1

cup

spinach leaves

optional

4-6

oz.

brie cheese

rind removed and slicedPut into a food processor and blend until raisins/figs are soft and combined. Set aside.
Instructions
Season the chicken breasts with steak seasoning and then grill until chicken is golden brown and cooked through. Remove chicken from the grill and let rest for a few minutes. Slice the chicken into thin strips and set aside.

Wash apples, remove core and then slice into thin slices. In a saute pan, place the butter and brown sugar. Turn to medium heat and let warm for a minute. Add the apple slices, stir and then let simmer until the sugar dissolves and the apples are tender (not mushy). Sprinkle with a little cinnamon and salt and then remove the apples from the heat.

To assemble the sandwiches spread a generous layer of the raisin/cream cheese mixture on the bottom bun. Place thin strips of chicken on top of the spread and then top the chicken with some of the apples (don't add lots of extra apple juice..just drain the juice and remove the apples as best you can). On the top bun place the slices of brie and spinach (if you wish). Place the sandwich in a panini maker or on a griddle and cook until the cheeses are melted and the sandwich is warm. Serve warm or cold with your favorite side salad.