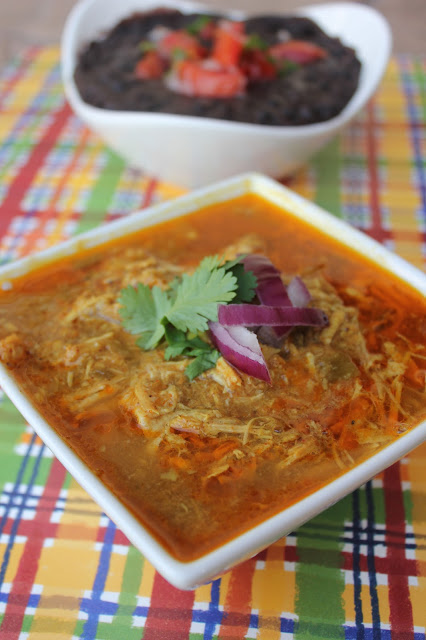 In honor of Cinco de Mayo I wanted to share one of our favorite recipes we had in Cancun. We ate these Carnitas Pork Tacos several times during the week we were there and were in love with the flavor! In fact, on our airplane to Cancun a couple people told us that we MUST eat Cochinita Pibil once we got there. We laughed when the first restaurant we went to had that on the menu. We were thrilled to order it and were not disappointed! After returning home I have researched several different recipes and it seems the unique flavor we were tasting was coming from the annatto seed. Now I have to admit I haven't searched very hard for this seed, but was so anxious to try this recipe I just left it out. I found some recipe online that gave some suggestions for substitutions but I will be making this again and trying to find the annatto seed. In Cancun the pork was a really pretty dark orangish-red color and that is caused from this seed. However…even without this spice, it was almost a perfect recreation. The citrus in the marinade and the spiciness of the habaneros was just what I remembered!
The flavors of this pork are totally different than a Cafe Rio-style pork. This dish is full of more spice and very savory, not a lot of sweetness. Because this pork is marinated over night the cooked pork falls apart and is super tender. My picture doesn't do it justice because we ate this pork for several days before I got around to taking a picture. Once I did, all that was left was the small, shredded pork pieces instead of the large beautiful strips. So, just imagine this pork with large, tasty pork shreds and you will have a pork that will whisk you away to the Carribean! In Mexico they served this pork in corn tortillas with fresh guacamole and salsa (could it get any better than that?!?).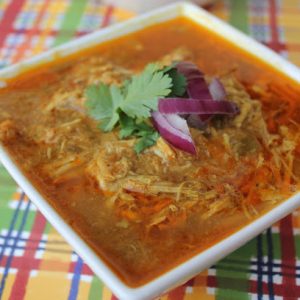 Ingredients
2.5

lbs.

boneless pork chops or roast

2

cloves

garlic

minced

1

jalapeno peppers

diced

1

red onion

chopped

1/2

cup

orange juice

2

Tbs.

lemon juice

2

tsp.

salt

1/2

tsp.

black pepper

2

tsp.

cumin powder

2

tsp.

paprika

1

tsp.

turmeric powder

2

tsp.

chili powder

or achiote paste

2

tsp.

coriander powder

(optional)

1/4

cup

brown sugar

TACOS:

1

pkg. corn or flour tortillas

1

cup

cheese

1

cup

salsa

1

cup

lettuce

shredded

1/2

cup

cilantro, chopped
Instructions
In a food processor (or by hand) chop the red onions, jalapenos and garlic into small pieces. Place the chopped onion/pepper mixture into a large bowl or tupperware. Add the reamining spices and orange/lemon juice and whisk together. Remove about 1/2 cup of the marinade and reserve for later. Place the boneless pork into the marinade. Make sure all of the pork is covered and then cover the bowl with saran wrap or a lid.

Marinate the pork overnight or up to 24 hours. If you don't have that long, you can place it directly into the slow cooker but it won't be quite so flavorful.

When you are ready to cook, place the pork and marinade into a large slow cooker. Turn the slow cooker to high heat and cook for 4-6 hours or on low heat for 8-10 hours. Check the pork after the minimum hour of cooking time and if the pork does not fall apart, cook for another hour or two. You want the pork to shred easily and be completely tender.

Once the pork is cooked, remove from the juices and shred into a bowl. Add the fresh, reserved marinade over the pork. Add salt and pepper to taste. If you want more sauce, add some extra sauce from the slow cooker back into the pork.

Serve the warm pork in corn tortillas with cheese, salsa, cilantro, lettuce, etc.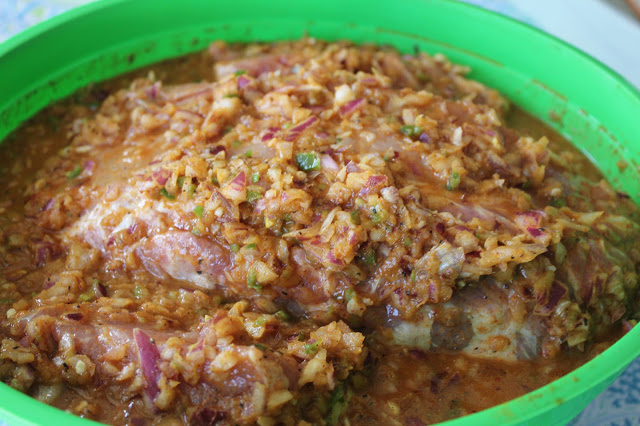 Here is a picture of the pork loin in the marinade. Keep overnight to ensure the flavors all meld and give your pork lots of great flavor!