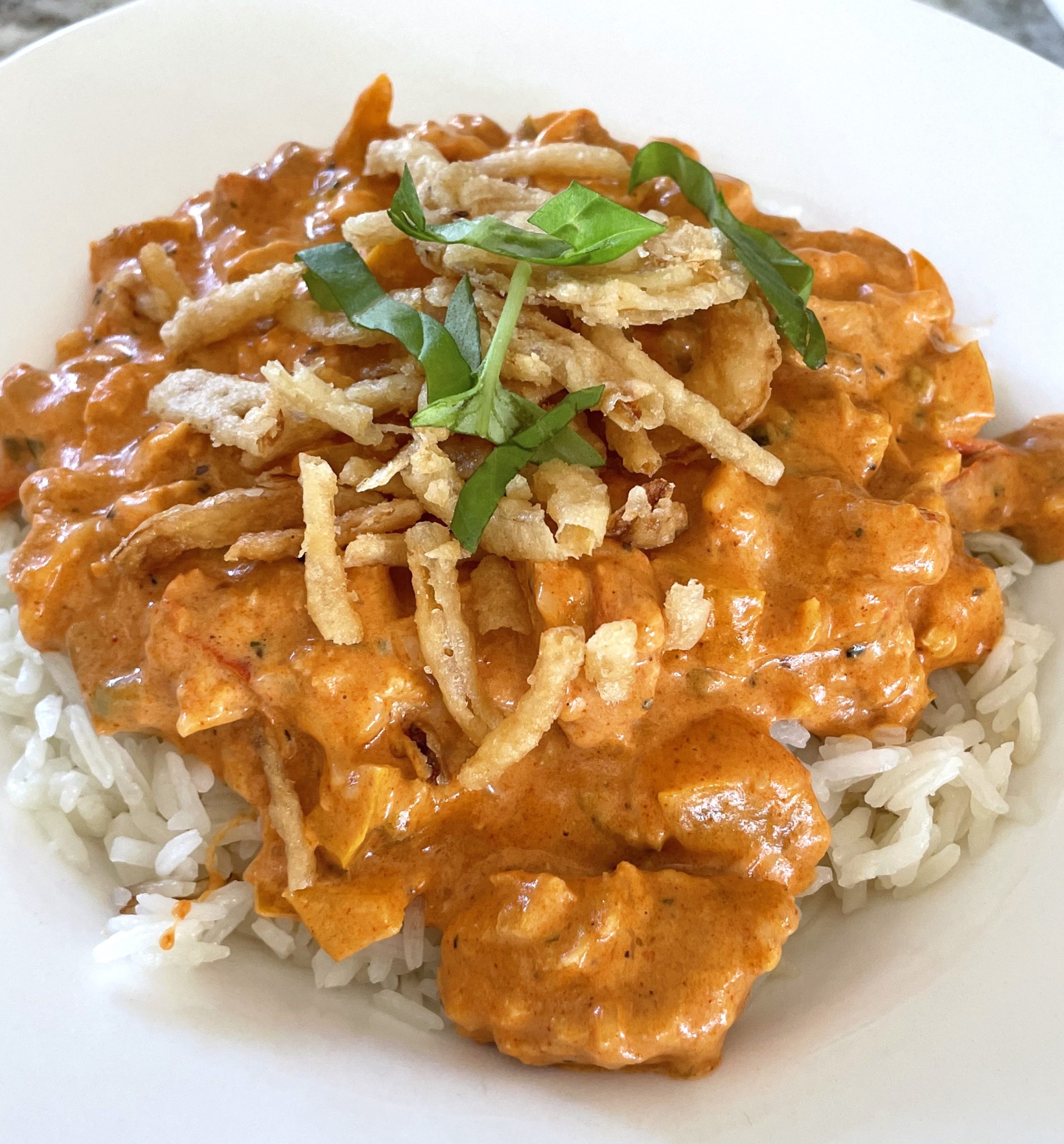 My son Conner recently returned from a church/service mission in Portugal and has been obsessed with their food ever since. One of his favorite dishes from Portugal was for Creamy Tomato Chicken Stroganoff. Tonight was a busy night and we only had 30 minutes to get dinner on the table. I decided to challenge him to a chef-cook-off! I had never had Brazilian stroganoff before but could imagine the creamy, spicy, flavors coming together in a magnificent dish. Conner and I decided to use mostly Thrive products so we could get dinner done in less than 20 minutes. I'm not kidding–this dish was AMAZING!! It will for sure become a new go-to dish on a busy night. The rice was the longest part of the recipe and using fresh (or Thrive Freeze Dried products) will make this dish inexpensive and fun to make!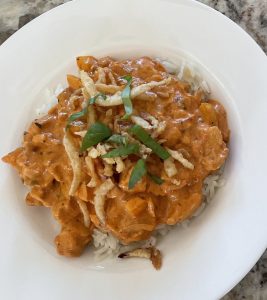 Let's talk about this dish. Stroganoff is traditionally a creamy, meaty, dish served over jasmine rice. Up to this point I had only made stroganoff with ground or shredded beef. The change of chicken instead of beef I actually really enjoyed. I used Thrive's Sliced Chicken pieces and in less than 10 minutes the chicken was hydrated and ready to cook with. Add a bunch of delicious seasonings, some onions, peppers, mushrooms, tomato powder (or sauce), heavy cream and away you go! Switch up your traditional chicken dishes and enjoy this unusual and delightful dish–straight from Portugal!
Best part about this dish is Thrive Life is having their Tomato Powder, Mushrooms, and Diced Chicken on sale this month. Check out their website HERE or look for a BULK ORDER GROUP near you to save an additional 10-15% off the sale prices. It's the BEST time to stock up on certain items on sale this month.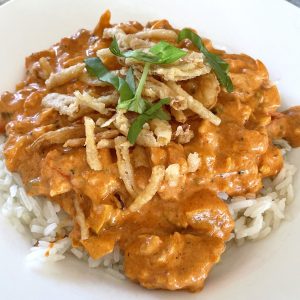 Ingredients
1

stick butter

or 1/2 cup olive oil

1/2

cup

onions

diced (I used Thrive Life Onions)

1/2

cup

red bell peppers

diced (I used Thrive Life Red Bell Peppers)

1/2

cup

yellow bell peppers

1/4

cup

jalapeno

diced (I used Thrive Life Green Chilies)

1

cup

mushrooms

diced (I used Thrive Life Mushrooms)

1 1/2

cup

cooked and diced chicken

I used Thrive Life Sliced Chicken

4

garlic cloves

minced

3

Tbs.

Tomato Paste

I used Thrive Life Tomato Powder

2

tsp.

salt

1

tsp.

black pepper

1

tsp.

oregano

2

tsp.

paprika

1/2-1

tsp.

cayenne pepper

3

cups

heavy whipping cream

Cooked Jasmine Rice

Garnish: Fresh Basil & French's Fried Onions
Instructions
Make a batch of jasmine rice and have cooking while you make the stroganoff.

If you are using fresh chicken, cut, trim and dice several chicken breasts into bite sized pieces. If you are using Thrive Chicken, place the cup and a half of chicken into a bowl and cover the pieces with water. Let them soak for 10 minutes. Dice the onions, peppers, jalapeno and mushrooms into pieces. Heat a large saute pan with the butter. Add the fresh, diced chicken into the hot butter. If you are using Thrive chicken, drain the juice into a bowl and add the hydrated chicken. Saute until the chicken is tender and cooked through. Add the onions, peppers, mushrooms and jalapeno to the chicken and continue to cook. If you need a little water or chicken broth, you can add that so the vegetables don't stick to the pan. While the chicken and vegetables are cooking add the seasonings and mix. Right before serving, add the heavy whipping cream. Bring to a low simmer and then serve over rice. Optional: garnish with fresh basil and French's Fried Onions if you wish.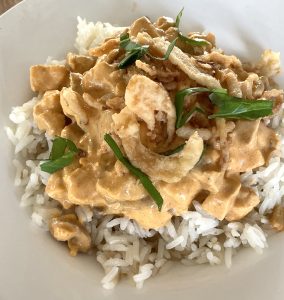 Conner's version had a little less tomato flair and had three unusual ingredients I wouldn't expect in a stroganoff. However, it worked amazing! He added a little yellow mustard and ketchup. With plenty of cayenne pepper his dish was super delicious and full of so much flavor. He also only added onions an mushrooms without the peppers. It was a little more simple but had knock-out great flavor. Play around with these flavors and recipe and enjoy every, single bite like we did!