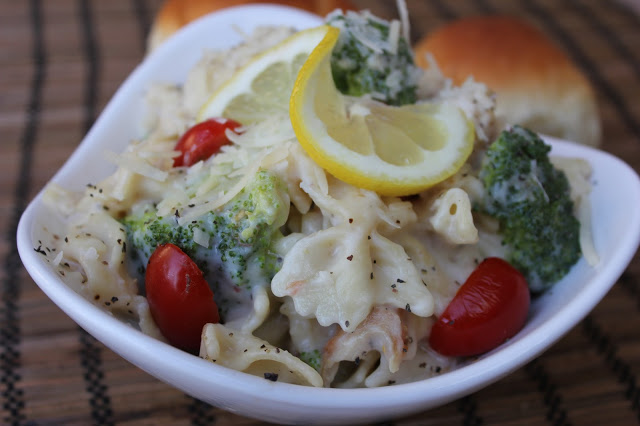 Summer is a great time for pasta. When garden vegetables begin coming from my garden, my favorite way to serve them is in between noodles and a yummy sauce. The sauce is the highlight of this pasta dish. The simple lemony alfredo is so light and flavorful it pairs great with any vegetables you need to use up. I happened to have fresh broccoli and grape tomatoes ready to be used. Feel free to add other garden veggies like zucchini, yellow squash, asparagus, etc. Use the grilled chicken from your freezer and you have a meal that can come together in less than 20 minutes 😉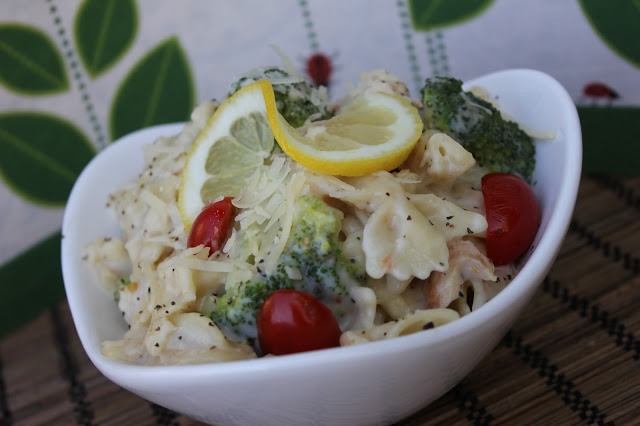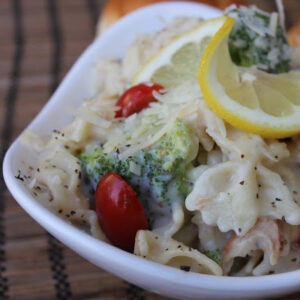 Ingredients
1 1/2

lbs.

farfalle pasta

2

bunches of broccoli

2-3

boneless chicken breasts

10

oz.

grape tomatoes

cut in half

SAUCE:

4

half and half

1

stick butter

1/4

cup

flour

4

cloves

garlic

minced

Zest of 1 lemon

1

tsp.

black pepper

1

tsp.

salt

Juice of 1 lemon

1

cup

parmesan cheese

shredded
Instructions
In a pot, boil the water for the noodles. Place pasta in the pot and boil until tender. Remove the pasta with a strainer and place in a large bowl (without draining the pasta water). In the same hot pasta water, place the cut up broccoli and let steam until bright green and slightly tender (don't over cook or you will have soggy broccoli). When the broccoli is cooked, drain the water out and add the cooked broccoli to the pasta and stir.

For the chicken, grill or bake the chicken until cooked through. Season the chicken with lemon pepper. When the chicken is cooked, cut the chicken into bite sized pieces and add to the pasta and broccoli.

In the same saute pan that you cooked the chicken place the butter in the bottom of the pan and turn to medium heat. Add the flour and mix the flour and butter together until it creates a roux. Add the minced garlic, pepper, and salt and stir. Once the butter is melted and the roux has cooked for 1-2 minutes, add the milk and whisk vigorously until combined and the sauce begins to thicken. Cook the sauce on medium heat for several minutes until the sauce begins to thicken. Once the sauce is a nice alfredo texture, add the juice of the lemon and half of the parmesan cheese. Continue to stir and then pour the sauce over the chicken, broccoli and pasta. Stir around and then garnish the top with grape tomatoes and more parmesan cheese. Serves 6-8 people.
Notes
HEALTHIER OPTION: Serve over whole grain pasta. Use lowfat milk instead of the cream if you want less fat.
To make this dish a simple and delicious food storage recipe, use Thrive Life chicken, broccoli, parmesan cheese and diced tomatoes. You can also use Thrive powdered milk instead of cream for a lighter sauce if you wish.